Lexar's New CFexpress Type B Gold Series Cards Are Fast and Up to 2TB
Lexar has announced new CFexpress Type B Gold Series memory cards ranging from 128GB to 2TB capacities. The CFexpress Type B Gold Series cards join Lexar's existing CFexpress Type B Diamond Series cards, with the former offering expanded capacity options at lower prices in exchange for only a slight dip in minimum sustained performance.

Aimed at creative professionals, the new Lexar Gold Series cards promise improved speeds for the existing 128GB, 256GB, and 512GB versions. These cards now offer read/write speeds up to 1,900 MB/s and 1,500 MB/s, respectively. Prior versions of the cards were limited to maximum speeds up to 1,750 MB/s and 1,500 MB/s, respectively.
For the all-new 1TB and 2TB versions, which are capacities not offered by Lexar's Diamond Series CFexpress Type B cards, maximum read and write speeds are also 1,900 MB/s and 1,500 MB/s, respectively. The minimum sustained write speed is 1,300 MB/s, just 300 MB/s slower than the minimum sustained write speed offered by Lexar's top-of-the-line Diamond Series cards.
The Lexar Professional CFexpress Type B Gold Series cards are undoubtedly fast, especially the two largest capacities. However, every card in the series is well-equipped for 8K RAW video recording without the risk of dropping frames. Each card also promises rugged durability and protection against the elements, including extreme temperatures, shocks, and vibration.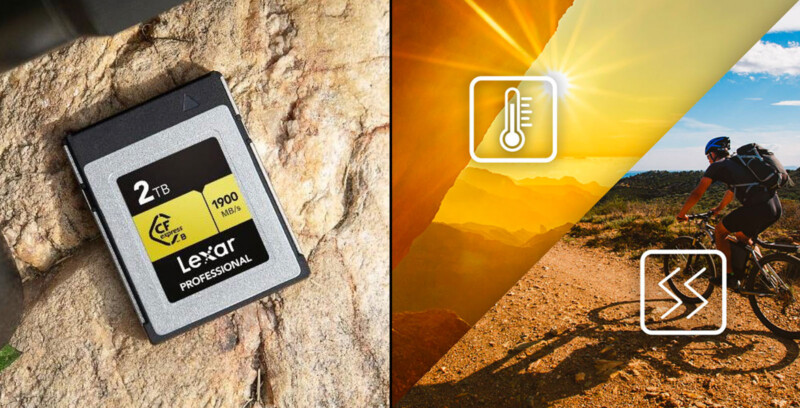 Lexar's new Gold Series cards join an increasingly busy CFexpress Type B card landscape. In PetaPixel's "The Best CFexpress Memory Cards in 2023" guide, the Sony Tough CFexpress Type B was named the best overall option. Lexar's new card promises improved performance — although if it can deliver the promised performance remains to be seen — and expanded capacity options.
The upgraded 128GB, 256GB, and 512GB capacities are $200, $300, and $390, respectively.
The 1TB card is competitively priced at $470, while the 2TB card is available now for $730.
For reference, Lexar's 512GB Diamond Series card costs $530. PetaPixel's current favorite, the Sony Tough CFexpress Type B card, is $650 for the 512GB version.
Lexar's new cards are competitively priced, and the 1TB and 2TB versions are somewhat unusual in the market. Angelbird and Delkin offer high-capacity cards, including Angelbird's $1,800 4TB card. However, Sony, SanDisk, and ProGrade offer cards up to just 650GB, which is plenty for photographers but perhaps not quite as flexible for cinema-grade 4K and 8K video work.
Lexar's cards are covered by a lifetime warranty. It should also be noted that quoted performance specifications for all memory cards, not just Lexar's, are based on internal tests that are practically impossible to replicate in real-world situations. That said, Lexar is a longtime player in the storage space, and its new cards should deliver high-end performance, even if the promised speeds are unachievable by consumers.
---
Update: An earlier version of this article incorrectly stated that Lexar's 128GB, 256GB, and 512GB CFexpress Type B Gold Series cards offer slower read/write speeds than the newly announced 1TB and 2TB versions. However, Lexar has also updated its 128GB, 256GB, and 512GB cards with improved performance that matches the 1TB and 2TB cards.
---
Image credits: Lexar