Premiere Pro Adds Cloud Collaboration and Redesigned Import Process
Adobe's latest release of Premiere Pro focuses on faster workflows and a more approachable interface for new users through integrated cloud collaboration via Frame.io, a new import and export workflow, and an Auto Color feature.
These new additions to Premiere Pro will roll out starting today and will make it to all Creative Cloud subscribers over the next few days.
Integrated Cloud Collaboration
Adobe has integrated Frame.io review and approval tools that come included as part of a Creative Cloud membership. Frame.io is a cloud-based collaboration platform for video that allows users to upload, share, and review content before it is published publicly.
Its integration with Premiere Pro will make it easier for remote teams and freelancers to work together and share feedback and progress on edits directly from the video editor.
A Friendlier Interface
Adobe's other updates to Premiere center on making the program easier for newcomers to learn. The new Import mode is part of that, and the company says it introduces a more visual and intuitive experience that makes it a bit easier to get started while also helping experienced users work faster.
Instead of being faced with project settings to start with, users are given a view of the media they want to import. After assets are selected, they are shown in a pane at the bottom of the import window that provides what Adobe describes as a "first glimpse" of the storyline. The "Create" button starts the process and brings selected media into the Timeline as a new sequence that is then ready for editing. Adobe says that editors who prefer to build a sequence from the Project panel can import their media as individual assets.
This import system was devised after input during the Import mode's public Beta test, which Adobe says led to improvements in search, sort, import folder, bin creation, and other factors. The company says it intends to add new import functions into the public Beta for future feature consideration.
In addition to importing, exporting has also been changed. Adobe says it is easier and more intuitive to export videos from Premiere Pro and post them to YouTube, Twitter, and Facebook.
The new system was designed to take the guesswork out of optimizing the ideal output formats. Users first choose the desired export destination, and Premiere Pro will provide the recommended settings. These settings can be adjusted after the fact if a more experienced user still wants to fine-tune the suggestions.
Premiere Pro can upload videos to FTP sites and social platforms with the option to publish them privately for review before they are pushed live.
Auto Color
Premiere Pro now has an Auto Color option that is powered by Adobe's machine-learning artificial intelligence, Sensei. Auto Color applies what Adobe describes as "intelligent adjustments" to video clips which it says helps new users become familiar with the color tools that are available while assisting experienced users by helping them work faster before getting to secondary corrections like skin tones or skies.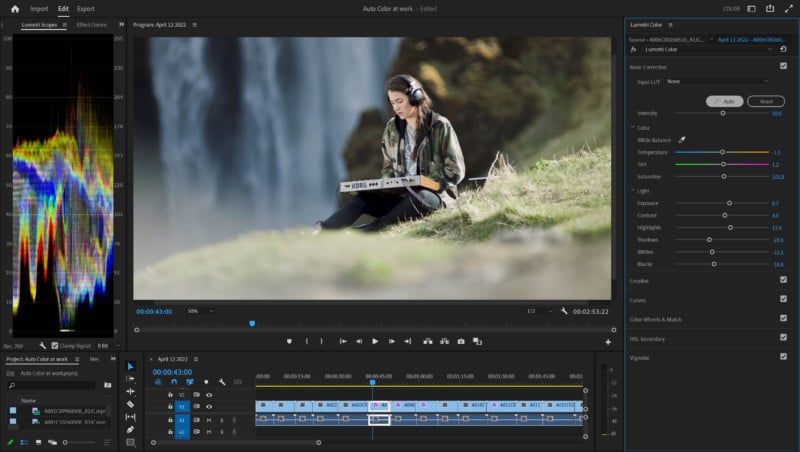 Any adjustments made with Auto Color are reflected in the Lumetri Color panel in a re-organized set of slider controls at the top.