RED and Fujifilm Users Can Now Send Video from the Camera to the Cloud
Adobe's Frame.io team has announced new Camera to Cloud (C2C) integrations with Red and Fujifilm, allowing for immediate and real-time uploading to Frame.io, where the footage may be edited, annotated, and approved remotely.
Frame.io, which was acquired by Adobe in August of 2021 and saw its first major integration into Adobe products earlier this year, bills itself as "the next generation of video collaboration." The cloud-based tool is designed for teams, enabling them to share media and track and approve revisions to improve workflow.
Frame.io allows anyone working on a video project to comment in real-time on video as it is being edited remotely.
Today's announcement unveils built-in hardware support for the Frame.io workflow in select RED and Fujifilm cameras.
Both companies have now built C2C support into their cameras, furthering Frame.io's goal of "increasing the speed of creative collaboration and the flexibility of their workflows," as outlined by Adobe Senior Director Global Innovation Creative Product Michael Cioni.
The RED V-Raptor and V-Raptor XL can now upload 8K REDCODE RAW files directly to Frame.io's cloud service from the camera. It supports the automatic upload of 8K RAW R3D files, log files, ProRes, Proxy files, WAV audio, custom LUTs, and a log file associated with each video segment.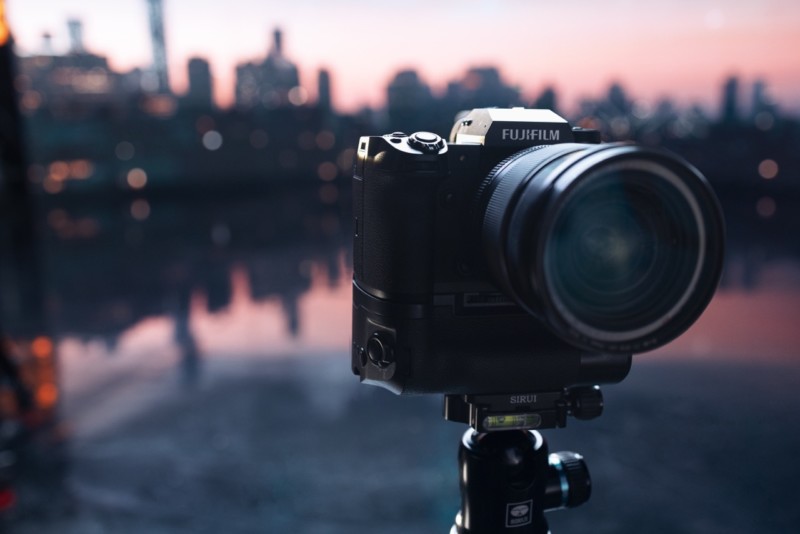 The Fujifilm X-H2S becomes the first photographic camera that can send files directly to Frame.io C2C. The Fujifilm X-H2S uses the FT-XH file transfer attachment to send high-res RAW files to the cloud, where users can inspect RAW files with a loupe tool and annotate images. The X-H2S can upload ProRes and proxy video as well.
While this new native support requires high-bandwidth connections, Cioni points out the new workflow possibilities resulting from this support.
"[This] unlocks a whole new way of working. You can shoot anything—from a wedding to a sporting event or live concert—send your photos (or video) to someone on your team so they can retouch the asset and share it or post it without ever having to exchange a drive or camera card or any kind of physical media," he says.
Cioni also notes the high-end video uses of this support in the RED cameras.
"Productions that shoot on stages can deliver original camera files (OCF) directly to the post house as they're captured. Virtual productions or complex visual effects can send OCF directly to the VFX house. ProRes files are automatically delivered to production offices and cutting rooms for immediate editing. And for productions that want the highest quality dailies, RAW video and audio files can be synced, color corrected, and transcoded in the cloud through our integration with Colorfront."
Users of the Fujifilm X-H2S and Frame.io C2C can also have their RAW files automatically backed up and automatically sent to editors or clients without ever exchanging a drive or memory card.
The firmware update for the X-H2S and the FT-XH is expected to arrive Spring of 2023.
---
Image credits: Frame.io