Adobe Premiere Pro Uses AI to Enhance Speech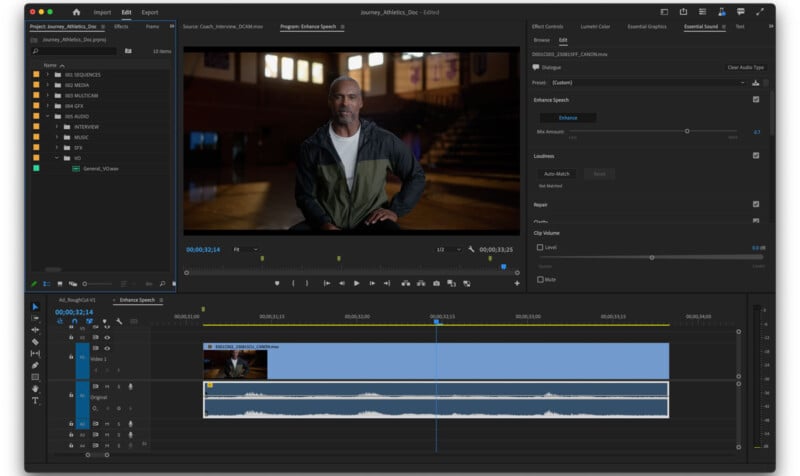 As IBC 2023 kicks off in Europe, Adobe has unveiled improvements to its flagship video editing software, Premiere Pro. Adobe has also revealed key improvements to Frame.io, the company's cloud-based workflow platform.
Premiere Pro Adds Cutting-Edge AI in Beta
A new beta release of Premiere Pro adds cutting-edge artificial intelligence (AI) for a couple of exciting features, including Enhance Speech. This new tool uses AI to "magically remove background noise and improve the quality of poorly recorded dialogue."
This feature can clean up audio associated with a poorly placed microphone, excessive background noise, or even archive footage with lousy audio. Manually cleaning up poor audio is exceptionally tedious and challenging. With Enhance Speech, users can get significantly better audio in just a few clicks.
The feature also includes a slider, so users can adjust how much to use Enhance Speech on their project. Perhaps they want to eliminate only some of the background noise in a clip — that is possible with Enhance Speech.
The AI that underpins this feature partially synthesizes and recreates the voices in the clip, so an early pre-release demo that PetaPixel saw showed a few hiccups with unnatural-sounding audio. However, the overall results proved extremely impressive.
Earlier this year, Adobe introduced Text-Based Editing in Premiere Pro. This allows users to make rough cuts with simple text prompts. The feature has been very well received by Premiere Pro users, and Adobe is adding enhancements in response to customer feedback.
Text-Based Editing can now automatically identify "ums" and "uhs" in dialogue. Users can quickly remove these filler words for a clip using a bulk delete option. No more cleaning up all filler words and unnatural pauses, one at a time.
Premiere Pro Gets Faster
Alongside these editing improvements, Adobe has made significant strides in Premiere Pro's overall performance. The timeline is now up to five times faster, which is a staggering performance boost.
Better Color
New color preferences and improved tone mapping ensure that users can more easily achieve great color when working with content with different tone mapping.
Premiere Pro includes three new tone mapping methods, consolidated settings in the Lumetri Color panel, and better LUT management.
Also, after a lengthy wait, a known issue with inconsistent colors with QuickTime Player has been addressed.
Frame.io Improvements
"Introducing Frame.io Storage Connect, which accelerates collaboration and cuts costs for Enterprise customers needing solutions to scale profitably — allowing them to use the storage they already own, while maintaining full control of their assets. Storage Connect enables direct connection to AWS S3 storage with lightweight proxies available in Frame.io. Storage Connect will be available later this year for Frame.io Enterprise customers," explains Adobe.
Alongside Storage Connect, Frame.io also has a new comparison viewer. Users can view video, audio, photo, design files, and PDF assets side-by-side. All Frame.io and Creative Cloud users can compare any two matching asset types and retain access to commenting and annotating features. This improvement should significantly improve workflow efficiency.
Camera to Cloud is improving even more. Adobe and Frame.io have announced five new Camera to Cloud connections, including with the Atomos Ninja and Ninja Ultra when using Atomos Connect, plus native Camera to Cloud integration with the brand-new Fujifilm GFX100 II — the first camera to sport native integration without the need for any additional hardware.
Accsoon is also joining the Frame.io Camera to Cloud family with its SeeMo and SeeMo Pro devices.
---
Image credits: Adobe