Tamron Developing 28-75mm and 28-80mm Drone Lenses
Tamron has filed a patent for a pair of zoom lenses designed for use on gimbals and drones: a 28-75mm f/4 and 28-80mm f/4.5. Both lenses are described as compact and with little change to their center of gravity across the zoom range.
The patent, filed by Tamron in Japan, describes the two lenses as compact and with little fluctuation in the center of gravity, which would make them ideal for use on gimbals and drones.
Tamron cites a growing demand for high image quality digital cameras that are continuing to shrink in size, meaning the miniaturization of optical structures is also necessary. Additionally, the company says that cameras mounted on moving objects have become more common, and in order to help realize a more stable shooting platform, demand for zoom lenses whose center of gravity does not change during zooming is necessary now more than ever.
The patent does not claim that the balance of the lens won't change at all in these designs, but rather it is a shift that is "small" enough to not throw off the balance of a gimbal or drone. The patent specifically calls out optical designs for a 28-75mm f/4 and a 28-80mm f/4.5 lens.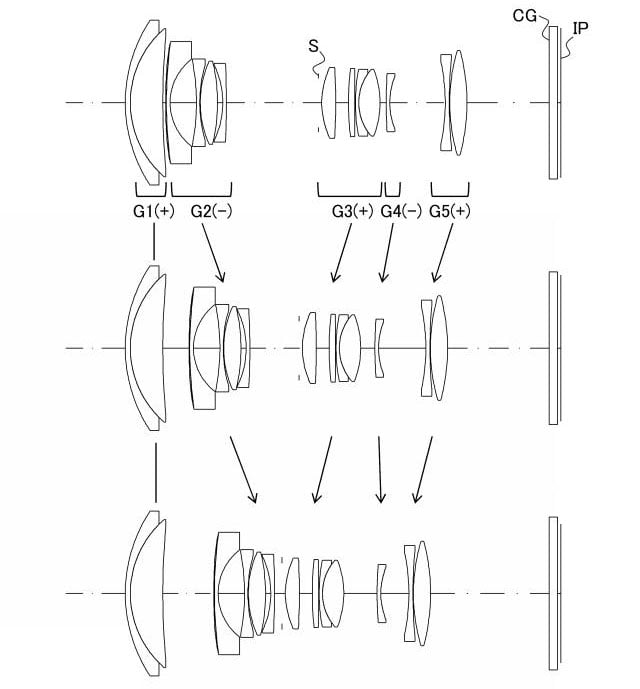 Interchangeable lenses on drones are still a relative rarity among consumer products, but it is possible that that will change in the future. DJI's Zenmuse X7 camera, which can be mounted on the company's Inspire drone, accepts interchangeable Micro Four Thirds lenses, and the company even produces four prime lenses of its own that feature a carbon fiber build to reduce their weight. Notably, though, none of them zoom.
Sony recently started shipping the Airpeak drone which is designed to work in with its Alpha-series cameras. Given camera market descriptions and the use cases described in the patent, it is likely to be a target for Tamron's patented lens design.
Tamron's patent specifically mentions drones by name, but it is not clear how the company would expect a gimbal-mounted zoom lens to be operated on a drone if the lens zoom is not powered. High-quality, optical zooms would be a boon for drone pilots using either DJI or Sony solutions, but control over that zoom from a distance is challenging if the motors are not built into the lens. For example, Sony recently launched the 16-35mm f/4 PZ G Series Power Zoom lens that could work in this capacity with its Airspeak system, but offers significantly less throw than the two proposed Tamron designs.
Tamron is still in the design phase and it could be some time before these lenses hit the market, if they are delivered at all.