Sony PZ 16-35mm f/4 G Lens Review: More Power to You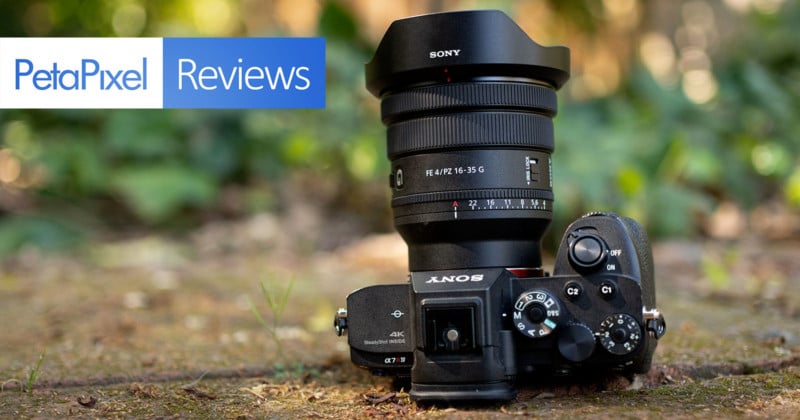 Now 66 E-mount lenses in, Sony is reworking more of its popular focal lengths and modernizing them with the latest standards. The new Sony PZ 16-35mm f/4 G takes a classic and gives it new life.
Build Quality and Design
Measuring in at about 3.5 inches (8.9 centimeters) long by 3.2 inches (8.1 centimeters) in diameter, the new PZ 16-35mm f/4 G wide-angle zoom lens is quite compact for its class considering that it does not extend at all as it zooms. With the lens hood attached, the length increases to around 4.25 inches (10.8 centimeters). With a diameter close to the same as its length, it does have a sort of fat look to it. In the hand, I appreciate the size for handling the focus and zoom rings.
The lens weighs only 12.5 ounces (353 grams), and according to Sony, this makes it the lightest f/4 wide-angle full-frame zoom available. The housing is built from the same feeling plastic material that has been present on many G Master Sony lenses, however Sony has been introducing the construction into G lenses lately too. The a7R IV camera I was pairing with it feels a little heavier than the lens, and the balancing point for the kit is right at the lens mount. Considering its lightweight build and internal zoom that doesn't throw the balance off, this would make a good wide-angle lens for shooting off of a motorized gimbal.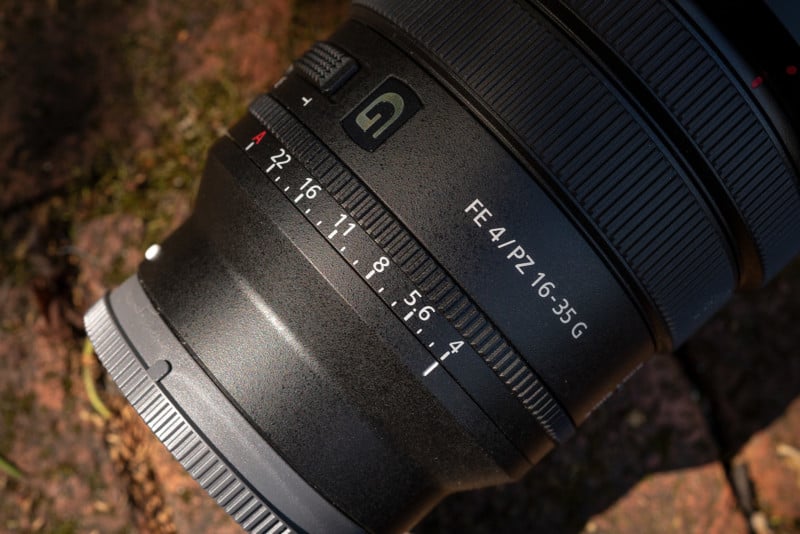 Nearest the mount is a physical aperture ring that can either be manually set to a specific aperture or set to "A" so that the f-stop is chosen in-camera. On the right side of the lens is an Iris Lock to prevent jumping over to manual or automatic accidentally. Additionally, the aperture can be easily de-clicked by throwing the Click toggle off on the lower right side.
On the left side of the lens is a programmable lens button as well as an AF-MF toggle switch. Above these two is the Power Zoom lever that has eight different speed levels depending on how far it's moved. It's quite a small lever, and the time it takes to get from 16mm to 35mm is over fast so it's hard to discern and repeat any one level on command besides the slowest and fastest zooms.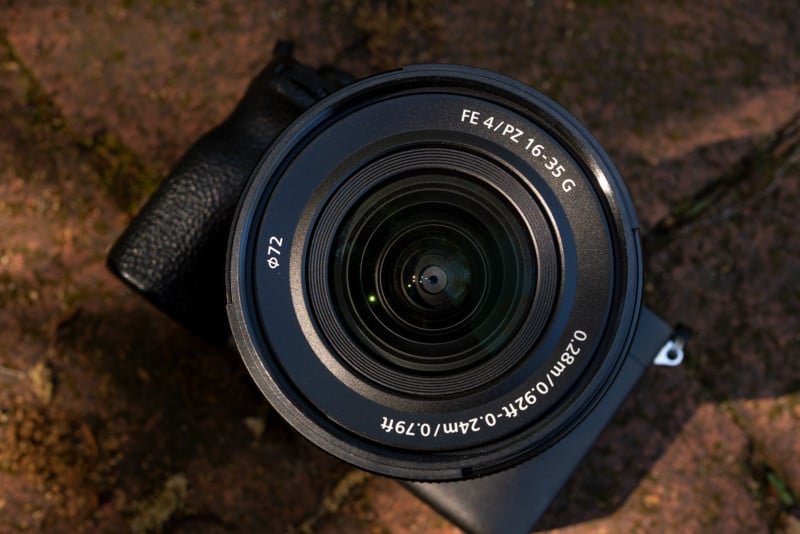 At the outer end of the lens are the zoom and focus rings, with the zoom ring being the one closer to the lens mount. This zoom ring is unlike anything I've felt before with a buttery glide, making it feel more like a focus ring than anything. The linear-response focus ring itself has very light tension to it, maybe again lighter than any other focus ring I've used before. There's no strain at all moving it with a single lightly-placed finger.
In testing the lens, I learned that you can autofocus and zoom at the same time, however when the shutter is released the zoom locks down. If it's a continuous burst, the zoom will not advance any further until the shooting is over. This is true whether using the zoom lever or the zoom ring.
One thing you may find missing in the construction, especially if it's viewed as a follow-up to the aging Sony Vario-Tessar 16-35mm f/4 ZA OSS lens, is that there's no Optical SteadyShot (image stabilization). Of course, most Sony cameras available now have in-camera stabilization to help out with this, but we are missing the advantage received by doubling up lens and camera stabilization.
Image Quality
Inside, the lens is constructed of 13 elements in 12 groups including two advanced aspherical elements, one aspherical element, one ED aspherical element, one super ED element, and one ED element. If you're keeping track, this means nearly half of the elements are of some specialized nature to control its rendering, aberrations, and distortion, and only two of them are paired to a group.
For the most part, they seem to be doing to trick because I see minimal distortion at 35mm. There's more barrel distortion to be found at 16mm. There's a little bit of purple fringing when it comes to backlit trees and similar high contrast line areas, but it doesn't overpower the photos. Contrast and color both have strong reproduction, and flaring is well localized. I see some ghosting some of the time, but it's in the form of very tiny dots that could clone out easily if you didn't want them.
Testing the lens' center sharpness at 16mm, I found wide open at f/4 to be quite good. By f/6.3, it's achieved its peak sharpness, and then at f/11 onwards, the image begins deteriorating. Apertures between f/18 and f/22 I would consider soft. Looking at the corners at 16mm, I saw f/7.1 being the sharpest. Overall the corners fare much better at 16mm than they do at the 35mm end.
Examining test shots for center sharpness at 35mm, I thought wide open at f/4 was soft. There's noticeable improvement each third-stop down until f/7.1 where it levels off and is the sharpest until f/11. A soft image also occurs at f/20 and f/22. At the corners for 35mm, f/4 was also soft of course. At f/5 the sharpness steps up and f/9 is likely the sharpest, but at no point are the corners truly sharp at 35mm.
Vignetting at 16mm is significant until around f/5.6 and f/6.3. At f/8 the vignetting is out at the far corners, and then it slowly crawls out of frame by f/16. At 35mm, the vignetting is strong until f/5.6. At f/7.1 it's only at the corners, and at f/8 it clears up.
Old Zoom Range, New Tricks
The Sony PZ 16-35mm f/4 G lens offers solid optics inside a relatively compact and certainly lightweight package. As a bonus, it has some new tricks with the multi-speed electronic Power Zoom that's driven by four XD linear motors. The zoom can be controlled by the lever, the ring, or even through a Sony remote, making it more versatile across different shooting situations. Photos are punchy and the lens is pleasantly sharp at the widest focal length. There's some softness to be found in areas of 35mm which might be its biggest downside I found.
Are There Alternatives?
The Sony Vario-Tessar 16-35mm f/4 ZA OSS may be the first lens to come to mind. At this point, it's going on eight years old and there have been so many advancements in Sony's lens construction since 2014. At the time this was announced, Sony didn't have any cameras with in-body stabilization. From what I found in old reviews, the lens was found to compensate shake for about three added stops. Today, the Sony Alpha 7 IV can compensate 5.5 stops of shake with the sensor-shift stabilization alone. I think this lens is tempting for those that value stabilization above all else, but the new Sony PZ 16-35mm f/4 G seems like a better choice in every other way.
Another alternative is the Tamron 17-28mm f/2.8 Di III RXD for $900. Like the PZ 16-35mm f/4 G, there's no optical stabilization, but the price is good and there's an added stop of maximum aperture. There's a loss of 1mm at the wide end and 7mm at the long end, but this might be the right choice for those who have a more limited need for zoom range.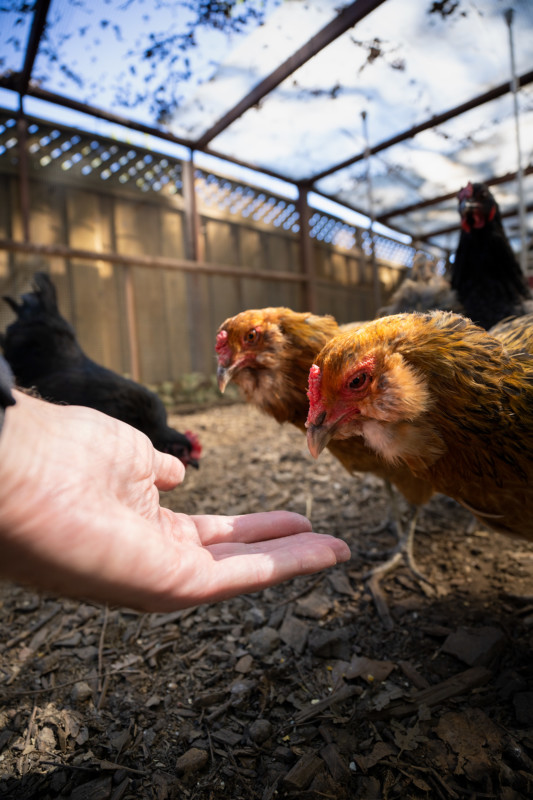 Should You Buy It?
Yes. The Sony PZ 16-35mm f/4 G is a great addition to the wide-angle zoom range of full-frame E-mount lenses.