Owl Makes Surprise Appearance on News Weather Camera
A curious owl has become a star in Montana after landing in front of a local news station's weather camera and peering into it to investigate.

CBS affiliate station KRTV in Great Falls, Montana, spotted the unexpected visitor on its Eyecam weather camera in the early morning hours of Wednesday, March 30th, 2022.
"The KRTV Great Falls Eyecam — perched atop the U.S. Bank building downtown — is usually used to check on weather conditions in our community," the station writes. "Sometimes, however, the camera catches something a bit unusual – sometimes a spider or moth, or occasionally a bird.
"And early on Wednesday […], it was something even a bit more rare — an owl!"
The 26-second video captured by KRTV shows the owl ducking in and out of view as its giant eyes study the camera from top to bottom as well as the surrounding area.
After posting the clip online, KRTV saw it go viral: it was viewed over 10,000 times in the first couple of hours, there are now over 200,000 views less than a week later, and it is being shared across social media.
"Looks like when I FaceTime with my grandma," writes a viewer named Myranda in a comment on Facebook.
"Looks like my kids when they're trying to see if I'm up," says another named Liza.
"Some birds will do anything for their 15 minutes of fame," writes a commenter named Barbara.
You can find the current view of the Great Falls Eyecam on the KRTV Weather Cameras page.
Other Animals Captured by Remote Cameras
Weather and traffic cameras occasionally make headlines for accidentally capturing beautiful and/or humorous shots of wildlife.
In January 2016, a CCTV traffic camera in Canada caught images of a snowy owl gliding directly at it.
In May 2016, a traffic camera in the UK caught a "speeding" bird.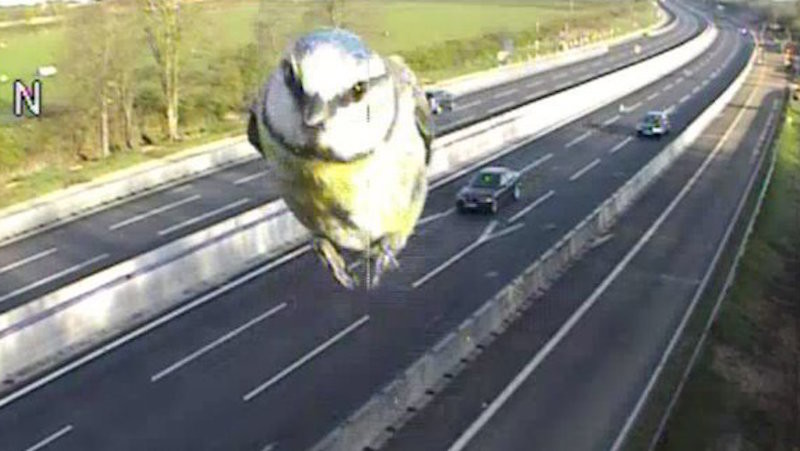 In July 2016, a weather camera in Nebraska snapped images of a curious hawk.
In 2018, a bird "photobombed" a live weather report by the Oakland, California, news station KTVU.
The evidence is clear: some attention-starved birds really will do anything for 15-minutes of Internet fame.