Great Grey Owl Lands on Wildlife Photographer's Camera
Photographer Anaïs Trépanier ventured into the wilds with the hopes of capturing memorable photos but instead ended up as the subject of one when a giant grey owl swooped down and perched on her camera.

Trépanier had ventured out on a photo expedition with fellow photographer Thomas Pham-Van and other photographer friends to the Côte-de-Beaupré area north of Quebec City, Canada. She says she spotted the giant grey owl sitting on a fence and while she stopped to take a few photos, it suddenly flew over to her position.
From Photographer to Owl Perch
"I was clicking on the shutter and seconds after, I see it land on my lens," she told CBC Breakaway. "It's the biggest owl we have here in Quebec. It's not like a chickadee."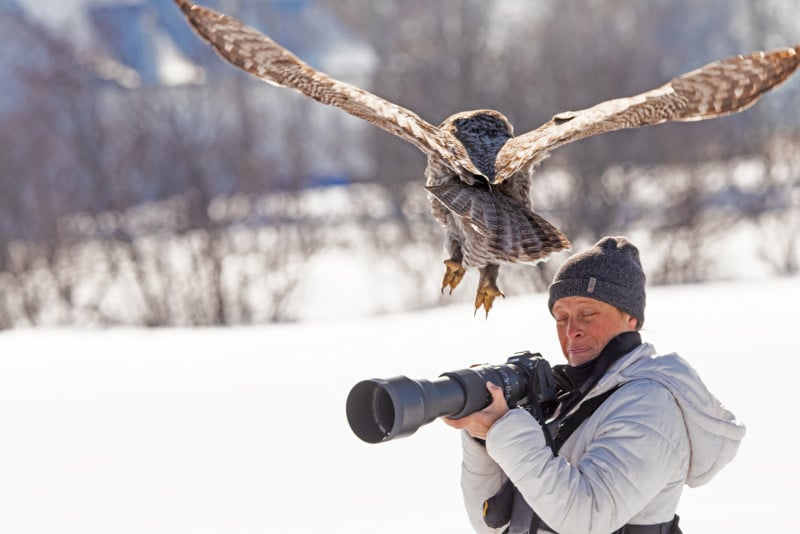 Trépanier says that the owl perched on her camera for about 30 seconds and she tells CBC she remembers standing as still as possible as she heard her friends tell her not to move as he fired off a series of photos.
"The owl took off and flew straight ahead and then made a loop to come back, heading towards Anaïs," Pham-Van says. "I was already amazed to see this magnificent bird and have the privilege of capturing it in flight, but I was so surprised to see it perched on the camera lens.
"I couldn't believe my eyes. I had a quick look and then started taking pictures again. A friend who was with us was yelling at Anaïs not to move, I had the shivers."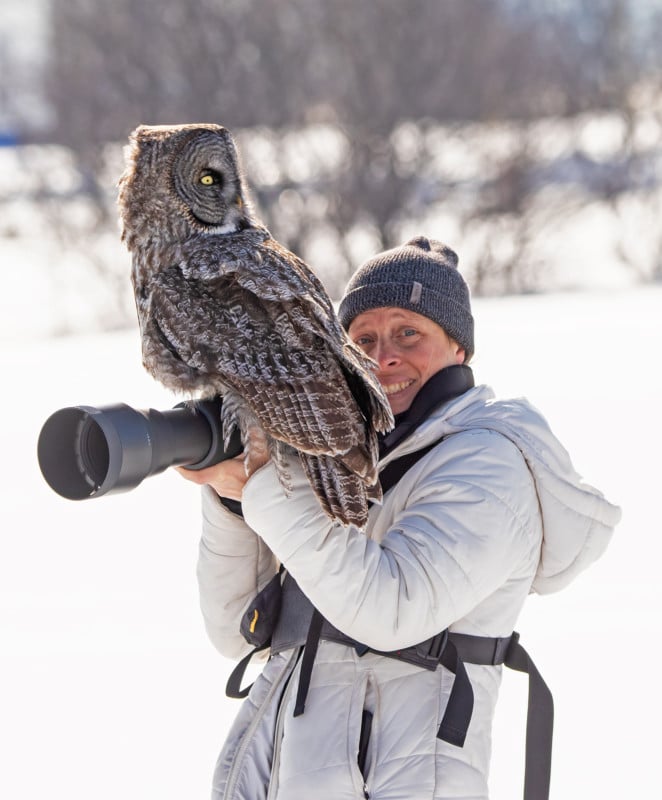 Trépanier says the owl stayed perched on her lens for about 30 seconds before flying away, which she describes as a bittersweet moment — her apprehension is visible in several photos captured of the incident.
"She remained very calm. Probably a little nervous but who wouldn't be with this type of bird so close to her face," Pham-Van says.
"It is a wild animal so we didn't know how it would react if Anais had to move. She says she kept an eye on the owl's talons to protect her hands. Everything happened quite quickly, and I don't think she has time to think too much about her photographic equipment."
The World's Largest Owl Species
Great grey owls are the world's largest species of owl by length, but much of their size is deceptive as their large heads and long tales obscure the rest of their body. Their wingspan can exceed more than five feet and they are known to have excellent hearing which helps them locate and capture moving prey beneath more than two feet of snow. It is the only species of owl that is known to take a plunge into snow after listening for moving prey from low-altitude posts.
The owls are known to hunt near dawn and dusk, but they are mostly active at night and are not afraid of human contact. While the exact reason the owl chose to perch on Trépanier is not known, some experts think it may have believed she was a convenient perch.
"It could just be a question of chance," Pascal Côté, the director of the Tadoussac bird observatory, tells CBC. "Maybe the owl thought it was a perch or was looking for prey. She might have just been in the right place at the right time."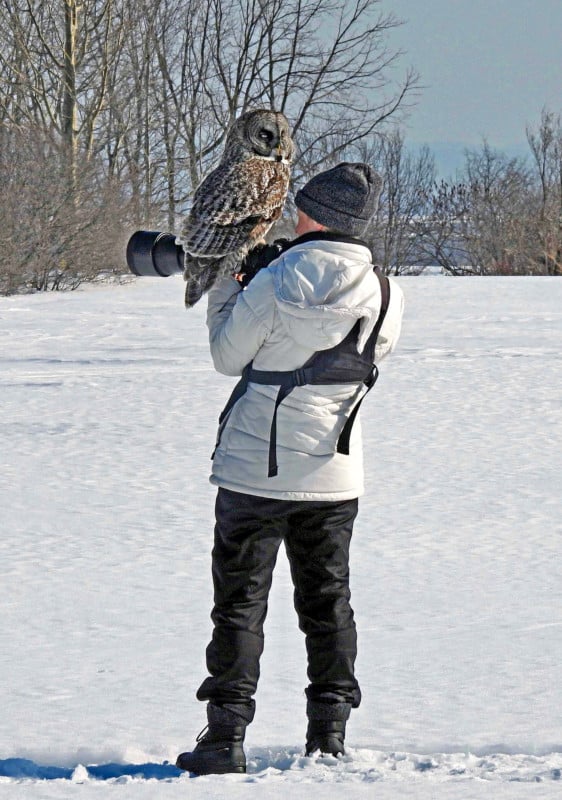 Côté says that some photographers will use live bait to try and lure owls into photographic positions, but Trépanier and Pham-Van adamantly deny they did so in this encounter.
"Others think we baited it but that wasn't the case either," Pham-Van says. "I don't endorse this way of doing things. It was a surreal and fateful moment that we will never forget."
While she was the subject of most of the images, Trépanier did not leave the encounter empty-handed. As the owl flew at her, she was able to grab a couple of spectacular photos of it: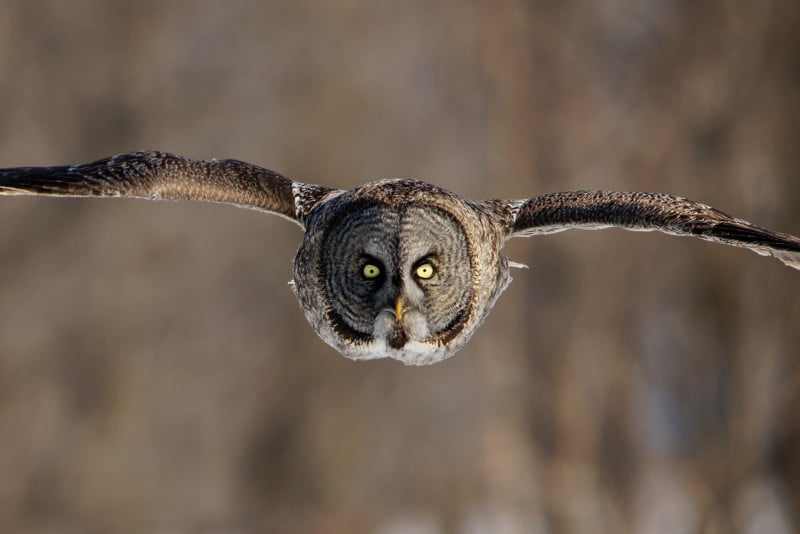 "The owl also offered us magnificent shows of hovering flights and diving into the snow while hunting for food. I was amazed in front of this magnificent bird, but I really didn't expect what happened," Pham-Van adds. "I have the pleasure of sharing this moment and immortalizing it in pictures."
Trépanier isn't the only photographer in recent times to suddenly find their lens being used as a perch. Photographer Scott Dere was also photographing great grey owls back in 2020 when one decided to land on his camouflaged lens.
---
Image credits: Thomas Pham-Van and Anaïs Trépanier / Animal News Agency