Nikon Z 100-400mm f/4.5-5.6 VR S Review: Stellar Optics and Speed
Currently, the longest-reaching telephoto zoom lens in the Nikon Z-mount system, the Nikkor 100-400mm f/4.5-5.6 VR S faces a lot of eager potential customers who are going to balance its longer focal length with overall size and cost. I can't say it will disappoint.
Build Quality and Design
The Nikon Z 100-400mm f/4.5-5.6 VR S is a full-frame lens configured with the Z-mount matching the latest Nikon mirrorless cameras. Measuring 3.9 inches in diameter (98 millimeters) and 8.7 inches long (222 millimeters) in its most compact state, the lens is comparable to other full-frame 100-400mm f/4.5-5.6 lenses on the market. When the lens is zoomed to the extended 400mm focal length, it lengthens to a little over 10 and a half inches. The lens hood adds another three inches in length when it's attached. Even with the full-grip Nikon Z9 camera body, I found the combination to be easy enough to stow away. A lot of bigger telephoto lenses require them to be stored vertically in a camera backpack because there's not enough width in the interior, but this setup could still be horizontal in my packs as it takes up much less room.
Weighing 3.2 pounds (1,435 grams), this is a slightly heavier lens than the ones for other systems such as the Sony 100-400mm f/4.5-5.6 and the Canon 100-500mm f/4.5-7.1. I still did not find it to be uncomfortable to hold up for long periods of time while looking through the viewfinder, however, I am accustomed to working with heavier lenses.
If you are already working with a long prime lens for sports or wildlife and looking for a shorter, more flexible zoom like this 100-400mm to add to your kit, you'll find it to be very easy to get along with. It's light enough to where I felt comfortable simply holding the camera body when walking around instead of by the lens. In turn, this makes it a lot faster to raise up and start shooting.
One interesting build feature of this lens is that it's the first to include Nikon's new "inner balance technology" which means that when it zooms in and out, the center of gravity of the lens has been purposefully reduced by design. This is good news to anyone who requires their cameras to be balanced whether that be on a gimbal or a video fluid head. Additionally, despite not having a locking switch for the zoom, I had no experience with lens creep. On top of that, I didn't even have any accidental shifts backing off of 400mm when I meant to be fully zoomed in as I get so often with other telephoto zoom lenses. Nikon has some magic going on here because the zoom ring itself isn't overly stiff and still feels smooth.
At the top of the lens is an OLED panel that can provide information about current lens settings. It can be set to display the focus distance, the aperture, or the focal length, and toggle through them using the DISP button. Other than the focus distance, the other two seem a little silly as options since the aperture is displayed on the top screen of the camera a few inches away and the focal length can be eyeballed by the lens markings. Even for focus distance where one may want to tune in the hyperfocal distance, I think most of us are just eyeballing it nowadays with mirrorless cameras and the ability to punch in and check the sharpness on the live view image. This is a feature I didn't look at once during my review period which makes me believe it could be put to better use or removed to save the cost.
Other features on the lens include a programmable control ring, an L.Fn customizable button, and a different set of four L.Fn2 custom buttons. These can all be set to do various different things as programmed in the menu, but for simplicity's sake and to avoid accidental settings changes I've always just disabled all of them on lenses that feature similar configurations. It's important to note you can't make these controls do everything available in the regular camera menu, only a select few, and this artificial limit put in place by people on the other side of the world on my behalf peeves me. Sony figured this out years ago to stop trying to predict what the user wants their buttons for and made it a free for all. With Sony, I can press a lens button to send an image to my phone if I want it to. Maybe someone truly does, and they should be able to.
This becomes more problematic when an optically-stabilized lens such as this does not feature a Vibration Reduction mode switch to toggle between Normal, Sport, and Off. Adding insult to injury, you can't set one of the custom lens buttons to deal with this shortcoming (or any custom button on the camera itself). Since Normal VR mode acts quite different than Sport in that the viewfinder image and focus points will jump when the shutter is pressed, it's not always preferable to have maximum compensation and I'm switching between modes a lot depending on my circumstance.
One way to make this change is to go into the "i" quick menu by pressing the button and hunt it down, tap it or move the arrows over to it, select the new VR mode by tapping or arrowing over and pressing OK, then exit out of the quick menu by half-pressing the shutter or some other button. Or I can dive into the full menu with a similarly lengthy process. Either way, it's so over the top to change something of this much importance and I'm honestly baffled.
Coming out of the weeds a bit, I have three other quibbles with the lens. One is that the focus limiter switch only has the options of Full or three meters to infinity. After going into all the trouble of adding a physical switch, why not make it useful in the other direction too? Second, the tripod foot is removable without tools which is great, but it's also lacking out-of-the-box usefulness for a majority of people without having a built-in Arca Swiss dovetail. Finally, the lens hood has a release button that is really hard to find and press even when you know what you're looking for. It's tiny and sits completely flush with the hood, plus is the same ribbed topography as the surrounding material.
Ending this section on a positive note, the Z 100-400mm f/4.5-5.6 is part of the Nikon's "S" series of higher-quality lenses which in part means it has a weather-sealed design and Fluorine coating on the front element for easy cleaning. Any early reviews of a lens will never be able to speak to real-world durability, this one included, but Nikon has an extremely long history of lenses that are built to last and when they say something has "superb dust- and drip-resistant capability" and included in its upper-echelon "S" series of lenses, I'm inclined to believe the claims.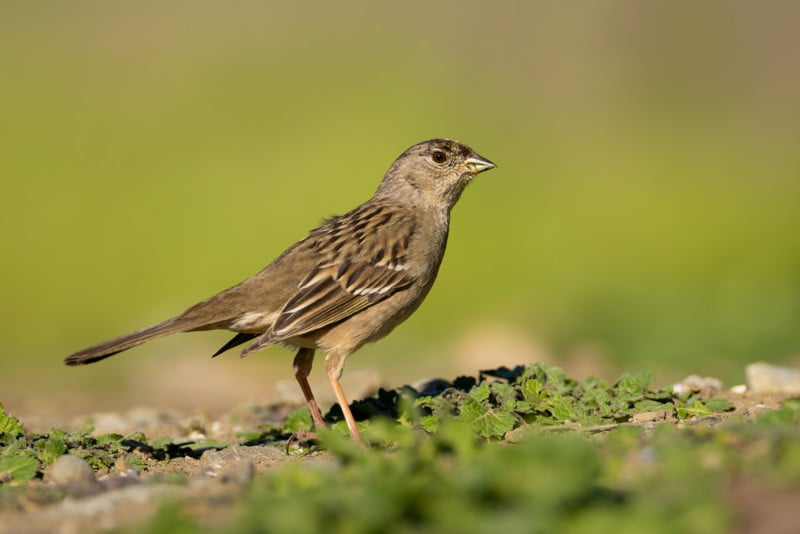 Image Quality
Inside the Nikon Z 100-400mm f/4.5-5.6 VR S, there are 25 elements in 20 groups including six Super ED and two ED elements. These special elements help correct for chromatic aberrations, and Nikon's ARNEO and Nano Crystal Coatings work to reduce flaring and ghosting. Throughout shooting for the past couple of weeks, I saw no color fringing to any noticeable degree and was also impressed by the flare control in harsh backlit situations. In situations where other telephoto lenses I've used would be a complete wash of contrast and detail, the Nikon Z 100-400mm holds on and gets the shot. There's still some minimal ghosting that can crop up in backlit situations, but I did not see a lot of it.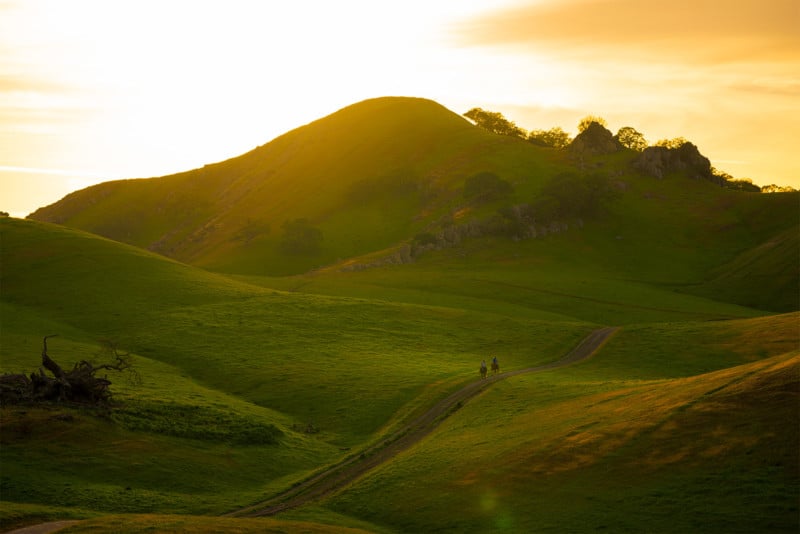 The lens has an aperture range of f/4.5 to f/32 at 100mm and f/5.6 to f/40 at 400mm. Shooting wide open, the aperture breakdown looks like this: 100mm to 124mm is f/4.5, 125mm to 184mm is f/4.8, 185mm to 269mm is f/5, 270mm to 359 is 5.3, and 360mm to 400mm is f/5.6.
The lens has a rounded nine-bladed aperture that produces circular bokeh at the center of the frame. Moving outwards towards the edges, the bokeh balls turn more into slanted cat-eye shapes. There's a slight rim to the bokeh balls but overall it looks excellent. Out-of-focus areas are able to cleanly melt away and do not contain busy harsh edges.
Testing for center sharpness at 100mm, f/4.5 was quite good for being wide open with the most improvement just one-third stop down at f/5. At f/11 it's probably at its peak sharpness but it's all a wash in the mid-ranges. Between f/20 closed down all the way to f/32 it does drop in sharpness, but actually still looks good and perfectly usable considering the diffraction it's battling. The corner sharpness at 100mm gets considerably better at f/6.3 and is at its best at f/11.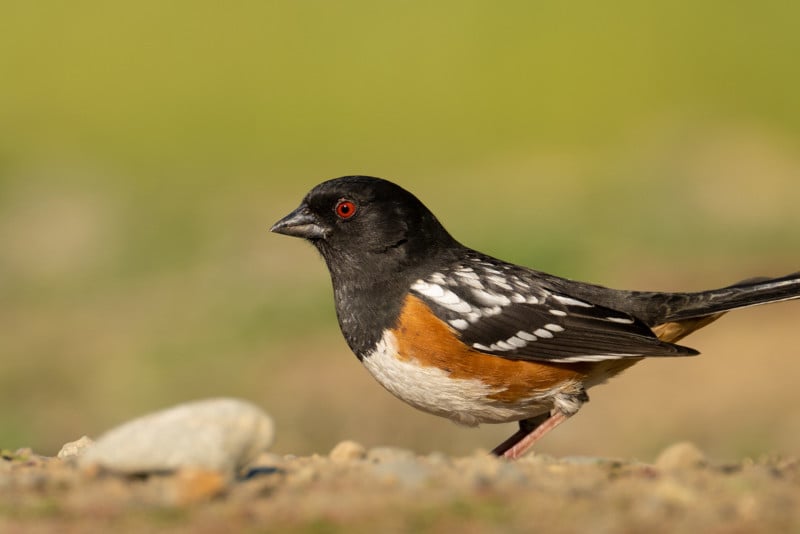 Testing center sharpness at 400mm shows wide open at f/5.6 decently good and with post sharpening, I don't see a problem. I found that it's going to be the sharpest at f/7.1. Stopped down f/32 through f/40, the lens produces its most soft images and prompts caution working at these levels. Checking the corner sharpness at 400mm, I saw that at f/7.1 the photo will sharpen here considerably and at f/13 it is at its best.
I also tested the vignetting after disabling the camera's built-in image corrections. At 100mm, the vignetting is quite heavy and wide open at f/4.5 needs considerable compensation to even out the exposure. Luckily, the vignetting clears up greatly just one click down at f/5. By f/8 the vignetting clears to the far corners and to get rid of it completely I can stop down to f/14. Looking at 400mm, the story is similar where the vignetting is heavy at f/5.6, but with each one-third stop down it clears considerably until f/8 where it's only at the far corners. To clear it, f/13 looks to do the trick.
Autofocus
In a jumble of words, Nikon uses a "Multi-Focus Stepping Motor AF System" inside the Z 100-400mm. There are two stepping motors (STMs) that drive the focusing elements and in good light, I'm able to snap the autofocus to anywhere near and far in the blink of an eye. Tracking in good light with this lens also assures many in-focus shots when firing off a continuous burst of images. I was able to use animal autofocus tracking on the Z9 with this lens to photograph my dogs running fast toward the camera with very few missed shots.
At 100mm, the close focus distance is just 2.46 feet (0.75 meters) and at 400mm its 3.22 feet (0.98 meters). Shooting close focus at 400mm gives a tight 0.38x magnification and is very useful in making this one lens more well-rounded. I can shoot very close and very tight, and with the megapixels afforded by the Z9, crop down further to make images look macro in spirit.
Mostly Killer, Still Some Filler
Judged on optics alone, the Nikon Z 100-400mm f/4.5-5.6 VR S is an impressive piece of glass that can produce high-quality images in any lighting situation. It has the ability to get sharp results through solid lens design, competent autofocus speed, and 5.5 stops of vibration compensation. At the same time, it creates pleasing buttery backgrounds that place all its sharp focus on the subjects. The close focusing ability and potential of adding 1.4x and 2x teleconverters make it a versatile addition to anyone's kit.
The build of the lens attempts to add some newer features like the OLED screen with various real-time informational readouts and customizable buttons and a programmable control ring, but there are currently a lot of blind spots and frankly, boring ideas in the implementation that make it less compelling in practice than they sound on paper.
Are There Alternatives?
As the Nikon Z-mount is still relatively new, there haven't been any true alternatives produced yet that match the $2,700 Z 100-400mm. Loosely connected could be the Nikon Z 400mm f/2.8 TC VR S lens that costs a harsh $14,000. It's a big prime lens with a built-in teleconverter that adds two stops of light wide open in comparison to the 100-400mm and 400mm.
On the other end of the spectrum for those that own a Nikon DX APS-C camera body, a comparable focal length lens would be the Nikon Z DX 50-250mm f/4.5-6.3 VR which costs much less at $350. While offering similar framing as the 100-400mm f/4.5-5.6 lens on full-frame, the 50-250mm is more compact and lightweight, albeit with more basic optics and design.
With the Nikon FTZ II adapter, of course, any F-mount lens can be brought over to the Z mount which opens up more possibilities for a wider range of older alternative options.
Should You Buy It?
Yes. Overall, the Nikon Z 100-400mm f/4.5-5.6 VR S is a sharp and fast lens with few problems that can't be fixed by firmware updates.