The New Nikon 400mm f/4.5 VR S is the Lightest Lens in its Class
Nikon has announced the compact Nikkor Z 400mm f/4.5 VR S super-telephoto prime lens for its mirrorless Z-mount cameras and it says that this new optic is the lightest in its class.
The new full-frame lens for the Nikon Z Mirrorless system weighs about 2.55 pounds (1,160 grams, excluding the tripod collar), and is about 9.2 inches (234.5 millimeters) long, which is touted as light and compact enough to make handheld shooting much easier, especially over longer periods of time.
The company says the lower weight and smaller footprint will allow photographers to experience better agility and reduced fatigue over extended shooting sessions of wildlife, birds, and sports.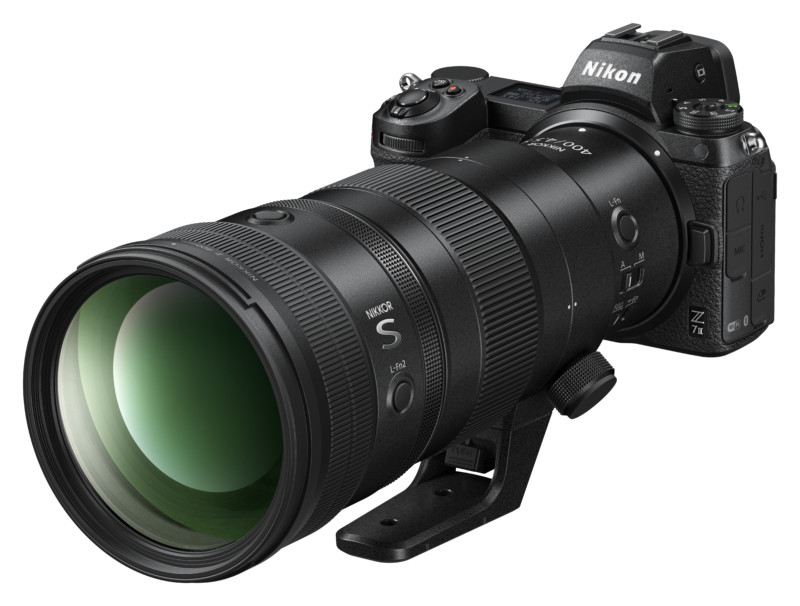 Nikon says the lens offers exceptional balance by shifting the center of gravity closer to the camera so that users have a more stable operation during handheld shooting scenarios. In addition to its smaller form factor, the new lens is also compatible with the 1.4x and 2.0x Z Teleconverters
The Nikkor Z 400mm f/4.5 VR S is constructed of 19 elements in 13 groups which includes one extra-low dispersion (ED) glass element, two Super ED glass elements, and one short-wavelength refractive (SR) lens element. The company says this arrangement and set of specialized optics contributes greatly to the compact size and light weight while still allowing it to deliver superior optical performance with suppressed chromatic aberration.
The lens also uses Nikon's Nano Crystal Coating which it says effectively reduces ghosting and flaring and creates clearer images and an accurate depiction of subjects. The 400mm lens has an aperture range of f/4.5 through f/32 via a nine-bladed diaphragm.
Nikon says the lens is also designed with video production in mind and includes a focus-breathing compensation function that it claims reduces shifting of the angle of view when focusing. The autofocus motor is driven by an stepping motor system (STM) that the company promises is fast, accurate, and quiet.
As shown in the diagram above, Nikon also promises superior dust and drip resistance (but there is no official IP rating) and the front element is coated with fluorine to make it easy to wipe smudges clearly.
The Nikkor Z 400mm f/4.5 VR S also has a Memory Recall function (compatible with the Z9, Z7 II, Z6 II, and Z30 running the latest firmware) that Nikon says instantly recalls focus positions that have been stored in advance through an assignable button.
Below are a few sample photos taken with the new lens.
The Nikkor Z 400mm f/4.5 VR S is scheduled to be available in July for $3,249.95.