Sony and Canon Both Claim to Be #1 in Mirrorless Cameras — Who Really Is?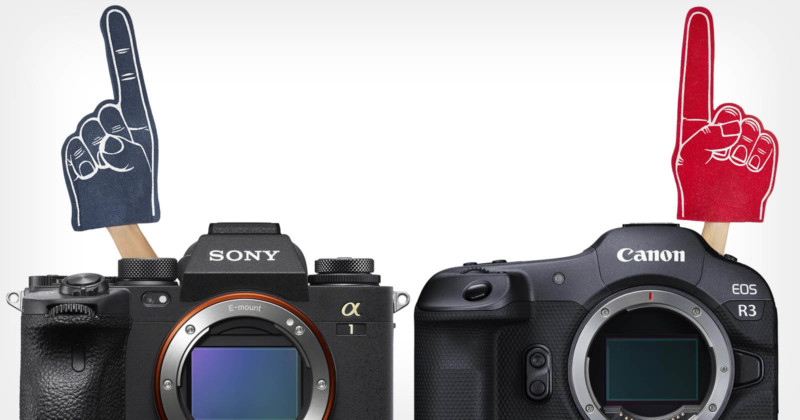 Sony announced last week that it was the number one mirrorless brand holding the highest market share for eight years straight. Canon then followed this up by claiming that it was the number one digital camera company, also leading on mirrorless market share. In a game of smoke and mirrors–something Sherlock Holmes would be proud of–who is telling the truth?

Sony and Canon are apparently both the number one mirrorless seller in the USA and both have the data to prove it. Consumers are no stranger to outrageous claims by manufacturers, but in this instance, it's doubly strange because both companies are using the same data! So what is actually going on?
Both Canon and Sony are using data from NPD, a large market analytics firm that monitors over 600,000 retail outlets throughout North America across a range of retail sectors including cameras and lenses. The good news is the data is based upon tracking large volumes of retail transactions (principally the number of units sold and their value) that represent a significant proportion of the total North American market.
Analyzing Sony's Claim to the Throne
The first step in understanding what is going on is to actually break down the claims that Sony and Canon have made. Looking at Sony first, it states that in 2021 it was:
Number one mirrorless camera brand.
Number one full-frame mirrorless camera brand.
Eighth consecutive year as number one in full-frame mirrorless.
Number one mirrorless lens brand.
Number one selling full-frame interchangeable lens camera line (Alpha 7) for the fourth year in a row.
With any claim about ranking "number one", it's important to note any qualifiers and what numbers the ranking is based upon. For (1), (2), and (3), they are based upon the sales value of mirrorless and full-frame interchangeable-lens cameras (ILCs). For (4), this uses Sony's own internal research, while (5) is based upon unit sales rather than sales value. PetaPixel asked Sony what "internal research" actually means and a representative explained that it is NPD data that Sony acquired but needed to parse internally since NPD did not provide that specific statistic.
Regardless of the source of the data, do Sony's claims stand up to scrutiny? In terms of mirrorless sales value, we know from the Japanese BCN data that Sony had a 32% share of that market, as opposed to Canon with 28%. More importantly, it has a full lineup of full-frame cameras meaning it benefits from high sales prices and margins. In terms of the money it's raking in, this is correct.
Given that the second claim is predicated on the first, it's not surprising that it is also true. The third claim is a little more ambiguous. Sony was the first mirrorless full-frame manufacturer and, until 2018, the only one. As the BCN data shows, Olympus has long had a large market share and outsold Sony. This is cherry-picking at its finest as Sony was number one because it was the only manufacturer of full-frame!
We can discount Sony's fourth claim as there is no way to verify it; the company needs to show its data. The fifth claim is a masterclass in cherry-picking: having used sales value, Sony switches to sales units for support. To confuse matters further, what is the Alpha 7 range? Remember that Sony has long sold previous iterations of the same model, which include the R and S variants. Are these the same "line" and should they be classed as such?
Analyzing Canon's Claim to the Throne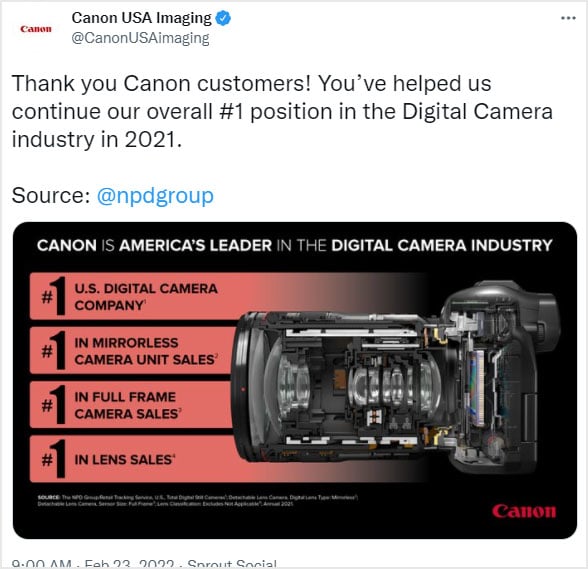 Canon meanwhile chose to go with the following headlines:
Number one digital camera company.
Number one mirrorless unit sales.
Number one in full-frame camera sales.
Number one in lens sales.
Canon is also using NPD's data, so let's break this down again. For (1) this is the total number of stills cameras; integrated, DSLR, and mirrorless. Nicely cherry-picked and no wonder Canon is number one given how many cameras it sells in each category.
(2) is perhaps the most important claim because all of the marketing hype is principally focused on the mirrorless segment and Canon is claiming the most number of mirrorless cameras sold in North America. What we can glean from this is that Canon is selling more mirrorless cameras than Sony (which incorporates both EOS-M and EOS-R), but that Sony is trumping it for the value of its sales. Of course, who is making the greatest profit is anybody's guess.
For (3), Canon is now back to DSLR and mirrorless full-frame sales; all of those DSLRs easily outsell Sony. Canon refers to just lens sales, which suggest both units and value. Given Sony has had to resort to its own data, Canon may well be leading the market on this front, incorporating both EF and R mounts.
A Clearer Picture of the 2021 Camera Market
For all the smoke and mirrors, there are some concrete facts you can draw. Firstly, Sony and Canon seem to be neck-and-neck in North America, with Canon selling more mirrorless cameras, but Sony leading on total value.
Secondly, Canon seems to have a clear lead in lens sales, but this is for combined DSLR and mirrorless. Given Sony's lack of third-party data, this may actually identify a weakness for them; with so many third-party manufacturers supporting the E-mount, sales must have been impacted.
Thirdly, for all Sony's bluff-and-bluster we know that Olympus has had a significant market share in the past. In fact, if you look at the 2020 mirrorless market share from Techno Systems Research, then it's clear that Fuji, Olympus, and Nikon all have significant portions.
Finally, Canon sells a lot of cameras. If we use the BCN 2021 market share data as an estimate — combined with CIPA shipment data — then Canon possibly sells somewhere in the region of 3.2 million cameras or 38% of the entire market. It is quite simply a Goliath and Sony is feeling the pinch as it ramps up mirrorless products and production.
---
Image credits: Stock photo licensed from Depositphotos