Study Reveals the Most Complained About Cameras in the World
Electronics Hub has published a study that looked at the most complained about tech products in the world. Its determined that the top two most complained about cameras were GoPros.
The Top 10 Most Complained About Cameras in the World
Electronics Hub recommends tech products across a range of industries to its audience. While recommending good products is its primary function, its team developed a tool that would also look into what products real users weren't happy with. It says it designed a "complaint detection tool" that analyzes thousands of tweets that mention popular technology products and gives each gadget a score based on the percentage of tweets that feature a complaint.
Tech gadgets encompass a broad swath of products, and the study looks at everything form mobile phones and laptops to headphones and tablets. It also has a section dedicated to cameras.
According to the study, cameras actually have the lowest complaint rates for any device category, but that doesn't mean there aren't issues. The GoPro Hero8 Black was the number one most complained about camera, while the Hero9 came in second. The Hero10 came in ninth. GoPro had the distinct "honor" of racking up the highest percentage of complaints overall, while Sony — with its three cameras on the list — came in second.
Below are the full results of the study: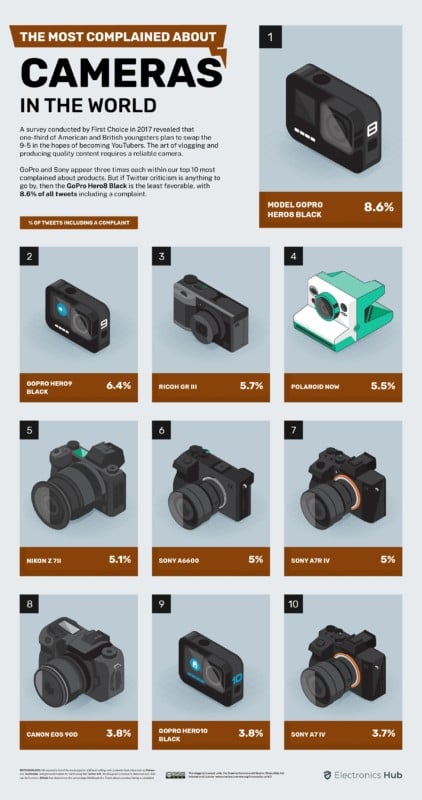 GoPro Hero8 Black
GoPro Hero9 Black
Ricoh GR III
Polaroid Now
Nikon Z7 II
Sony a6600
Sony Alpha 7R IV
Canon EOS 90D
GoPro Hero10 Black
Sony Alpha 7 IV
The study doesn't specify what complaints were about, unfortunately.
Data Gleaned from Hundreds of Thousands of Tweets
Electronics Hub doesn't reveal exactly how many tweets were used specifically in the camera section, but says that it used Twitter's API to collect 344,105 pieces of data for its entire tech complaints study. All the tweets were gathered in November of 2021.
After all the tweets were assembled, they were run through the "Complaint Detector" tool, which Electronics Hub says determines the percentage likelihood of a tweet including a complaint about a product.
"We nominated a tweet as a complaint if the probability predicted by the model was more than 0.6 (60%). The Complaint Detector tool is built upon the pre-trained NLP neural network DistilBERT used as a feature extractor," Electronics Hub explains. "The model was then trained on a dataset of 5,212 tweets with DistilBERT layers set untrainable. The dataset was labeled as complaint/not complaint."
Below are the most complained tech products it found globally, which doesn't feature many cameras but is still interesting.
The full study can be seen on Electronics Hub.
---
Image credits: Graphics provided courtesy of href="https://www.electronicshub.org/the-most-complained-about-tech-products-in-every-country">on Electronics Hub