Instagram is Rolling Out a Bulk Delete Feature to All Users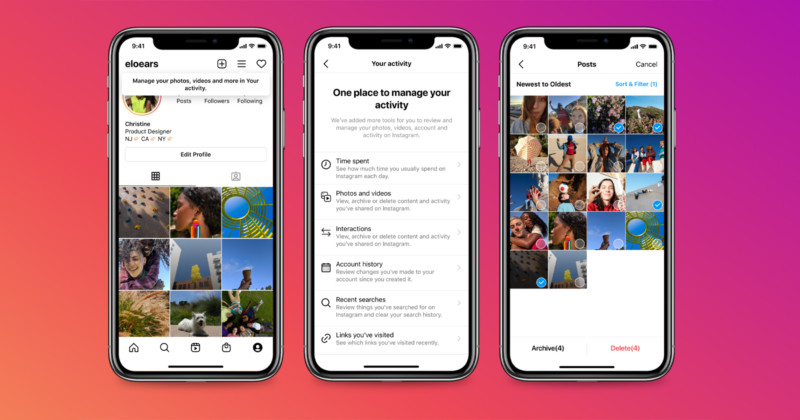 Instagram has announced that the ability to bulk delete or archive posts, stories, IGTV, and Reels is rolling out to all users starting today along with additional new account controls.
Managing Instagram Activity
Instagram started testing a way for users to see and manage all of their activity on the app in one place last year. The company now says that this new experience called "Your activity" will start rolling out to everyone.
The "Your activity" section will allow users to bulk manage (that is to say, delete and archive) their posts, stories, IGTV, and reels as well as their interactions such as comments, likes, and story sticker reactions. Additionally, users will be able to sort and filter their content and interactions by date and also be able to search for past comments, likes, and stories replies from specific date ranges.
Instagram also says that this area will be able to allow users to find content that has been recently deleted or archived, check search history, and see links that have been visited. This area will also be able to display the amount of time that has been spent on the platform and allow users to download their information.
The "Your activity" section will be accessible from a user's Profile: Tap the menu in the upper right-hand corner, then tap "Your activity."
Greater Visibility Likely in Response to Pressure
Instagram has added significantly more visibility into account usage, a response that likely comes due to significant pressure from politicians and child safety advocates. The company had a particularly rough 2021 when it was discovered that Instagram was particularly toxic for young girls and that the company knew this and chose to do nothing. In response, the company clamored to react and restore goodwill, promising more safety features and parental controls in 2022. The company recently announced that it would hide what it deemed "potentially harmful" content further down in feeds in order to help rectify the toxicity issue and added a feature that asked teens to "take a break" from the app. It also decided to bring back the chronological feed, a feature that is currently in testing.
Despite these issues, Instagram was the number one app downloaded globally in the last quarter of 2021.