Luminar Neo Early Look Review: Looks Promising, But We're Not Sold Yet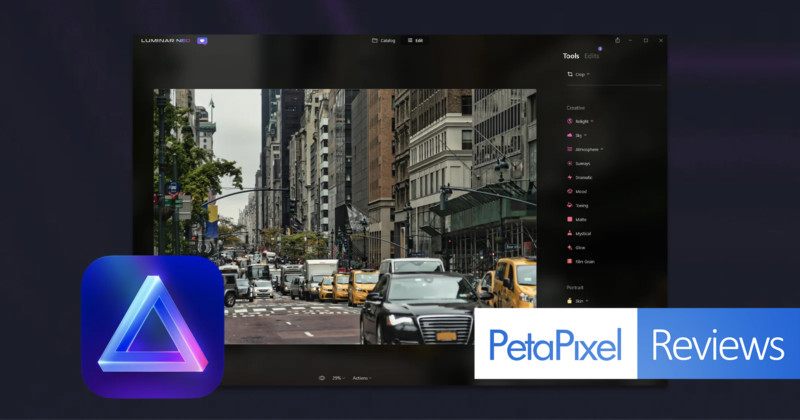 Early access to Luminar Neo is giving us the first look at its four prominent features: Dust Spot Removal, Relight AI, Powerlines Remove tool, and Luminar Share app. With a full release around the corner, is Luminar Neo living up to expectations?
The wait for Skylum's latest photo-editing offering has been paved with uncertainty and confusion. The company announced the Luminar Neo photo editing app in the fall of 2021, while simultaneously retiring one of its earlier products, Luminar 4. Overall, Skylum's release cycle has users on edge and others questioning the need to update, so there is a lot riding on Neo's success.
Luminar Neo's Present and Future State
Currently, the Neo is still in the very early days and numerous features are still missing in the build we tested, but Skylum says that it intends to add them prior to public launch. Additionally, some of the features that are there are not functioning correctly and the performance of this version of the software can also differ across macOS and Windows.
Skylum notes in a blog post that in the upcoming main release in February, all users will receive most of the functionality currently available in Luminar AI, as well as Presets, and Layers. Skylum says that the release will also bring better performance overall.
The company says that later this year, Luminar Neo's first free update will bring Portrait Background Removal AI and Mask AI and other features will follow in subsequent updates.
Luminar Neo: First Impressions
The software has a clean, dark, and distraction-free user interface, with all tools neatly located on the right. For those familiar with Skylum products, Luminar Neo has retained familiar tools and the overall look of the user interface available in Luminar AI and Luminar 4.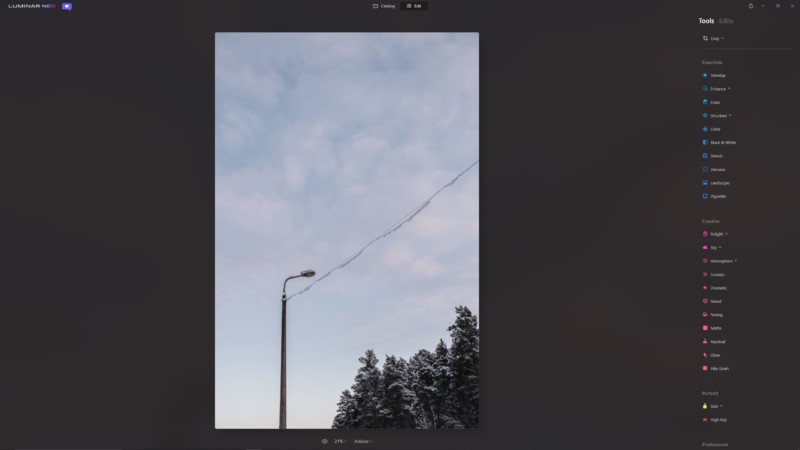 Both the new Dust Spot Removal and Powerlines Removal tools can be found under the "Erase" panel. Considering the two are important features of the early access version, it was somewhat surprising how long it took to find them. Unless you know where to look, you might miss them.
Both removal tools use artificial intelligence (AI) to analyze photos and remove the elements to save time. The process takes a few seconds and the results are not spotless, but they are a good starting point to continue manually cleaning up the photo. Luminar Neo has a manual brush to remove additional elements, similar to Adobe Photoshop's Spot Healing Brush tool.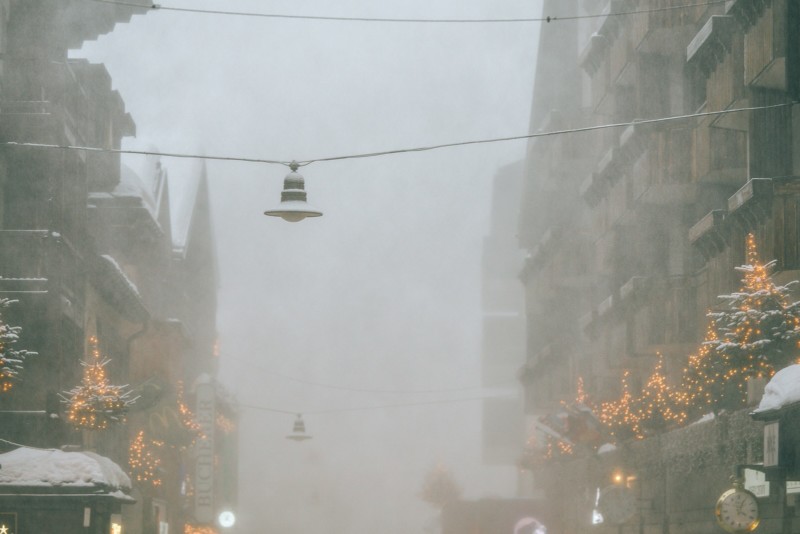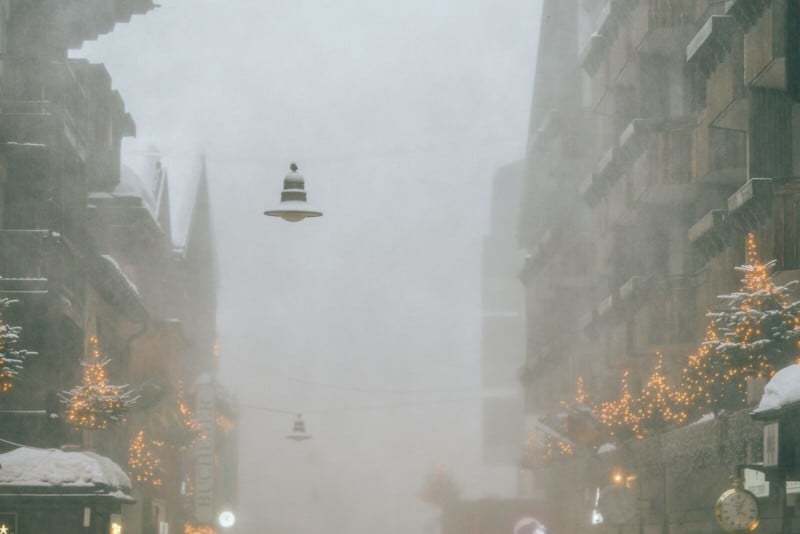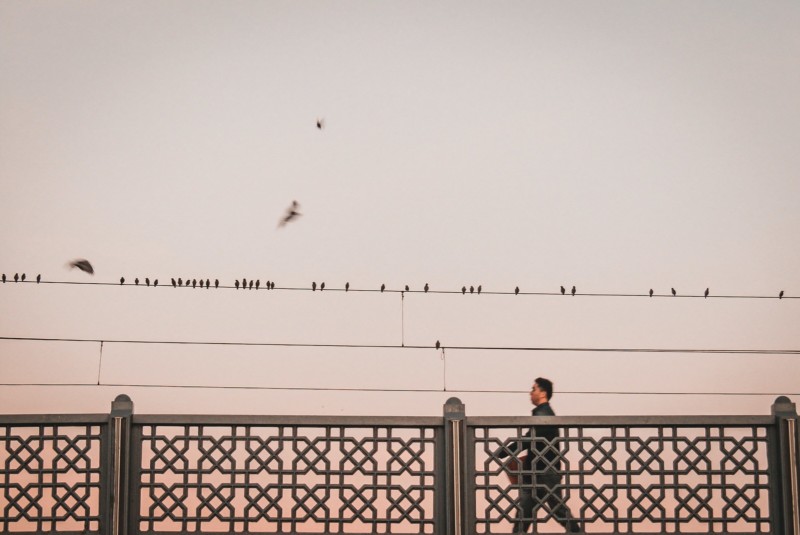 The difference is that you have to "paint" the destructive elements first, like the remaining birds in the example above, and then click "erase." Compared to Adobe's click-and-release method, this takes an extra step.
Overall, the performance of the editor is not bad and the majority of tools are fast to load. Considering it's an early release, it works well enough that you can already use it to edit photos successfully, albeit with a lack of some functionality and compromising on some other features.
Some Features Have Been Overlooked
I noticed that the early release of Luminar Neo is less forgiving if you want to quickly undo actions using familiar shortcuts because it has no undo or redo functionality. For example, if you painted over too many sections of the photo and want to undo your last action, you can't do it.
You're reading that right: this version of the software appears to lack an "undo" feature.
Currently, Neo only has an option to clear all your selections, remove all the adjustments made with each tool, or you can click the "Deselect" button and use the brush to paint over which parts of the photo you want to undo. Tedious.
However, this is an early look at the software, and when asked, Skylum says it is aware the feature is missing and that it will be present in a later build.
Layers are also not present in this release. To see all tools you have applied, you can head over to the "Edits" panel which is not user-friendly and the software doesn't explain how to interact with it.
You can discard all your edits or select one to presumably view how that tool changed your original photo. However, I didn't find it to be a smooth experience.
On the other hand, the new Luminar Share app works well. It is very easy to pair your desktop device with your mobile, and you can quickly share your edits to your smartphone or send mobile photos to your desktop. The only downside is that both need to be on the same WiFi network, presumably because the files are quite large and they are being sent directly to each other rather than using a cloud service as a go-between.
The app will likely be handy for photographers who enjoy sharing their work on social media and want a quick way to do it, in which case sharing a WiFi network isn't a particular hurdle.
Fast Tools, But the AI is Not Perfect
For the most part, the majority of the tools available are enough for photographers to edit a photo from start to finish, even without the introduction of the new AI tools or layers. That said, the AI tools feel like they need further refinement ahead of launch as their functionality — at least in this early release — can be cumbersome. For example, the new Relight AI often struggles to pick out which parts of the image are considered "near" and "far."
This means that when you increase the "Brightness Far" slider, the software sometimes increases brightness in the whole image, not just behind the subject.
But, when I worked with the "Brightness Near" and "Warmth Near" sliders, below, the AI responded well and edited the right parts of the photo.
We could chalk this inconsistency up to the early nature of the software, but it's something for us to keep an eye on as Skylum approaches the finish line.
Not Making the Strongest Case… Yet
At the moment, I don't think Luminar Neo offers enough to entice current Skylum product users to pick it up, especially if they're already using Luminar AI. The current build of the editor has the core Luminar features with a few new additions, but there isn't much else to get excited about. I don't think that these new additions are alone enough of a reason to spend the money — at least not yet. My opinion certainly can change once we've seen the full release of Neo next month. For now, you can probably hold off on a pre-order.
However, for those who are looking for new layer-based photo editors and don't already have a Skylum product, Luminar Neo is one to watch if the company successfully integrates the tools it advertises.