Launch of Skylum Luminar Neo Confuses and Frustrates Customers
Skylum recently announced a new editing application called Luminar Neo, but customers who have been loyal for years are confused and frustrated that the company would launch new software rather than support the current Luminar AI.
Skylum (formerly known as Macphun) is a photo editing software company that has been vying to be an Adobe Alternative for several years.
Starting with the launch of Luminar, then with Luminar AI, and most recently Luminar Neo, the company has faced repeated backlash for sunsetting — retiring — its software and pushing users to buy new stand-alone applications instead of just updating current ones. Photofocus has also written about the confusion and frustration voiced by some Skylum customers.
When Skylum announced Luminar Neo, users immediately found themselves asking if that meant that Luminar AI was being retired. What about Luminar 4? The answer is complicated.
While Skylum's official stance is that it is still supporting Luminar AI, getting a straight answer about the future of the application has proven difficult. The company has not gone so far as to say the application will no longer continue to be supported, yet the app Aurora HDR hasn't received an update since 2019. This history has led some to believe this is the inevitable future of Luminar 4 and Luminar AI.
Frustration has been mounting, already evident on the company's own support and affiliate pages where several users have posted their confusion and frustration, some going so far as to ask for refunds. Many believe that at this point, it is safe to assume that Luminar 4 will go the way of Aurora HDR and that there will be no further updates provided or available to purchase.
"As others note… their business model is to have us buy their product, not update it for anything except bug fixes, then add a couple of features and release a newly-named, almost identical product a year later and have us buy THAT," a PetaPixel reader wrote in response to the launch of Luminar Neo.
"Luminar 3 to 4 to AI to Neo. They've done this basically every year or two with no end in sight. I'm willing to bet that we'll see Neo-AI a year from now and they will let Neo wilt as they have with 4 and AI. I've gone from recommending Luminar to friends to warning them away. They have no respect for their customers and I've lost all respect for them."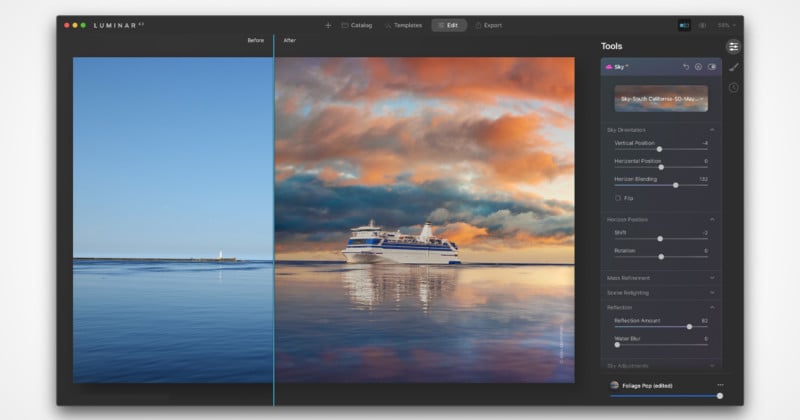 According to Skylum, Luminar AI and Luminar Neo will be separate apps and are described as "part of a family," much akin to how the early apps from Macphun were part of a larger suite. Where Luminar AI is a simple "preset" editor with customization available after the fact, Luminar NEO is "designed to allow artists to take on more challenging image creation work and achieve results which often seem unattainable."
In response to comments on PetaPixel's coverage of Luminar Neo, Skylum's Chief Product Evangelist Richard Harrington says that users can expect a whole new render engine for speed, a mobile companion app for sharing and photo exchange, the ability to clean up power lines in images and remove sensor dust with artificial intelligence, a 3D relighting tool, layers, AI masking, and more.
Given the history with Adobe's own launch of Lightroom CC and Lightroom Classic which also caused confusion and anger with that customer base, it is possible that the engineers at Skylum are facing the same headaches that Adobe did when trying to fix and update the large mass of older code.
When pressed during the announcement of Lightroom CC, the Lightroom product managers confirmed the best solution was to just start fresh and build everything over again using newer code rather than try and continually patch old software. Given this information, it is possible that the Luminar Engineers are on the same path. Theoretically, that would lead to a better, faster, less memory-intensive version of the application. That said, Luminar AI and Luminar 4 are considerably younger than Lightroom was at the time of the launch of Lightroom CC.
Regardless, many Skylum users are frustrated and it's not clear if the company's plans for its software adequately address those loudly voiced concerns.