Photographer Snaps Close-Up Photos of Animals at a Bird Feeder
Wildlife conservation photographer Carla Rhodes set up a camera trap under a bird feeder and captured gorgeous close-up photos of the numerous small creatures that visited it in the winter.
Rhodes, a former comedian and ventriloquist based in Catskill Mountains, New York, got hooked on photography after she bought a Canon 70D in 2015. Although she got it to make short films for her former venture as a comedian and ventriloquist, it was photos of wildlife that ended up fascinating her.
Later in 2018, Rhodes had the opportunity to travel to the Indian Himalayas and during one of the excursions, she photographed greater adjutants, an endangered type of large bird.
"This was truly a pivotal moment in my life that set me on a new path," Rhodes tells PetaPixel. "Upon returning back home to the USA in late 2018, I decided to dedicate my life to wildlife conservation photography, which I've pursued with every fiber of my being ever since."
Even the COVID-19 lockdowns didn't stop Rhodes from pursuing her passion. During the winter months of late 2020 to early 2021, she set up a camera trap to challenge herself. It's not an easy feat to capture small creatures like birds and mice, due to their size and speed.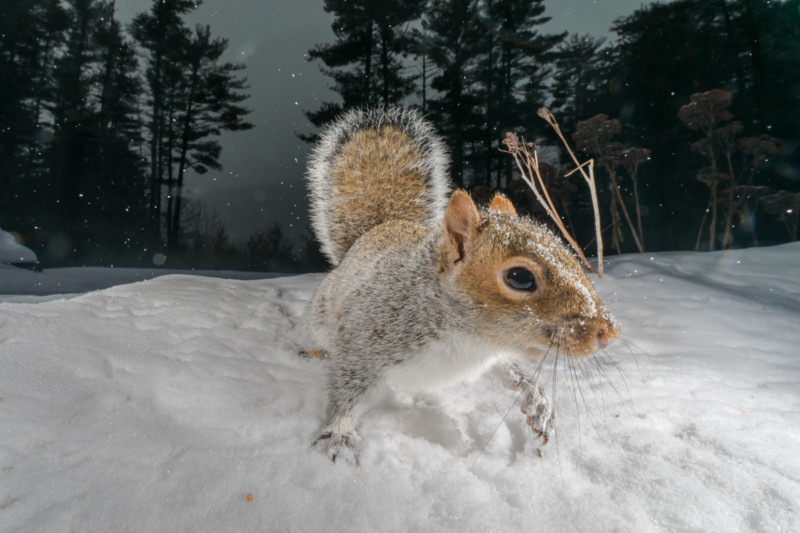 Camera trapping is Rhodes's favorite photographic art form because it gives the opportunity to "photograph wildlife with minimal disturbance and to capture natural behaviors."
"Because I already had a bird feeder set up, placing a camera trap underneath it was a great way to learn to photograph smaller subjects through trial and error," Rhodes explains. "To say this project was a challenge is an understatement… But, I am so pleased with how it grew into a fully-fledged project."
The project is titled "Beneath the Bird Feeder."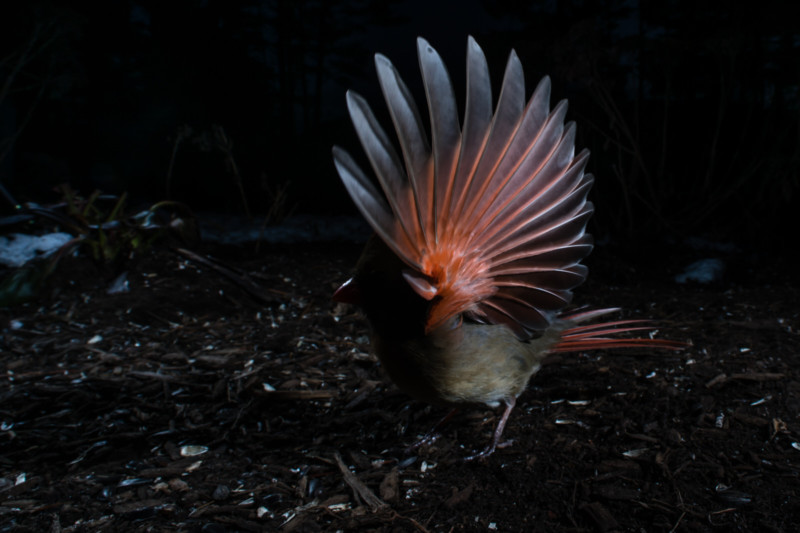 Rhodes used a Cognisys system for camera trapping, and her setup consists of a camera box, flashes, and a passive infrared sensor. For camera bodies, Rhodes used a Canon 70D and Canon 5D Mark IV with a variety of lenses that she experimented with throughout the project.
Rhodes took great care of the feeder and regularly disinfected it, rotated to different tree branches, raked beneath, and at times left it empty. All of these precautions help avoid spreading disease.
"I think ethics and truth in captioning are extremely important to talk about in wildlife photography and should always be considered whenever humans interact with wildlife," she says. "Some of the ethical considerations for this project included hanging the bird feeder away from house windows, in a tree (which provided cover) while surrounding native plantings offered additional cover and food sources."
During the process, Rhodes tried to edit her shots every day, but it soon proved difficult as the number of shots soon drastically increased. Some of the shots have technical flaws, such as ice on the lens, ghosting, or other imperfections, but if the photo moved Rhodes, she would pick it.
"Storytelling and capturing a feeling/behavior is paramount to me," Rhodes says. "I personally find when photos are 'too perfect' they often lose feeling. Technically, it is important to me that the main subject is in focus as I want viewers to be drawn into the subject, with the hope it will pique their interest in wildlife."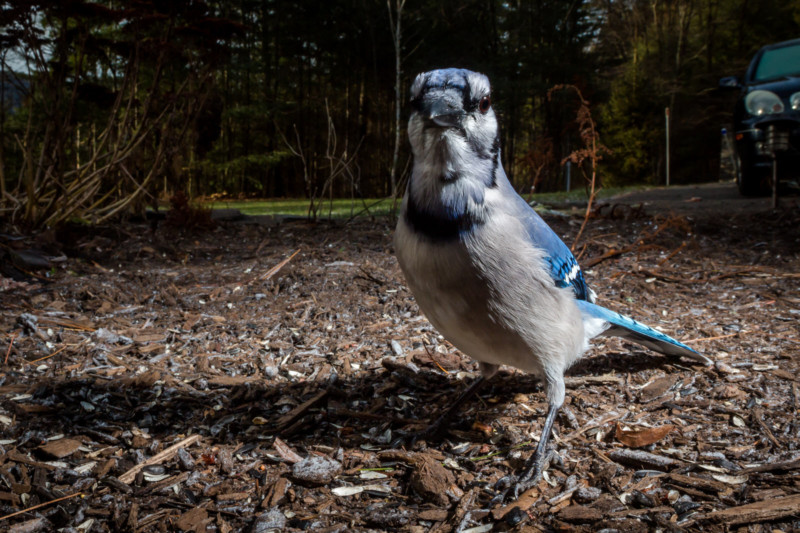 The project has allowed Rhodes to learn more about animal behavior and has allowed her to witness the wider ecosystem that the bird feeder created. Numerous animals displayed their quirks, such as a deer mouse storing discarded seeds into a nearby bluestone wall which created a den of treasures that was visited by many other creatures.
Rhodes was also thrilled to have captured a Northern short-tailed shrew, one of the world's few venomous mammals.
"Until this project, I didn't realize northern short-tailed shrews were even in my vicinity," says Rhodes. "This is a perfect example of why I will always consider myself a beginner… I am continually humbled by nature teaching me new things daily!"
More of Rhodes's wildlife photography can be viewed on her website and Instagram page.
---
Image credits: Photographs by Carla Rhodes.