Final Nikon Z9 Teaser Promises Zero Blackout, Official Launch Tomorrow
Nikon has published what is likely to be the final teaser for its forthcoming Z9 camera in which the company shows a high-speed, blackout-free shooting experience and gives another look at what appears to be the unannounced 100-400mm lens.
Just like the previous three teasers, this fourth video focuses on one major feature while a few understated details hide in the background. The main point of this video apperars to be the Z9's ability to capture high frame rate burst photos with zero blackout in the viewfinder, a feature originally seen in the Sony Alpha 9 that has been repeated by both the Alpha 1 and the EOS R3. Not to be left out, Nikon appears to be adding it to the Z9.
Also of note is the appearance of a new Z-mount lens, likely the Nikkor 100-400mm f/4.5-5.6. The lens has been featured as attached to the Nikon camera now at least three times now. The first time was in the second Z9 teaser that featured what was designed to be a wildlife photographer. That video's main purpose was to show off the Z9's upcoming 8K recording capability, which the video leads the viewer to believe will have no recording limits when shooting at 24 frames per second. The lens was also barely visible in the leaked Nikon India presentation video from earlier this week. In both those cases, and the third in the video above, the lens is not ever explicitly mentioned nor is it the focus.
One last thing that Nikon very likely specifically added is the appearance of water droplets on the lens and Z9 camera. In the first shot of the camera and photographer below, water is only barely visible: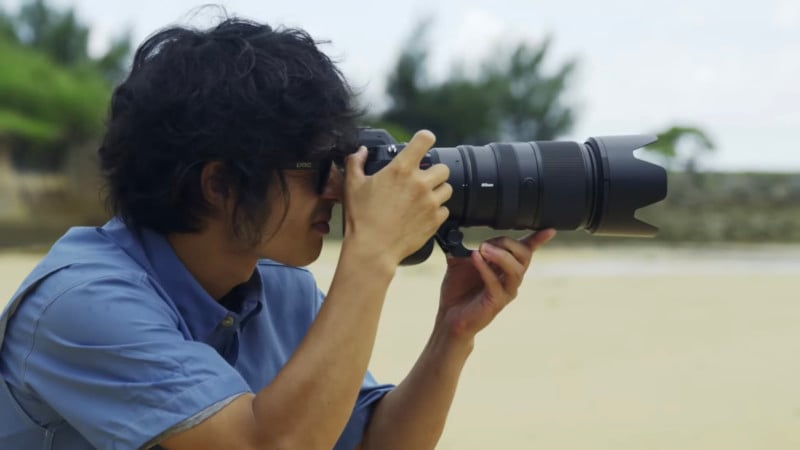 But later on, the droplets are far more pronounced and very likely specifically added to that shot to convey that the Z9 and the lens will be at least somewhat weather-sealed and resistant to dust and water.
Nikon has officially only hinted at a reimagined rear LCD, 8K recording times, impressive autofocus tracking, and now blackout-free shooting. Unofficially, the Z9 will also feature a super-fast 120 frames per second still capture mode and up to 20 frames per second RAW capture. The camera is expected to feature a resolution of somewhere in the range of 45-megapixels.
While full details on the Z9 have not been released, the wait is almost over. Along with this fourth teaser, Nikon USA has published a countdown clock on its website advertising an online event for the camera that notes October 28 at 8 AM ET as the official launch time.