GoPro Hero 10 Versus Hero 9: Should You Upgrade?
I use the GoPro Hero cameras all the time for my video productions, but not for action. I like the tiny Hero's for moving car shots, street walking, and just general situations where a little camera can be placed in out-of-the-way places to pick up my shot.
So when the Hero 10 arrived for review, with an emphasis on improved stabilization and power, I knew who to call to help me do a Hero 10 versus Hero 9 shootout.
Jan Schrieber, who runs the AdventureMuse YouTube channel is an avid surfer and mountain biker, and she agreed to go up and down the hills of Laguna Beach for me several times, as we strapped two Hero cameras to her chest, for side by side comparisons.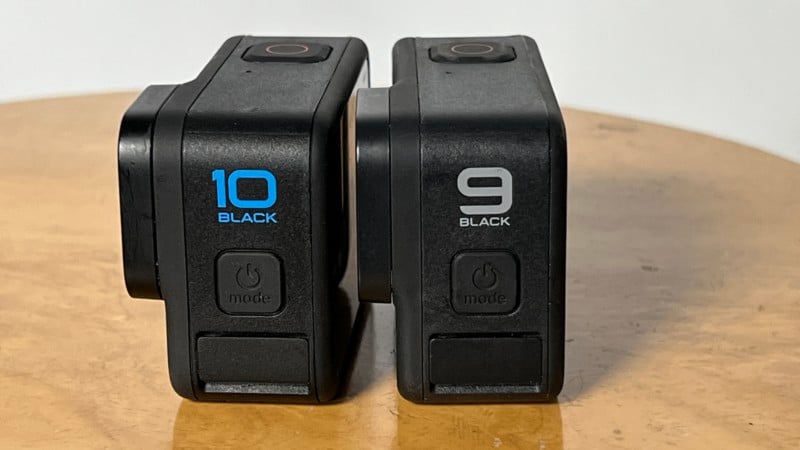 Also Read: GoPro HERO10 Black Review: The Most Significant Refresh in Years
The advantages of the Hero 10 ($499, or $399 with a $49 yearly subscription to GoPro's cloud service) are as follows, spelled out by GoPro:
A faster processor for zippier performance.
Improved electronic image stabilization, or, as GoPro calls it, "HyperSmooth 4.0," up from 3.0.
Lens coating to eliminate water spots.
Better leveling, for accurate horizon lines, even when the camera is at a tilt.
And here is what we found, in our real world, back-to-back tests:
The Hero 9 is really awesome. So is the 10. Just not demonstrably so.
GoPro says performance on the 10 is two times faster, and we didn't see that. The only place extra speed was noticeable was in the processing of the photos, which indeed was zippier and a plus. But I use the GoPro for video and to capture scenes I couldn't with a big camera or a smartphone — stills on a Hero are very rare for me as they've never been good enough to bother with.
Stabilization? Yeah, it's great. But so was the 9. Watch the video and you'll see Jan barreling down a trail and the steep 3rd Street. If you look really, really hard, you'll see that the 3rd Street shot is slightly steadier — emphasis on slightly. The trail shots looked the same, as did my walking shot in downtown Laguna.
The lens coating is a nice addition. On Jan's surf shots, in the past, the camera would show water spots that were hard to deal with while she was surfing. The new coating eliminated that. But as she points out in the video, you could buy an accessory lens cover for around $20 to fit on her 9 that would be a much cheaper way to fix the problem.

When I tried out the leveling I found that it really did work nicely, and better than my experience on the 9. When you're zipping down a ski hill or a bike trail, for instance, it's kind of hard to compose your camera for a steady horizon line, so this really helps.
When it comes to the enhanced low-light performance, I didn't see any difference. The new Hero 10 performs just as poorly in low light as the Hero 9 did. In my experience, GoPro cameras do their best in wide, available, daylight — Period. My night shots were as dark as a black cat, on both the 9 and 10. Even the shots we did just after sunrise in downtown Laguna were very grainy.
On to battery life: this is an area where GoPro inexplicably went backward. In my testing, I averaged about 30 minutes of use on the 10 versus an hour on the 9.
A quick word about GoPro's $49 yearly cloud backup subscription program, which offers more than just online backup: It also throws in discounts on repairs and accessories. The company is so intent on you signing up that it will practically pay you to do so. The full price of the Hero 10 is $499 if you don't subscribe and it falls to $349 if you agree to sign up, and the company throws in an extra battery and 32 GB memory card.
Schrieber, who subscribes, says the service is worth it.
"I busted my 9 and got it repaired for $99. So for $49, it's not too bad of an investment considering I'm really tough on my cameras. Plus you get 50% off GoPro gear and unlimited cloud storage," she says.
From our perspective, signing up for GoPro's subscription program (formerly called GoPro Plus, now just GoPro) is pretty much a no-brainer — You will save money by doing so.
But whether you need to replace your Hero 9 with a Hero 10 isn't as easy a decision, since the 9 is so good. With each Hero version, there has been improvement with resolution, quality, and features. On the new model, it's just hard to see most of them with the naked eye. If you have an 8, which the company says has "Amazing HyperSmooth 2.0 video stabilization," well, you will definitely do better with 4.0 on the new camera. And if you go back to a 7 or 6, sorry, but it's time to shell out some money.
And if you're new to GoPro, and want a camera that can attach anywhere from a ski helmet, bike handlebars, dog collar and places we wouldn't dream of putting a smartphone, then welcome to the world of the 10.
---
About the author: Jefferson Graham is a Los Angeles area writer/photographer and the host of the travel photography streaming TV series Photowalks. The opinions expressed in this article are solely those of the author. This article was also published here.