GoPro Hero 10 Black Leaks: Same Look, Better Performance
Images and purported specifications of GoPro's new flagship device have leaked and while the design of the camera doesn't look different from the Hero 9, the report alleges a boost in performance.
Side-by-side, it might be difficult to tell the difference between the GoPro Hero 10 and Hero 9 as new photos of the upcoming model published by Winfuture show the new device will have the same two LCD panels on the front and back as the previous model and the iconic right-aligned lens module that has been a mainstay of the devices since their inception.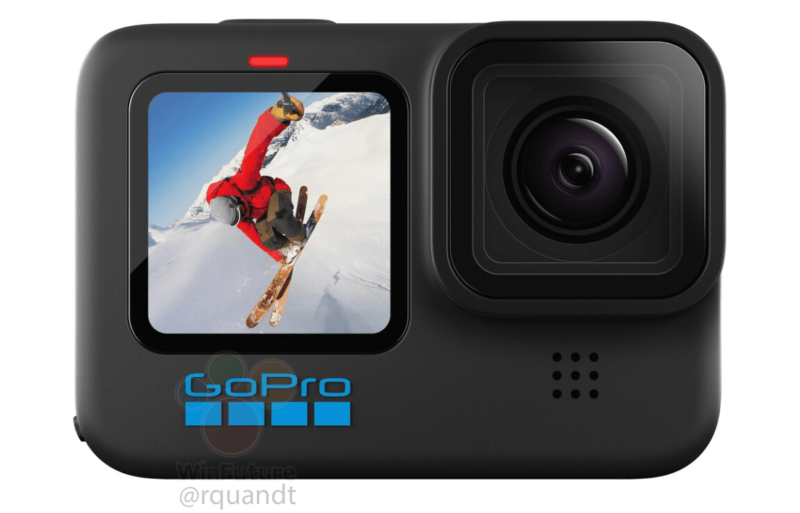 But the new report also states that the camera will have a new GP2 processor, which would reportedly dramatically improve its performance with both resolution and framerate.
That processor is expected to allow the GoPro Hero 10 to support 5.3K resolution videos shot at up to 60 frames per second and 4K clips to be shot at up to 120 frames per second. It would also allow for the capture of 240 frames per second at 2.7K. The Hero 9 currently allows 5K at 30 frames per second and 4K at 60 frames per second, so the bump in performance, if true, would result in a camera with a lot more capability in slow motion when combined with higher resolutions.
Winfuture claims that this new processor will combine with a new image sensor that will see a slight bump in resolution to a usable maximum of 23-megapixels instead of the 20-megapixels that were found in the Hero 9. It should be noted that the actual resolution of the sensor itself isn't yet known as GoPro uses software to digitally crop video feeds in order to make its stabilization work exceptionally well. For example, the Hero 9 has a 23.6-megapixel sensor, but can only capture the aforementioned 20-megapixel photos.
Speaking of stabilization, the Hero 10 is expected to see an update to HyperSmooth and TimeWarp, the marketing names of what GoPro calls its stabilization and timelapse features.
No pricing or release information were included in the leak, but since WinFuture was right about the Hero 9 last year with a pretty similar timetable, expect the product to be announced within the next few weeks. At the time of publication, the Hero 9 Black was available for $350 without a subscription thanks to a $50 instant rebate.
Additional images of the upcoming GoPro Hero 10 Black can be found on WinFuture.