The Hero10 Black Bones is GoPro's Answer to the DJI FPV Drone
The DJI FPV was the first to bring first-person view (FPV) drones to the masses as a great entry-level, all-in-one package. GoPro seems to be targeting more serious drone pilots with the Hero10 Black Bones, its no-compromises 5K FPV camera.
GoPro seems to have learned its lesson when it comes to drones after the disastrous launch of the GoPro Karma and with the Bones it is sticking with its core competencies. The Bones is a way for GoPro to compete in the drone market, specifically the exploding FPV scene, without having to reinvent the wheel. Instead, the company took what it was already great at and tailored a new option that gives FPV pilots one of the best, if not the best, standalone camera option on the market.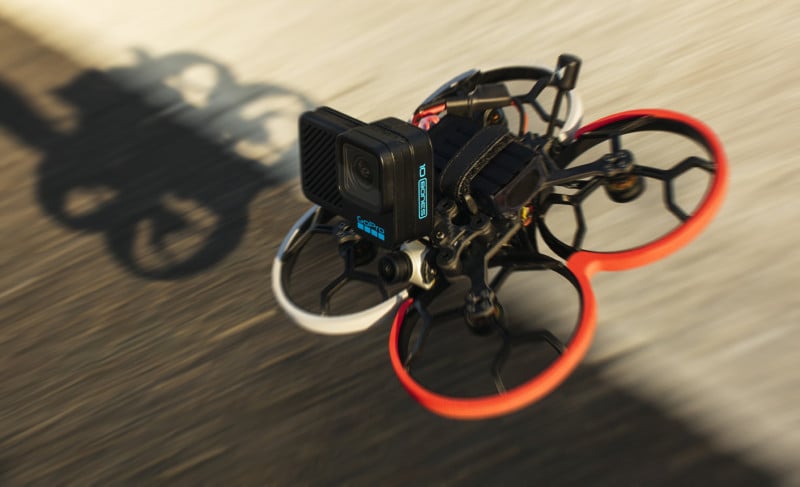 The Bones is basically the same camera as the Hero10 Black — including the same image quality, frame rates, and GP2 processor that powers its HyperSmooth 4.0 stabilization tech — but packaged into a small, thin, and lightweight enclosure that is designed specifically for use on FPV and racing drones.
Weighing in at 54 grams (about 1.9 ounces), it is significantly lighter than the Hero10 Black which weighs 150 grams (about 5.3 ounces). As such, GoPro says it has been uniquely designed to suit FPV capture as the lightest GoPro ever made. GoPro says its light weight is perfect for three-inch class and larger drones.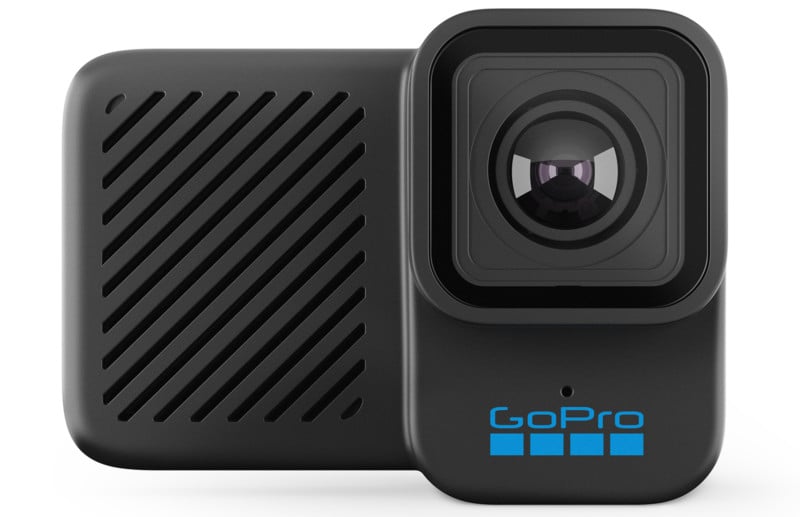 GoPro may have shed a lot of weight by ditching the Hero10 Black's water and dust-proof build — which isn't necessary for drone cameras — along with any heat sinking. Instead, the Bones leverages the fact it will be mounted on a drone to keep its internals from overheating.
It uses what GoPro describes as a ventilated and semi-durable enclosure that promotes continuous airflow that it can gather while the drone is in motion in order to support high-resolution and high framerate video capture for extended periods of time.
The GoPro Hero10 Black Bones can capture 5K video in a 4:3 aspect ratio at 30 frames per second, 4K 4:3 asepct ratio video at 60 frames per second, and 2.7K 4:3 aspect ratio video at 120 frames per second. The camera ships with a license for GoPro's ReelSteady video stabilization — which is now part of the new GoPro Player and ReelSteady desktop application — to allow FPV pilots to create extremely smooth, fast-paced video footage.
The camera can be controlled from a variety of ways: the two physical buttons on the camera, the Quik App, GoPro Labs QR Codes, GoPro's The Remote, or a drone's transmitter. It can be mounted on a drone via GoPro's single screw boss and comes with an optional adapter for the GoPro mounting system. GoPro says it uses a standard FPV industry connector that lets it quickly plug and play with a variety of FPV drones.
If the drone were to crash, the camera's lens cover is replaceable. GoPro says it is also compatible with Hero9 and Hero10 ND filters that are available from third-party manufacturers.
Pricing and Availability
The GoPro Hero10 Black Bones is available starting today for $400 with a GoPro Subscription or $500 without one directly from GoPro. It includes a license for GoPro's ReelSteady software, which is also available separately for $100.