Skylum Reveals Two More Extensions, Says Luminar Neo is a 'Platform'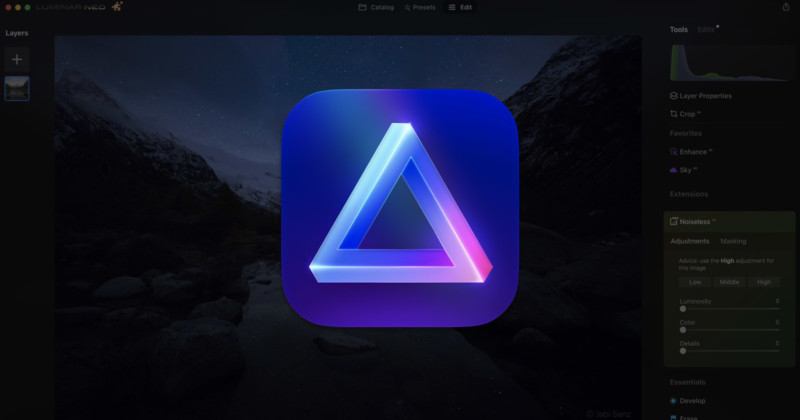 Skylum has revealed the next two paid Extensions for Luminar Neo and says that the editor has shifted to become more of a "platform" that hosts add-on tools to solve specific photo editing tasks.
Earlier this month, Skylum announced that it was transitioning to a "new vision" for Luminar Neo that is built on paid Extensions, of which it would release seven total by the end of 2022.
At the time, the company said it was "deeply committed" to making Luninar Neo a one-stop platform for creative photo editing and that focusing on paid Extensions is a flexible way to attain that goal.
Today, the company confirms that it sees Neo as a "platform" for future development, and says that it has no plans to phase it out as it has with other software in the past such as Luminar AI.
"Neo is here to stay. We'll focus on its development and keep it as our main product and our highest priority," the company says.
"We're committed to improving Luminar Neo for all owners free of charge. This year, we've already delivered 10 updates, and we'll continue developing the Neo platform. We're working on platform updates: performance and stability improvements, masking refinements, changes to the library, and more."
Skylum says that Luminar Neo was built from scratch last year so that it could have a "modular engine" that would allow it to make updates and add features without any loss in performance, providing some rationale as to why the previous version of Luinar was left behind.
"Luminar Neo was created to resolve the most common and tedious photo editing jobs. The idea is not to clutter Neo with niche tools but rather to give a toolbox with all the instruments needed to create the photos you imagine," the company continues.
Two More Extensions
In addition to this clarity behind the future of the Neo software, Skylum has announced the names and functions of the next two Extensions: Upscale AI and AI Background Removal
Upscale AI enhances image resolution in what the company describes as "a natural way" while the AI Background Removal will automatically remove the background behind a subject.
These two Extensions will be released later this year and join both HDR Merge and Noiseless AI which have already been added to the platform.