Nikon Z9 To Feature 45MP BSI Sensor, 160 FPS Burst Capture: Report
Nikon's Z9 has concluded its testing at the Olympics and a new report has surfaced that promises some rather impressive specifications for Nikon's forthcoming sports-focused camera, including a 45-megapixel sensor and somewhere between 120 and 160 frames per second burst shooting.
Nikon Rumors is reporting a set of new details that promise significant performance out of Nikon's forthcoming camera. The report includes a long list of new details and an official announcement window for somewhere in the next two months.
Firstly, the report says that the Z9 will feature a 45-megapixel (8256 x 5504 pixel resolution) and it will be a stacked sensor. Additionally, in low-resolution mode, it will be capable of firing 120 frames per second, while Nikon Rumors says that some other reports that have come in claim it can get as high as 160 frames per second. Considering the 120 frames per second is cited as being files no larger than six megabytes in size, 160 frames per second may only be a specification that will be used to tout capability, but will likely not be actively used by many professionals.
The report also claims that the Z9 will feature some kind of global positioning system, which is likely to be the recently-unearthed Global Navigation Satellite System (GNSS) technology. If that rumor holds true, it would be a major upgrade in how geolocation coordinates are obtained for the metadata of photos.
Nikon Rumors also reports that it will be able to use the same battery as the D6 as well as a new one that can be charged through the USB port on the camera. Additionally, the Z9 will supposedly use a new leaf blade protective shutter system that will automatically cover the sensor when the camera is switched off or when a lens is being changed in order to prevent dust or dirt from hitting the sensor. It appears to be similar to what Canon currently does with its focal plane shutter, but will be separate from the one used to capture images; this mirrors a patent Canon recently applied for.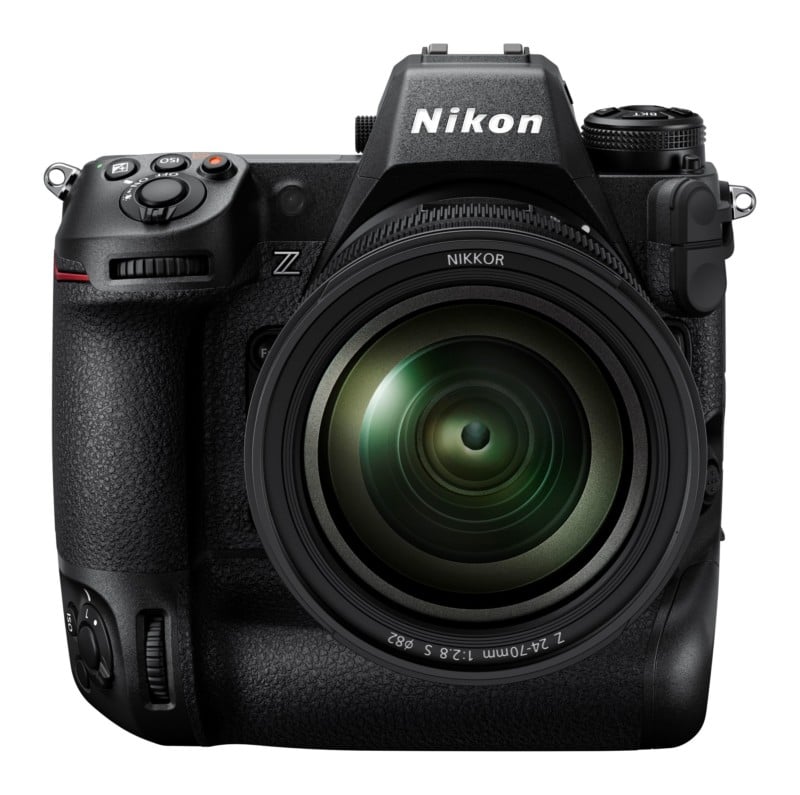 The Z9 will also reportedly see significant autofocus performance improvements such as dedicated automobile AF (like Canon announced for the R3) as well as for animals and people. It will also gain improved 3D tracking.
Nikon is apparently improving the articulating screen — which explains the odd tape situation that was visible on the back of the camera seen at the Olympics — and adding new features to the menu to make it more customizable. The company is also apparently adding a different style of locking flap for the CFExpress memory card port. Also seen in those photos from the Olympics is the new third joystick which is supposedly designed to be used when a photographer's eye is pressed up against the camera. The sound of the shutter will also apparently support various volumes, and can be adjusted from silent to loud.
Nikon originally announced that it was developing the Z9 in March but provided scant little information about the device. Nikon's team does seem to understand the grand expectations for the camera, however. While the Z9 may be announced in the next couple of months, it is unlikely that it will be easily obtainable for some time, as Nikon has struggled with its supply chain due to the coronavirus pandemic and since it made several changes to its production line including moving camera manufacturing out of Japan. The Z9 will very likely be extremely challenging to purchase for some time after its official release.