Primoplan 75mm f/1.9 II Review: A Lens with Background-Melting Bokeh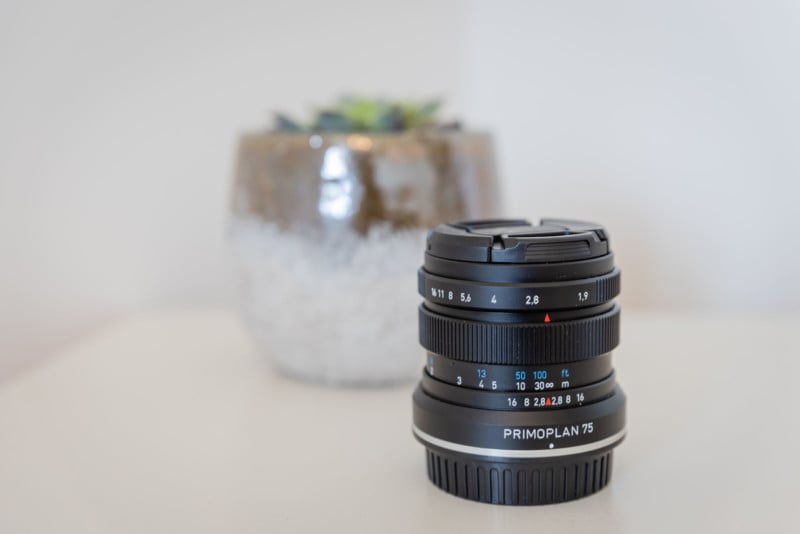 Founded in Germany and based in Görlitz, Saxony, Meyer Optik Görlitz can look back on an eventful history since 1896. During this path, the company designed and manufactured exceptional lenses that have been accompanied by photographers for over 125 years.

Besides standing out for its quality construction standards, Meyer Optik Görlitz has emphasized a great endeavor into research and development.
During the 1950s and 1960s, mainly the well-known Trioplan triplets, the powerful Primoplan lenses, and the Telemegor long focal lengths were produced. Many lenses from Meyer-Optik have regularly been awarded the highest quality rating for DDR products. By the integration of the Meyer-Optik into the combined VEB Pentacon, the imprint Meyer optics on the lenses disappeared after 1971. In the mid-1980s, Carl Zeiss Jena took over the VEB Pentacon and thus also Meyer-Optik, which diluted through the years.
After the German reunification, Meyer-Optik has been relaunched but also stopped again in 1991, as the company could not become competitive fast enough. Meyer-Optik-Görlitz then entered the market again in 2014. After a thoroughly successful start, the brand fell victim to the insolvency of its then-owner beginning of 2018 and shut its doors once again.
Read also: How Meyer Optik Görlitz Won at Kickstarter but Failed at Life
At the end of 2018, OPC Optics, based in Bad Kreuznach, restarted Meyer-Optik again. The specialist for aspherical and spherical glass lenses optimized existing products and production processes and started the development of completely new lenses. After 2 years of intensive work, Meyer Optik released 5 lenses from mid of 2020 until now. The in-house lens production in Bad Kreuznach and the procurement of other components from German partner companies (i.e. from the Wetzlar-Region) are ensuring the best possible quality.
Meyer Optik has finally the foundation for further growth and to become a constant in the photo industry. We are seeing the perfect merge between tradition and modernism.
The Revival
The historic Primoplan 75 f/1.9 was developed by genius designer Paul Schäfter. Meyer-Optik applied to protect the design on 17/06/1936. The new version of the lens also comes from Görlitz, with Meyer-Optik developing them with the support of engineer Dr. Wolf-Dieter Prenzel. He has redesigned and optimized the Primoplan 75 f/1.9 II and carefully adapted it to the high standards of digital photography after an intensive development period, yet he nevertheless preserved its characteristics.
About the Primoplan 75mm f/1.9 II
The Primoplan 75 f/1.9 II is known for its fine progression from focus to blur, exceptional base sharpness, and unique, dreamy, creamy bokeh, which lets the light magically flow together. The 75mm focal length creates a natural viewing angle and does not compress as much as longer focal lengths. Its 15 aperture blades enable the camera to create impressive blur patterns even when stopped down.
Construction
The Meyer Optik Görlitz Primoplan 75mm f/1.9 II is assembled by hand and individually calibrated and tested. Other features include an aperture range of f/1.9 through f/16, has 15-blade aperture diaphragm, has a minimum focusing distance of 75cm (2.45ft), and uses a 52mm front filter thread.
The Primoplan 75 f/1.9 II is an enhancement of the Cooke triplet, in which a central dispersion lens is flanked by two groups of lenses, each acting as a converging lens. The rear group consists of a single biconvex converging lens. This exceptional design results in breathtaking images.
Available mount options include Canon EF, Nikon F, Fuji X, Leica M, M42, MFT, Pentax K, and Sony E mounts.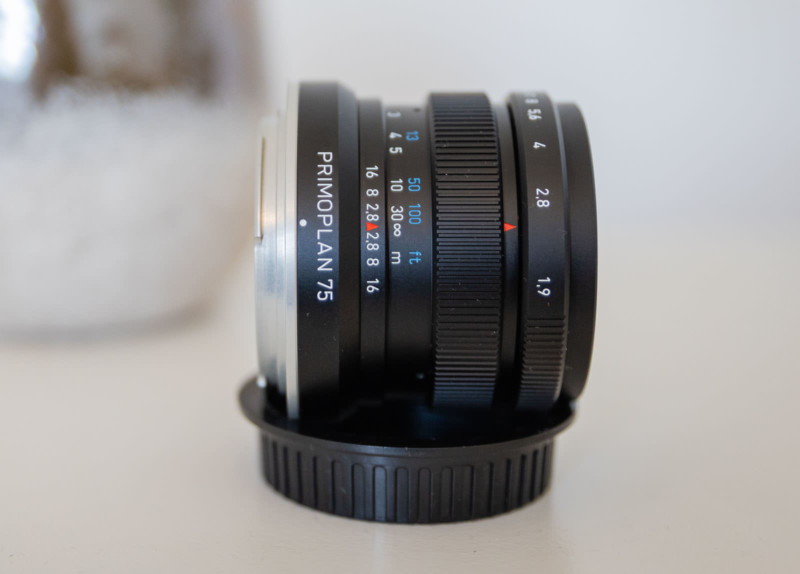 Ease of Use
With a maximum diameter of 52mm and a length of 55mm-85mm, the Meyer-Optik Primoplan 75mm f/1.9 II is well-suited to DSLRs and mirrorless camera bodies. Weighing in at around 300g-360g, it's a surprisingly light lens, and therefore, convenient to travel.
As it has no zoom ring, the manual focusing ring spans a significant width of the lens barrel and is exceptionally smooth to operate, enhanced with a useful depth of field scale.
This lens lacks image stabilization, but the short telephoto focal length and fast maximum aperture compensate for the need for it.
Of course, if your camera is built with in-body image stabilization, the possibilities to shoot under harsh lighting conditions are higher and more efficient.
Despite it is a lens with a fast aperture suitable for shooting outdoors, the user control quality means that it is easily managed in-studio sessions.
Manual Focus
As mentioned before, the lens barrel is easy to operate and silent for achieving precise focusing and it works like a charm in conjunction with the peaking feature offered by modern mirrorless cameras. As you might expect, there is no electronic communication with the camera as it is a purely mechanical lens.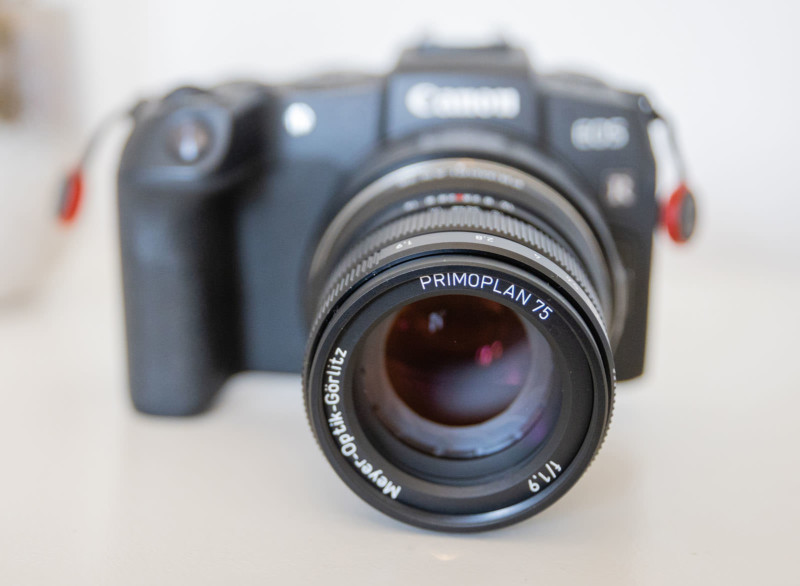 Sharpness
To clarify expectations, it is important to mention that this lens is not a razor-sharp megapixel monster, and it is not intended to be. The look produced by the Primoplan 75mm f/1.9 II has its own character, emulating vintage images with a unique style of bokeh. However, the lens is not extremely soft either and as you can see in the images, it is more sharped than you might imagine. This is the ultimate lens for fine art photography, and it breeds premium all over. 
Colors
A pleasant pastel wash of colors that melt into each other is the outcome of this objective. They are not saturated, and contrast is also well balanced, making it a great tool for achieving fine-looking portraitures.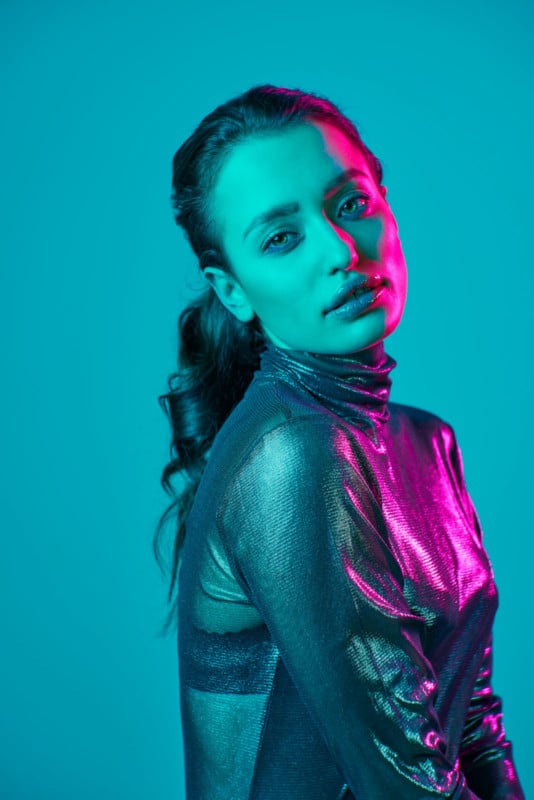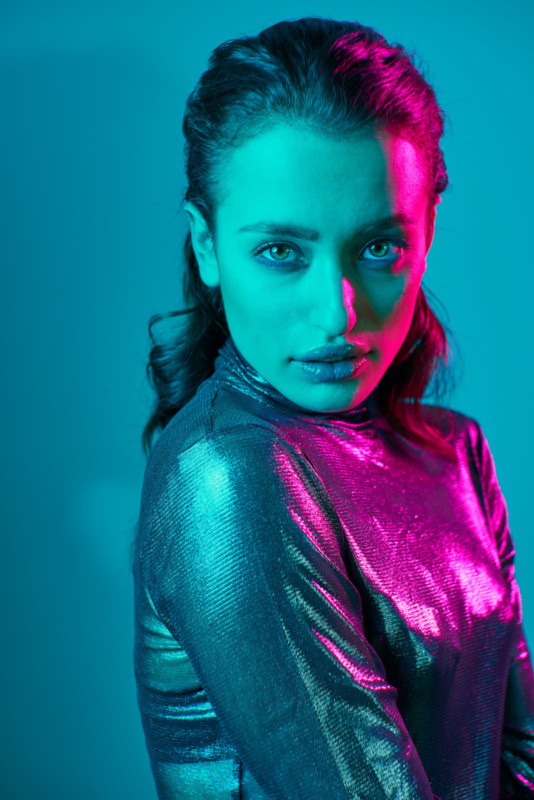 Chromatic Aberration
Lateral chromatic aberrations, typically seen as blue or purple fringes along contrasty edges, are well controlled with this lens as seen in the images that illustrate this text.
Unique Bokeh
The Primoplan 75mm f/1.9 II lens is a true king in this field because it offers the photographer a whole range of different bokeh in one lens. With the background at a closer distance, the 15 aperture blades display their merits, and a wonderful circular bokeh appears with a unique color rendering. When the background is at about 9 feet/3m, this becomes a more rotating composition of out-of-focus effects. But all the time these bokeh effects remain discreet and not intrusive. Therefore, the image is highly enhanced directly out of the camera.
This objective is perfect for portrait photography. It adds a creamy, background-melting bokeh, classic sharpness, and exceptional skin tones. While there is always a great debate when you ask photographers to name their favorite focal length for portraits, perhaps the 75mm hits a sweet spot that gives you a bit more compression than a 50mm but allows you to work in slightly tighter spaces than an 85mm or 105mm.
Wide-Open Glow
The 15-blade diaphragm closes down to a circle through the range to get rounded highlights. It produces something of a glow around brighter subject matter when shot against darker backgrounds. This glow and the slightly lower contrast, when shooting wide-open, produces a cinematic character.
Macro vs. Portraits
With a close-focus point of 0.75m, the Primoplan 75mm f/1.9 II isn't a macro lens. However, it is better suited for shooting portraitures or street photography.
Technical Specifications
Why Use a Manual Lens?
Shooting with a manual lens centers your attention on the precise image and effect you want to produce. It gives you more control over the shot when focusing and producing a desired bokeh. On some occasions, autofocus and shake reduction can be counterproductive when it comes to undesired shaking or wrong spot focusing, especially, under harsh lighting conditions.
Who is This Lens For?
Experienced photographers who have used in the past, analog optics by Meyer Optik Görlitz and who are looking forward to integrating modern versions in a digital era.
Photographers whose style is vintage look-like and are looking forward to having an objective with a unique character.
Fine-art photographers who would want to produce a unique image directly out of the camera.
Pros and Cons
For
Gorgeous bokeh and glow effect
Very well built construction
Light and compact
Good control through the focusing ring
Against
Manual lens; no electronic communication
Not for everyone, the target market is quite specific
Pricey
Verdict
There is a reason why the concept behind the Primoplan 75mm f/1.9 II survives until today. This an objective that takes the best out of two worlds: tradition and modernism. The revolutionary optics created 85 years ago in an analog past enhances its formula in a contemporary digital era through up-to-date components, while maintaining its unique characteristics.
The results lay on images that had become the trademark from this lens through time. A visually pleasant creamy bokeh with a unique blurriness transition that enhances colors in a cinematic style. When contrasting the main subject against a dark background, it is possible to produce a subtle glow that creates unique portraitures.
The built-in quality is outstanding, and the materials reflect and feel premium all over. It is light, compact, and not intrusive at all. Combine these characteristics and you get an objective that might be permanently attached to your camera or at least becomes part of the main gear in your carry-on bag.
A 75mm is not a common focal length but this is another trait from this lens. It doesn't compress too much, meaning that it is capable to provide more environmental information to the main subject, resulting in a more natural viewing angle.
The results generated by the Primoplan 75mm f/1.9 II are quite peculiar and therefore, the lens might not be to everyone's liking. On top of that, the price point should be another factor to consider. However, this lens is capable of creating results directly out of the camera that are hard to reproduce with any other lens in the market. In photography, most of the time you get what you paid for, and the Primoplan 75mm f/1.9 II is a valuable companion for creating outstanding fine-art images.
---
Update on 5/20/21: Here are official sample photos by Meyer Optik Görlitz that show this lens' bokeh in action: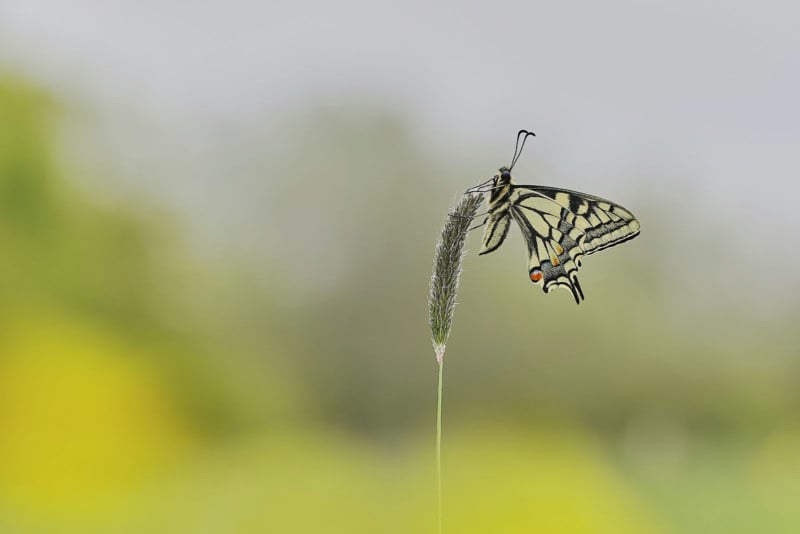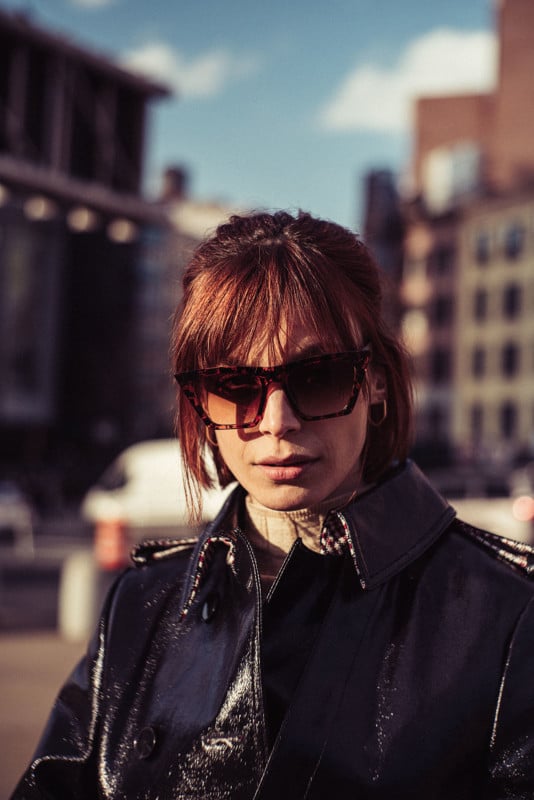 ---
Full disclosure: A lens was provided to me for the purpose of this review. I have previously been sponsored by Meyer Optik Görlitz, but there is no ongoing financial relationship between me and the company.
---
About the author: Manuel Delgado is a photographer based in Düsseldorf, Germany. The opinions expressed in this article are solely those of the author. You can find more of Delgado's work on his website, Facebook, and Instagram.
---
Credits: Text by Manuel Delgado and photography by Frank Rossbach.