Nikon Denies Any Z-Mount Lens Delay, Promises 30 Lenses by Year's End
According to some reports, Nikon put its Z-mount lens roadmap on hold and postponed several announcements that were supposed to come in April. Nikon has now explicitly denied these rumors, and further promised to stay on track to bring its lens lineup to "approximately" 30 lenses by fiscal year's end.
In early May, Nikon Rumors reported that while Nikon was supposed to release several Nikon Z lenses in April, that did not happen and they were postponed so that the company could focus on the Z9 in an attempt to beat Canon to market. The Z9 development announcement came on March 9 and Canon's EOS R3 announcement came on April 13.
Nikon Rumors reports that the 105mm Micro S lens, the 100-400mm S and/or the 200-600mm, and one or two APS-C mirrorless lenses which would accompany a new APS-C mirrorless camera (like the Z5) were all delayed. The report also stated that some of these products were even delayed going back to 2020.
Following up on these rumors, TechRadar reached out to Nikon and asked if these delays were real, to which the company responded plainly:
"There is no such delay."
In March, a report from Nikkei stated that Nikon had plans to reach profitability by 2022 and that part of that plan was to increase the Z-mount lens lineup from 18 lenses to 30 lenses by the end of the next fiscal year: "12 lenses in 12 months." TechRadar asked Nikon if that plan was realistic, to which the company responded:
"We are planning on expanding the Nikkor Z lens lineup to approximately 30 lenses by the end of the fiscal year 2021."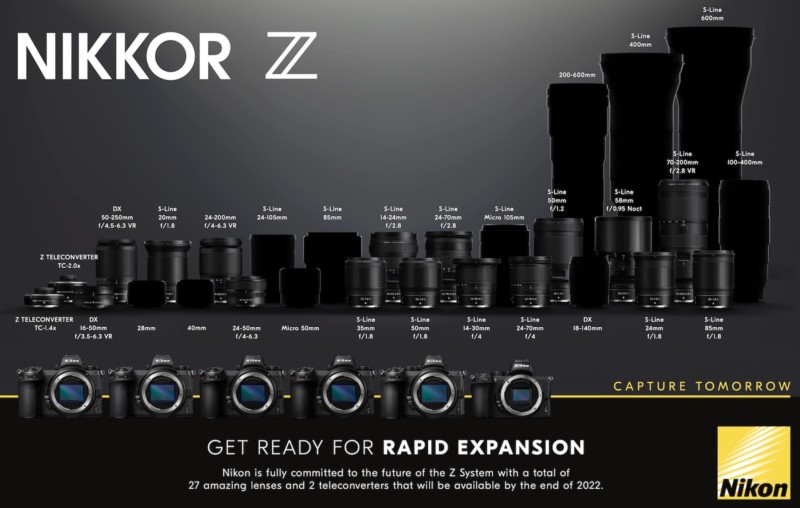 The "approximately" term might be concerning especially when combined with the fact that Nikon has not released a single Z-mount lens in eight months. The last lens announcement came on September 16 and introduced the 14-24mm f/2.8 S and 50mm f/1.2 S lenses. Nikon has not released a single new product this year.
Nikon must feel particularly strongly about these reports as it is out of character for the company to respond at all to any rumors. Still, the company promises that it is on track, and the only option for Z-mount photographers is to be patient.