Nikon Updates Z Lens Roadmap, Adds 85mm, 400mm and 600mm Primes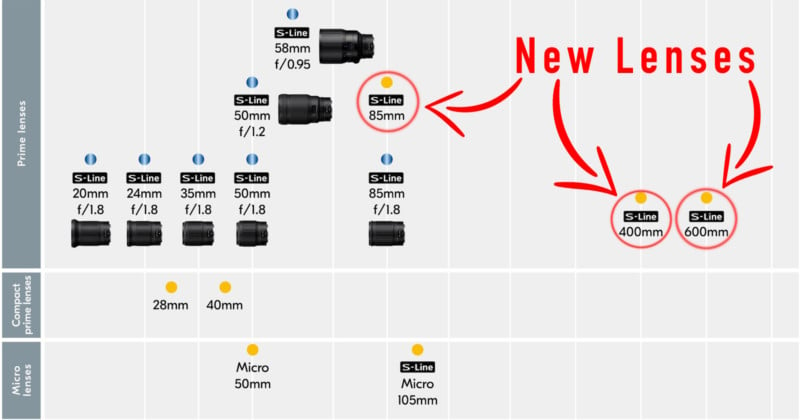 In addition to announcing the new-and-improved Z6 II and Z7 II full-frame mirrorless cameras, Nikon also released an updated Z-Mount lens roadmap this week. The new lineup includes three prime lenses we haven't seen before: an 85mm (probably f/1.2), a 400mm (probably f/2.8), and a 600mm (probably f/4).
All three of these lenses were added to the updated roadmap, which was posted by Nikon Global as part of the Z7 II announcement. For some reason, the new roadmap didn't appear in the Nikon USA announcement, nor has the Nikon USA website been updated to include them, but we expect that to change soon.
In the meantime, you can see that the updated lineup includes three new yellow dots in the Prime Lenses section, corresponding to three new "S-Line" lenses that will arrive sometime by 2022 (click to enlarge):
The Nikon USA press release announcing the Z6 II and Z7 II does mention that "the [Z-Mount lens] lineup will expand to include a total of 24 innovative optics by the end of 2021." However, notably, these three new lenses bring that total to 27.
Does that mean we won't see an 85mm f/1.2 or Nikon's 400mm and 600mm primes until 2022, or will some of the other much anticipated lenses like the 105mm Micro, 25-105mm, or the 100-400mm need to be put on the back burner instead? We've already seen what Canon (allegedly) has in store for the RF-mount lens lineup in 2021… Nikon has some stiff competition.