10 Top Tips for Motorsport Photos by Photographer Larry Chen
Larry Chen is a world-renowned motorsports and car culture photographer from Los Angeles. He went from a young man growing up in Santa Monica with just a passion for cars to a passion for photography, to even a paparazzi photographer before finding his niche for professional motorsports and automotive photography.
Chen, who has competed in amateur racing events, started shooting racing and cars in 2004. "I just enjoyed it so much as a hobby, I wanted to figure out a way to do it for work," Chen tells PetaPixel.
Car culture is also a favorite of Chen. "I love telling the stories of home garage builds, or next-level technology, power and speed," Chen explains.
Chen started his photography passion with a Canon Rebel XT and now is a Canon Explorer of Light and shoots both DSLRs and mirrorless (check out his gear in the captions). When asked how many car photos he has taken, he answers, "Maybe 4 or 5 million? I have one Canon EOS-1D X body with 1.3 million shutter actuations."
One genre that you will not see too much of on Chen's portfolio is crash-and-burn photos, as he does not "glorify those."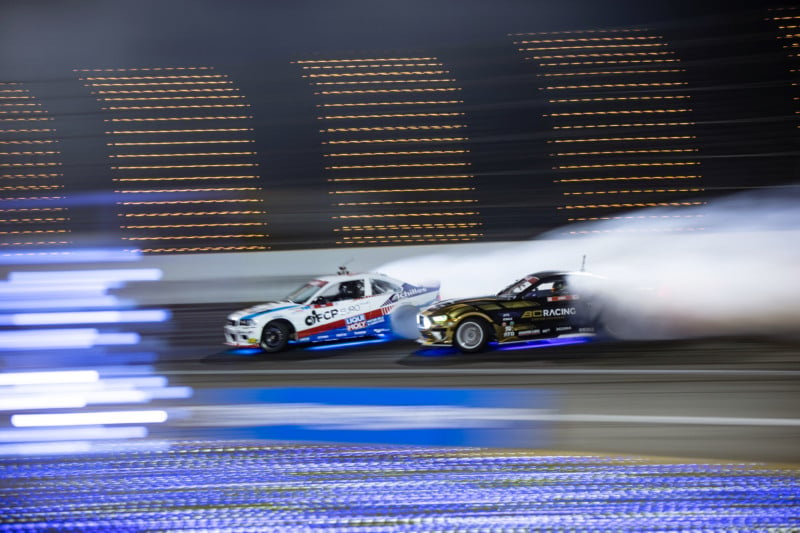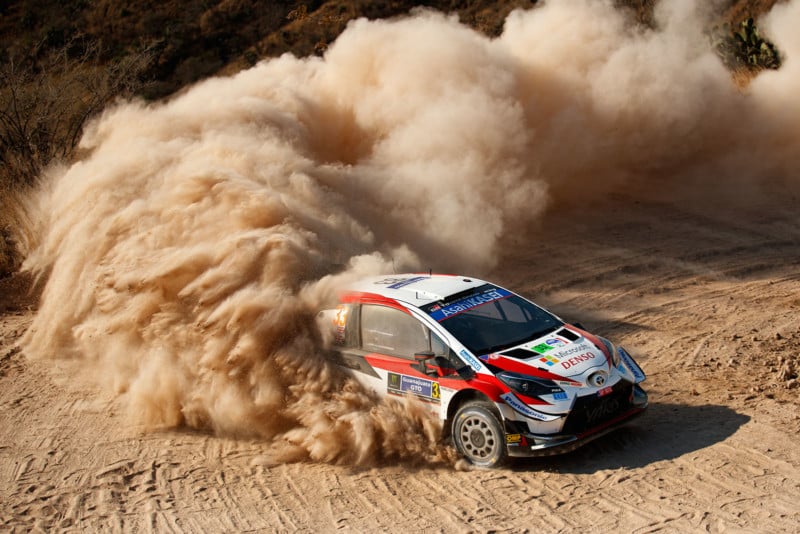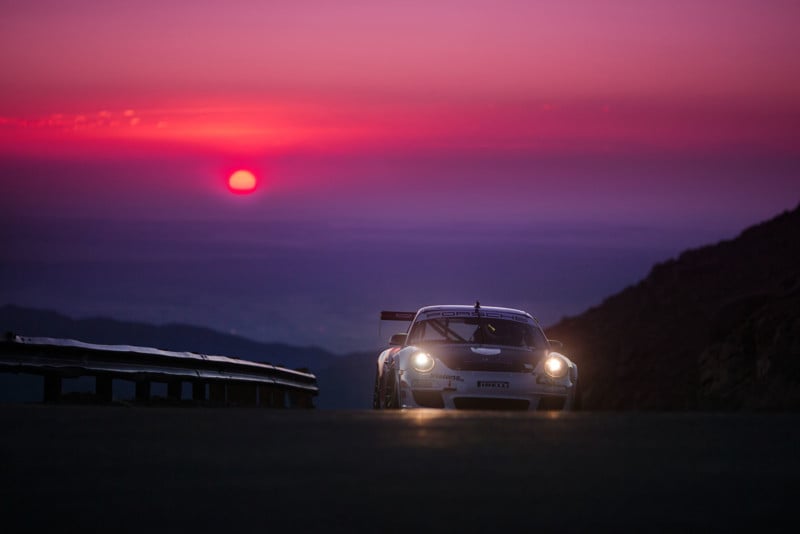 Does Chen, one of the most recognizable figures in motorsport photography, do smartphone car photography? Sure. "I only used android phones on Instagram till I hit 100K followers; after that, it was fair game," he recollects. "I currently use a Google Pixel 4 XL."
"For the past 15 years, I've been working as an automotive photographer," says Chen. "I'm the official photographer of the Formula Drift motorsports series, and also the famous Pikes Peak International Hill Climb in Colorado. You guys might also know me from my Hoonigan Autofocus YouTube channel as well.
There are not enough weekends in my lifetime to photograph all the automotive related gatherings and events, but you can bet I will sure as hell try my best. – Larry Chen
So, in no particular order, here are Larry Chen's top 10 tips for shooting motorsports (in his own words)!
Tip #1. Panning shots
One of the first things photographers will tackle when shooting cars is the panning shot. A panning shot is when a photographer tracks a subject's movement with a slower shutter speed (i.e., 1/60th) than normal to blur out the foreground and/or background. The subject can be anything moving, whether it's a car, a motorcycle, or even a horse. If it's moving, you can pan it. The challenge comes when shooting at a lower shutter speed. I would suggest starting at a relatively easy shutter speed (1/250th) and just work your way down as you get comfortable. When shooting my panning shots, I find my comfort zone around 1/30th to 1/60th. Everyone's comfort zone will be a little different but if you aren't satisfied with your higher shutter panning shots, start dropping those shutter speeds a bit. The biggest tip here is to exhale as you shoot. Similar to shooting a bow or a firearm, you want your camera to be as steady as possible while you're firing away. Practice makes perfect so just keep at it.
Tip #2. Show the landscape and surroundings
Too often, I see too many motorsport photographers focus too much attention on the action itself. While this works in some situations, I wouldn't focus all my attention on just that.  I like variety in my photos when I shoot. It goes a long way to show off a bit more of the background to highlight certain areas that make it unique. Otherwise, it's just a zoomed-in photo of a car that could have been shot anywhere. So, zoom out a little.
Tip #3. Don't rely on the crop
Like the above point, I see this too often as well. Many photographers rely on cropping their photos instead of improving their framing. Take the time to tell yourself to apply the Rule of Thirds as an example. This works with both moving and stationary subjects. As long as you're mindful of it and make an attempt to work towards not center-focusing and just cropping in later in post, you'll see a substantial outcome as you shoot more. Obviously, crop if you have to, ha-ha! I limit my cropping mostly to adjusting the horizon of a photo.
Tip #4. Use all the settings that are available for you on your cameras
I get asked what my settings are all the time at events. And I say I use all settings the camera has to offer. I'll use Shutter Priority, Aperture Priority, Manual, even Bulb. Whichever setting will net me the exact photo I'm looking for, is the setting I'll use. In a situation where I'm doing panning shots in broad daylight, for example, I'll prefer shutter priority. I'll start by setting up shutter speed and ISO (usually low). In most of these situations, the aperture won't really affect my image all that much as it'll be high regardless, but to keep it as low as possible, I run as low of an ISO that I can to minimize sensor dust.
Tip #5. Take off your lens caps
I see MANY other photographers run into this issue when I'm at race events. The cars will come by, and the photographers will go to shoot before noticing their lens caps are still on their cameras. I just leave mine off and run filters on all my lenses. Most filters are pretty scratch resistant anyway, and I'll go through at least a year with them on before they get too scratched up. Decent ones can be had for less than $30.
Tip #6. Since we're talking about filters, circular polarizers are a photographer's best friend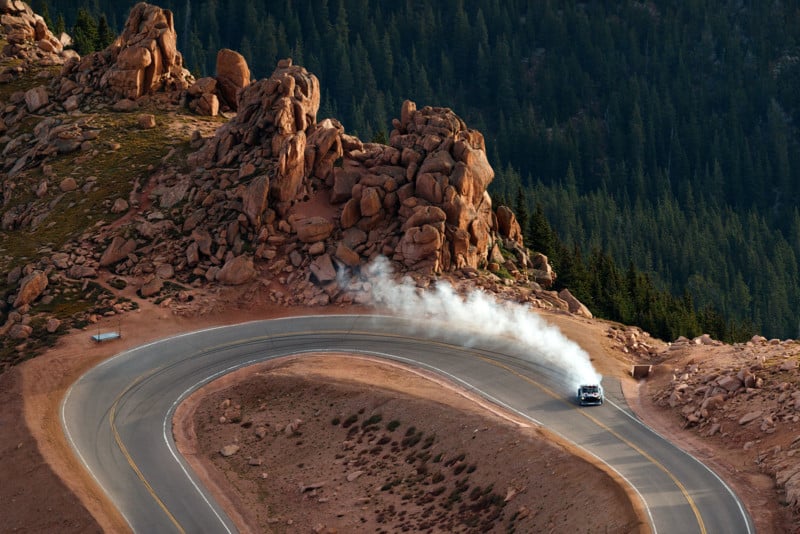 Neutral Density filters and gradual ND filters are great too. I always run CPL filters during the day. Always. ND filters are often used, mostly for when I'm panning, and I want to shoot with a low shutter speed and wide-open aperture. Gradual ND filters are great for golden hour as well
Tip #7. Move around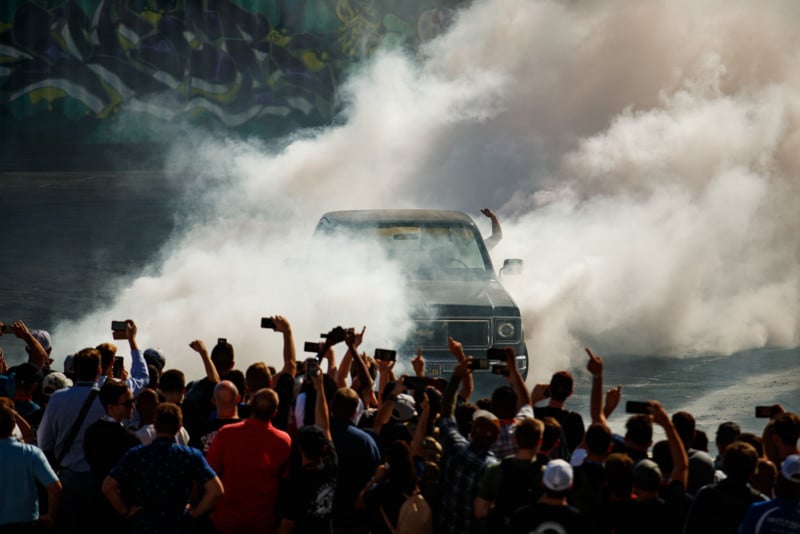 If you're shooting at an event, don't put all your focus on a single shot or single area of the track. Move around and aim to get various photos throughout the area to best show the overall event. This also includes the pit and paddock areas. Just because you're shooting car racing doesn't mean you aren't allowed to shoot people as well.
Tip #8. Listen to the track officials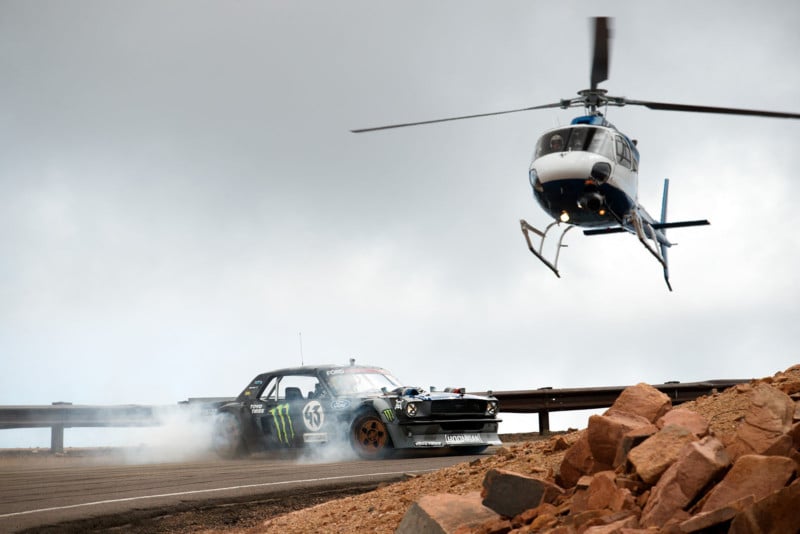 Don't be stupid and put yourself in a dangerous situation where death becomes a factor just for a cool photo you have in mind. It's not worth it. There are plenty of ways to shoot an amazing photo that don't put your life at risk. The track officials know best when it comes to safety, so if they tell you to back off and get out, back off and get out.
Tip #9. Wear the appropriate clothing
Tank tops with board shorts and sandals will not help you, especially if you're shooting something like drifting and anything off-road. I always check the weather for an upcoming event as well in case rain decides to make a visit. And I always wear proper socks and shoes as I'm usually standing for well over 12+ hours on long race days.
Tip #10. Don't be afraid to preview your shots
I do this all the time to help readjust my photos. With certain racing series, there are enough cars for you to practice on to help attain the shot you're looking for in a small amount of time.
Hope you enjoyed my 10 tips. Maybe I'll see you out at a future event!
---
If you have any questions, you can message Larry Chen on his Instagram @larry_chen_foto, where he's most active.
And be sure to check out Car Racing Photographer Gets Crowd to Light Up a Photo with Phones.
---
About the author: Phil Mistry is a photographer and teacher based in Atlanta, GA. He started one of the first digital camera classes in New York City at The International Center of Photography in the 90s. He was the director and teacher for Sony/Popular Photography magazine's Digital Days Workshops. You can reach him via email here.
---
Image credits: All photos by Larry Chen and used with permission