My Last Mocha: An 8×10 Polaroid Passion Project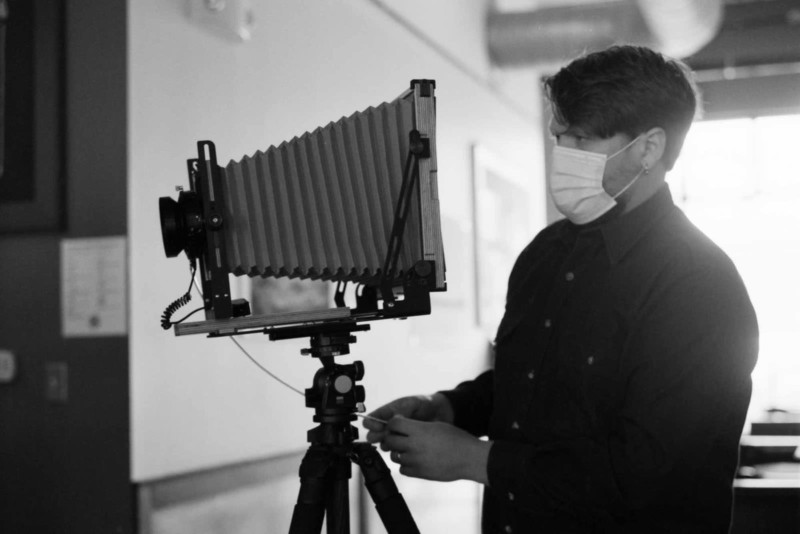 Brzz, bzzzrrr. The rollers on the vintage Polaroid developer start to suck in the 8×10 Polaroid. Dan Bosman, a Mars Cafe barista of 14 years, and I are chatting just like we always do.

"It's been slow," says Dan. "None of my regulars have been through."
The developer is a contraption like no Polaroid camera you've seen. Because it's not a camera. It's just the developing part, separated from the camera because it's huge (weighing in at 20 pounds) and has to be plugged into the wall.
Brrrzzz. The photo jams. Brz, brz, bzzzz. The rollers finally suck in the positive and negative, burst a packet of developer, and squish it between the layers of film before shuttling the photo into the light-sealed holding box.
After a few minutes, Dan and I peek at the photo. It's not all there. An error in film loading, or a fluke of the processor, has rendered only half the image. I'll have to try again.
I open up the film holder and slide in a single negative film pack. I close it, pull out the light cover, and walk back to the accordion camera.
As Dan starts an espresso pull at the bar, I check my angles and start focusing again.
He finishes his latte art pour, a classic tulip with his signature swirl on top, and says, "oh, that one's perfect" as he sets down the mug and looks up at the camera.
I've been a professional photographer for nearly 15 years. I balance the weight of budgets, crew, timelines, client expectations, and deadlines without much thought, but today is different.
Today, I'm nervous.
With my hands shaking and heart racing more than the normal caffeinated amount, I quickly double-check everything.
Are the strobes still connected? Pop.
Is the shutter closed? Is the shutter cocked and ready? Check and check.
Is the film holder sitting correctly? Check.
I pull the dark slide.
I hope Dan's still in focus, I think to myself as I raise the shutter release cable. I can no longer view the inverted and upside-down image on the ground glass from the back of the camera. The film holder is there in its place.
Sure, a misstep will cost me another $20 frame, but that's not my worry.
Why am I so nervous?
I am one of the few people who know this is Dan's last shift, one of the few people who know it's his last shift because Mars Cafe is running out of time.
Located in the Drake Neighborhood next to Drake University, Mars Cafe has been a Des Moines, IA, staple and important part of the community for 14 years.
In my early 20s, the Russian cosmonaut-themed coffee shop served as my internet connection and study spot of choice when finishing my business degree. It then became my business incubator.
It has been the start to many days before heading off to photograph across the state and country, and it has been the end to less exciting days, a place to grab a beer following hours of editing photos.
It's been a concert venue, art gallery, movie set, and a political rally site. Dan has photos with dozens of politicians and celebrities to prove it.
You don't go to Mars just to get a quick caffeine hit. You go to Mars to see who you'll run into.
I always looked forward to running into Dan. Our favorite topic of conversation: travel.
Dan would talk family road trips to national parks like Acadia and Denali. I would talk about the places my camera takes me, like Alaska's Iditarod trail and Arizona's Sky Islands.
Our paths even crossed once in Glacier National Park. I took a photo of Dan and his family in a glacial valley that is hanging on the wall in his home.
COVID-19 has beaten and bruised my coffee shop, and its lease runs out in a couple of days.
This place, and Dan, are important parts of my history. That's why I'm here. That's why I'm using my 8×10 large format camera and special handmade instant film.
I've always used instant film for moments that mean something—my wedding was shot in part on instant film. That's why I keep a fridge full of discontinued instant film.
It has a nostalgic look and provides a nostalgic experience. It allows me to hold a memory in my hand while hundreds of thousands of digital photos get lost on my growing list of hard drives (over 100 and counting).
It might take me a couple of hours to track down a digital photo on a hard drive, but I can always find my box of Polaroids. In fact, this is the reason the Library of Congress requires historical documentation to be done on large format film.
Digital files, formats, and hardware are so easily lost or discontinued. It's easier to store a physical piece of film.
While Library of Congress photographers aren't using instant film, the main cultural research arm of congress expects its film negatives to last over 500 years. You can't say the same about the digital photo you stored on a floppy disk 20 years ago.
It's taken over two hours to get the first frame and screw up the second. I won't have time for many more attempts, if any, to capture the second photo of this diptych project, a two-part art piece that I plan to share with Dan. I'll give him a photo, and I'll keep one.
I know I'm pushing Dan's patience, mine too, whether he knows it or not, and we're losing our ambient light with the sun beginning to dip behind the buildings on University Avenue.
While my first mocha was made by my, now, wife at a different coffee shop, my love for coffee didn't sprout until Mars introduced me to third wave coffee, distinguishable by its light roast and single origin-sourced beans that are grown with care like fine-wine grapes.
Mars was a breakthrough in Iowa. A first of its kind. It didn't serve the burnt stuff.
Now, Des Moines has third wave coffee shops popping up left and right. Four have opened in the last year. All serve great coffee that puts Starbucks to shame.
Despite the new blood in town, Mars Cafe is still my coffee shop. My wife and I bought a home a couple of blocks away, and I'd be lying if I told you Mars didn't influence that decision.
Mars Cafe was started by Larry James to provide Drake University students with an off-campus hangout. Later, Larry transferred ownership to four influential small business owners who have kept the wheels turning. Bless them all.
Coffee shops don't make much money and can consume a lot of time. These four soon invited Dan into ownership, recognizing his importance to the place.
If you've visited Mars Cafe a time or two in the last 14 years, chances are Dan Bosman has made you a drink. Chances are he's made you more than that.
With the fate of my coffee shop, my home away from home, hanging by a thread in the wake of 2020, I feel the weight of this photo. It was Dan's last drink.
To prevent a poorly timed blink, I give Dan a countdown. Three, two, one.
Click.
---
Dan Bosman is now the proud owner of his first solely-owned coffee shop, Daisy Chain, in Des Moines's East Village. His shop combines his newfound passion for beekeeping and honey with his joy of serving up coffee and conversations. If you stop in, make sure to get his signature honey latte and ask how his bees are doing.
Mars Cafe was purchased and will continue on with new passionate owners!
Behind the scenes photos shot and developed by Logan Christian (@loganchristian @dsmfilmlab).
Dave Poyzer's words edited by Ryan Borts.
Vintage style camera built with plywood and 3D printed parts in the UK by The Intrepid Camera Company.
Special thanks to CatLABS, curators of vintage and hard-to-find cameras, parts, and accessories for large format photography.
8×10 Polaroid Film was handmade in the Netherlands by Polaroid (formerly known as the Impossible Project).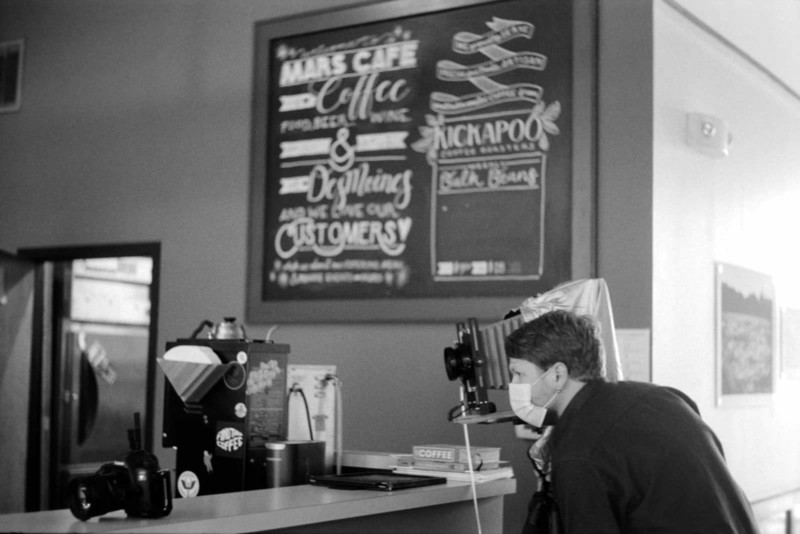 ---
About the author: David Poyzer (production manager & director of photography) is an accomplished landscape photographer, avid Driftless Area fly fisherman, experienced paddler, mountain bike hobbyist, and roller hockey amateur. The opinions expressed in this article are solely those of the author. He has a deep love for all things outdoors, vintage (especially cameras), and third wave coffee. He likes entrepreneuring enjoyable work for himself and others whether it's a career, an art project, or renovating an 1898 home with his wife Mariah. You can find more of his work on his website and Instagram. This article was also published here.