Google Photos Wants You To Donate Your Time to Train Its Algorithm
Google Photos has for some time asked users to verify its results for facial recognition or image content accuracy, but now the app is taking requests one step further: it's asking you to label all your images from scratch, not just verify results, to help train the algorithm.
One of the tenents of creating a machine learning system is to give it properly labeled datasets that it can learn from. This allows the algorithms and the developers to tune the system correctly so that it can start to give results on its own faster and more accurately. If an algorithm doesn't know what something is, a sunset, for example, it would have no way of recognizing that subject.
To this point, the algorithm has been asking users to confirm its analysis of images, but in order to grow faster and recognize more subjects more easily, just confirming is apparently not enough. The algorithm needs to take in swaths of more data of images from multiple angles and lighting positions faster.
While Google is asking its users to provide that input at the cost of their own time, the result would be that all users would get better object and image recognition going forward.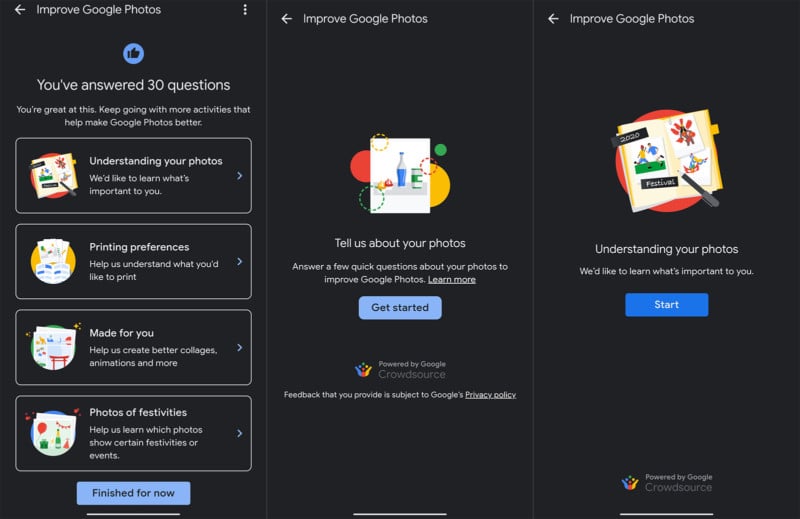 Currently, the button that requests users to "help improve Google Photos" and "take a minute to review photos now" lives in the search tab at the very bottom. Once you tap that option and agree to the task, Google Photos will bring up images to you and ask you to identify and type in what the subject of the image is. Whether this is a car, a plant, a sunset, a house, or the time of day, you will be presented with ten images per cycle (though you can choose to do it again with ten more images).
The next step takes things further and asks you what images you would consider print-worthy, the next asks what kinds of animations and collages you might be interested in, and the last wants you to help it identify whether photos taken on a specific day are related to a holiday or festival.
Clearly, the last set of questions are designed to help improve Google Photos' print service that was recently revived. If the algorithm can better identify image subjects as well as have a better understanding of context, it can probably serve as a better arbiter of a paid product.
Whether you want to help Google Photos get better at any of this is currently voluntary and the option may not have finished rolling out to all users either. If you're itching to work for Google for free and don't yet see the prompt, just hang tight: the server-side changes that bring in this option should come to you soon.
(via Android Police via DIY Photography)
---
Image credits: Featured image background by Ali Shah Lakhani.