This Demo Shows the Power of Photoshop's New 'Smart Portrait' AI Filter
Arguably the most interesting feature added to Adobe Photoshop today was a set of AI-powered "Neural Filters" including Colorize, Style Transfer, and Smart Portrait. The last of these is particularly impressive, and NVIDIA is giving us a peek at what it can do when you really push it.
Smart Portrait—which is actually based on a deep neural network developed by NVIDIA Research—allows Photoshop users to alter facial characteristics like gaze and head direction, lighting angles, and even hair thickness by simply dragging around a few sliders.
Since they had a hand in creating it, the folks at NVIDIA wanted to show off what this AI tech can do, demonstrating both Skin Smoothing and Smart Portrait in the video above. The results, even when you go to almost cartoon-levels of adjustment using something like the "Facial Age" slider, are undeniably impressive: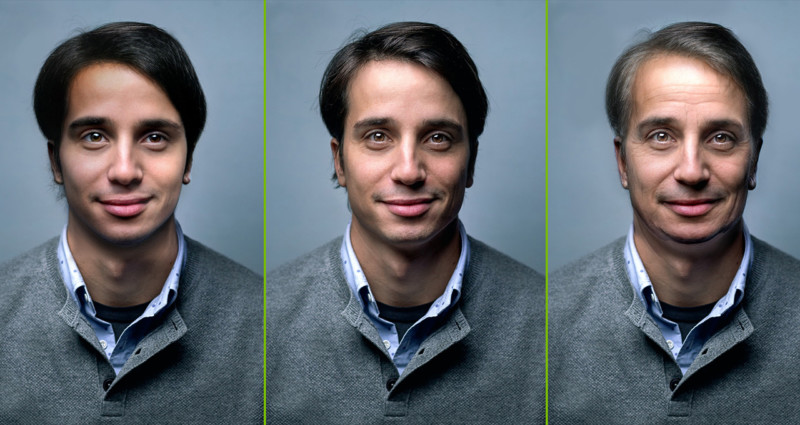 One of the craziest things about this demo is watching the catchlight in the subject's eye actually shift as the Light Direction slider is manipulated. It's the kind of detail that would instantly ruin the effect if it wasn't taken care of. The same goes for age and hair color: the "older" the Facial Age slider, the grayer the hair becomes.
Of course, when you push the tech really far, the results still end up looking fake, but any artifacts or imperfections can be cleaned up after the effect has been applied, since the filter works non-destructively on its own layer. And even with the imperfections, this kind of one-touch editing of so many facial characteristics with any level of realism would have been unthinkable just a few short years ago.
It's both eye-opening and mildly terrifying to see how far AI-based photo editing has come in such a short time. And now that Adobe is jumping in with both feet, we expect the competition to heat up even faster than before.
Check out the full demo up top to see these edits in action for yourself, and then click here to read up on all the new AI-powered features that Adobe added to the latest version of Photoshop this morning.