Huge Fuji GFX Firmware Update Adds RAW Video, Improved AF, and More
Fuji has just dropped "the biggest firmware upgrade in the history of the Fujifilm GFX system," complete with several major photo and video improvements for all of Fuji's medium format mirrorless cameras: the GFX 100, GFX 50S, and GFX 50R.
Fuji is known for its major firmware updates, which often add important features to older cameras, making it less likely that users will upgrade to the next model. There isn't any "next model" available yet for the first round of GFX cameras, but this update follows in that lovely tradition.
For video shooters, the huge news is the addition of 12-bit ProRes RAW video output to the GFX 100—the 100MP mirrorless medium format camera can now record 4K RAW video via HDMI when using an Atomos Ninja V external recorder. The GFX can already record both DCI 4K (17:9) and UHD 4K (16:9), but only the 16:9 option will be able to output 12-bit RAW.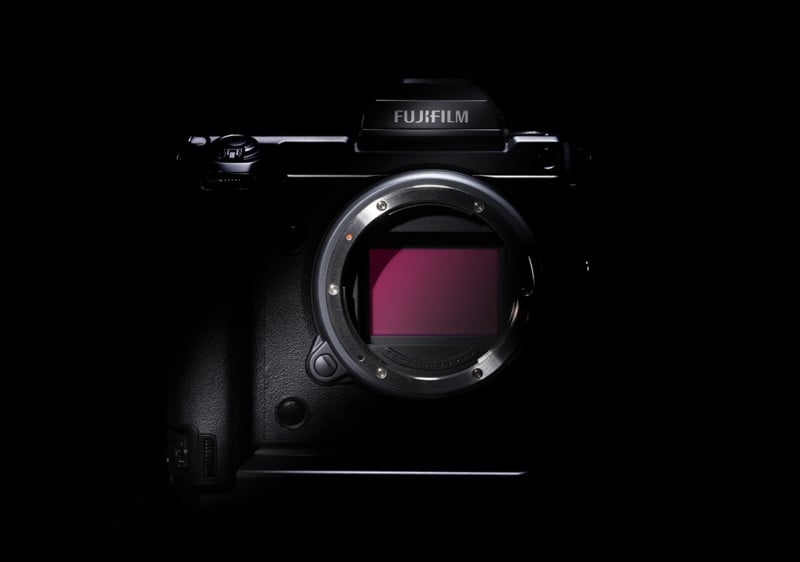 For photo shooters, the firmware updates apply to the whole lineup: the 100MP GFX 100 and the 50MP GFX 50S and GFX 50R cameras all get a mishmash of new and improved features related to in-camera post-processing, autofocus, and more.
First up, the whole GFX System is getting expanded in-camera photo editing capabilities.
The Classic Neg film simulation is being added to the full lineup, Eterna Bleach Bypass is being added to the GFX 100, and the standard Eterna film simulation is being added to the GFX 50S and 50R. Additionally, the GFX 50S and 50R are getting access to the in-camera "Smooth Skin Effect," and the GFX 100 is getting "Color Chrome Blue" feature, which helps to improve blue skies in landscape photos.
Secondly, autofocus performance has also been improved across the board.
The GFX 100 is getting improved low-light autofocus "down to -5EV," while the GFX 50S and 50R get access to the "Low Light Priority AF-S" mode. Face and Eye AF has also been improved across all three GFX cameras and, finally, an Auto mode has been added to Focus Bracketing in all three cameras.
Finally, the whole system is also getting some user-requested improvements.
These include the ability to adjust exposure settings from a computer when tethering, a revised in-camera rating system that's compatible with more software, and the ability to control the GFX via USB when using it with a compatible gimbal or drone.
Fuji wasn't exaggerating, this is a massive update to the whole GFX system. Whether you're shooting primarily stills or video, and no matter which of the three cameras you've chosen to go with, there's a lot to get excited about here.
To find out more about all three updates or download and install them for yourself, head over to the Fujifilm support website. There, you'll find Firmware 4.0 for GFX 50S, Firmware 2.0 for the GFX 50R, and Firmware 2.0 for the GFX 100.