Canon Closes Repair Centers in New Jersey, California and More 'Until Further Notice'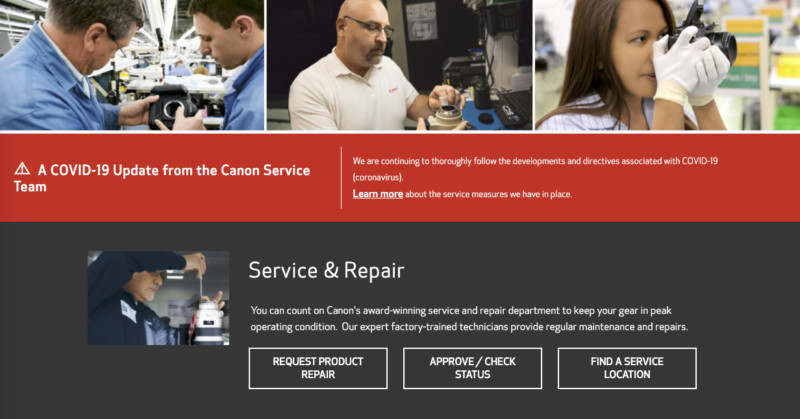 Less than 24 hours after Nikon USA announced the temporary closure of all repair service in response to the COVID-19 pandemic, Canon USA has (mostly) followed suit by shutting down its service centers in New Jersey, California, Illinois and Hawaii "until further notice."
In an announcement posted to the Canon repair site yesterday, the company blamed "stay at home" and "shelter in place" measures that have been put in place by all four of the above-mentioned states.
"Due to the 'stay at home' directives from authorities in California, New Jersey, Illinois, and Hawaii, as well as local 'Shelter in Place' orders, our Canon service facilities in those states are temporarily closed until further notice," reads the announcement. "Products needing repair can be directed to our Factory Service Center in Newport News, Virginia."
Walk in service is not available, even at the Virginia location, so if you need to set up a repair, you should do so online using the button highlighted below:
This will obviously lead to delays, for which Canon apologizes, though most people probably won't hold it against the camera company.
"Again, we sincerely appreciate your patience and understanding as we continue to monitor the ongoing situation and follow the advice and guidance of federal and state authorities," says Canon. "The health and well-being of our customers, clients, and employees remain our top priority during this difficult time."
To read the full statement, head over to the Canon Repair site here.