Photographer Captures Coalition of 5 Cheetahs Crossing Crocodile-Infested River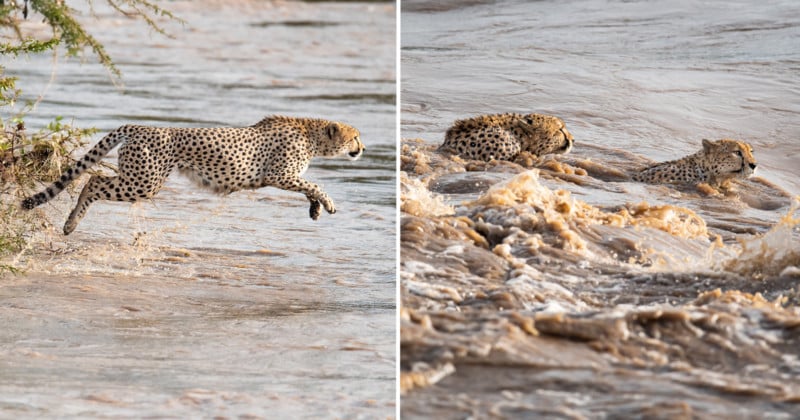 Photographer Arnfinn Johansen recently captured a beautiful series of photos that show a coalition of male cheetahs (yes, that's what it's called) attempting a dangerous crossing of the flooded, crocodile-infested Talek River.
Johansen lucked into this particular experience while on a photo safari in the Maasai Mara National Reserve in Kenya. The photographer is familiar with this group—a famous family of five brothers sometimes referred to as The Fast Five—and says they regularly hunt on both sides of the river.
"Normally, they would cross the river by walking on stones, but this year it had been raining for a long time and because of the flooding, it was very difficult for them to do so," Johansen tells Bored Panda. "Because of the strong current, it was really dangerous. Also, that river is home to the Nile Crocodile for whom a cheetah can be an easy meal."
In fact, Johansen says another "well-known cheetah" died trying this same crossing just recently. So when one of the pack leaders (possibly M58 based on the spot patterns) took the lead and jumped in, there was no guarantee all five would make it to the other side. Fortunately the whole coalition made it across safely, even if they weren't exactly "happy" about the experience.
Scroll down to see the full series of photographs that Arnfinn captured—from before the cheetahs set off, to their safe arrival on the other side of the river:
To see more from Johansen, head over to his website, give him a follow on Instagram, and check out the Oltepesi Tented Safari Camp that he helps to run.
(via DIY Photography)
---
Image credits: Photos by Arnfinn Johansen (www.arnfinnjohansen.com) and Oltepesi Tented Safari Camp (www.oltepesi.com). All images used with permission.