Hands-On with the Sigma 24-70mm f/2.8 for E-Mount and L-Mount
Back in mid-2017, I was tasked with reviewing Sigma's first 24-70mm lens, the 24-70mm f/2.8 DG OS HSM IF Art lens, and I was extremely disappointed. You can read my whole review here, but in summary, I found it to be sadly inconsistent with its sharpness. Most notably, I found that edge sharpness was really quite bad.

There is one photo I took that pretty well shows my problems with the lens, and it's this one:
Taken from a helicopter over Los Angeles, I really like the composition of the image and was looking forward to printing it. When I got it back to my edit station, however, I was very much let down with how soft anything other than the middle of the frame was. I was so disappointed that I put this photo in a digital folder and hadn't looked at it again until I started writing this story.
As a photographer, there are few things more deflating than feeling like you got a great image, only to be let down by your equipment through no fault of your own.
Two and a half years later, and I'm yet again testing a Sigma 24-70mm f/2.8 lens, but this time for Sony E-Mount and L-Mount called the Sigma 24-70mm f/2.8 DG DN Art lens (don't confuse all these letters). But in contrast to my feelings on Sigma's first attempt, I am very pleased with their follow-up.
If you had high hopes for the new Sigma 24-70mm f/2.8 DG DN Art lens, you can relax. Rest assured, this lens is very good.
I recently set up a studio session with a friend of mine who is a burlesque dancer out of San Francisco to give the lens a fair shake through a busy two-hour session. Looking over the images I captured with it, both on the Sony a7R IV and the a7 III, I am very pleased with the results.
Compared to other full-frame mirrorless 24-70mm lenses on the market, the Sigma feels slightly more compact. It's not shorter in barrel length, but the diameter of the barrel itself feels slightly smaller. In terms of overall size, it feels like it shares construction and feels most closely to the Nikon 24-70mm for their Z series.
The more compact size of the lens may be due to the fact there is no stabilization in the lens at all, which I used to consider a major issue. However, because the two systems this lens is made for, Sony and L-mount, all have on-sensor stabilization, it doesn't actually matter as much anymore.
As far as the rest of the notes on build quality goes, it's pretty par for the course when it comes to Sigma, which is actually a great thing. All their Art lenses feel great, and this one is no exception. The focus and zoom rings both have a pleasant level of stiffness to them, the lens hood fits on really nicely and with a satisfying click (regardless of whether you have it facing out or in), and it has an AFL button on the side which is a nice addition.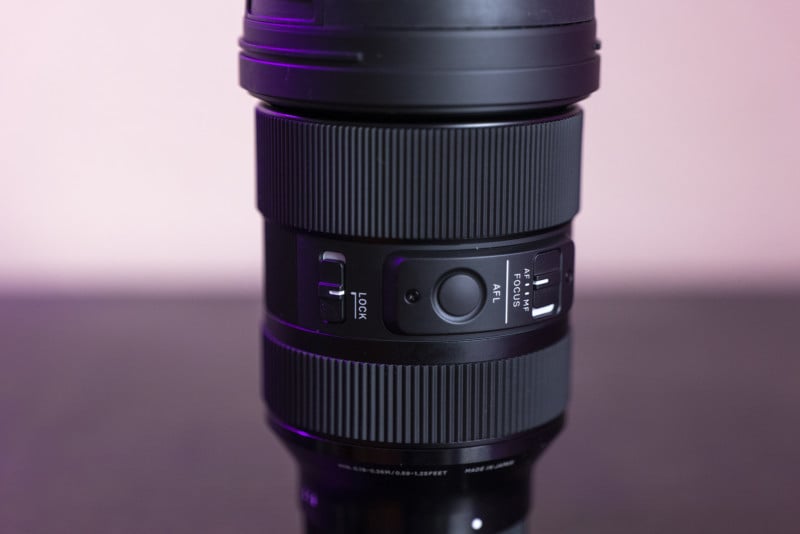 It also has a lock trigger, which prevents the lens from zooming while initiated… mostly. It can be overridden if you rack the zoom ring hard enough. This may not be the first time anyone has put a feature like this in a lens, but it's the first time I can recall encountering it. I like this feature. Rarely do I lock my lens, and when I do nearly every time I've forgotten I've locked my lens and I can't zoom it when I think I should. That slows me down, and I miss the shot.
This has actually happened, and as stupid as it sounds I'm not ashamed to say it.
You cannot pull the lens open, but initiating from the zoom ring disengages it. This lock successfully prevents the lens from popping open while you're walking with it, but also doesn't block you from full lens functionality in a pinch.
As I mentioned, I'm really happy with the quality of images I got using the lens, and I'm equally as happy with the performance of the lens on a Sony E-Mount body. I used the Sigma 24-70mm f/2.8 on both the a7 III and the a7R IV, and in both cases I found the focusing to fast, smooth, accurate and reliable. When shooting in this particular session, I used eye AF the entire time and always felt confident doing so. Looking at the results, I was correct in that confidence.
I am pleased to report that it has pretty even sharpness across the frame, which is a huge relief to me since this was my biggest pain point of Sigma's first 24-70mm I tried two years ago.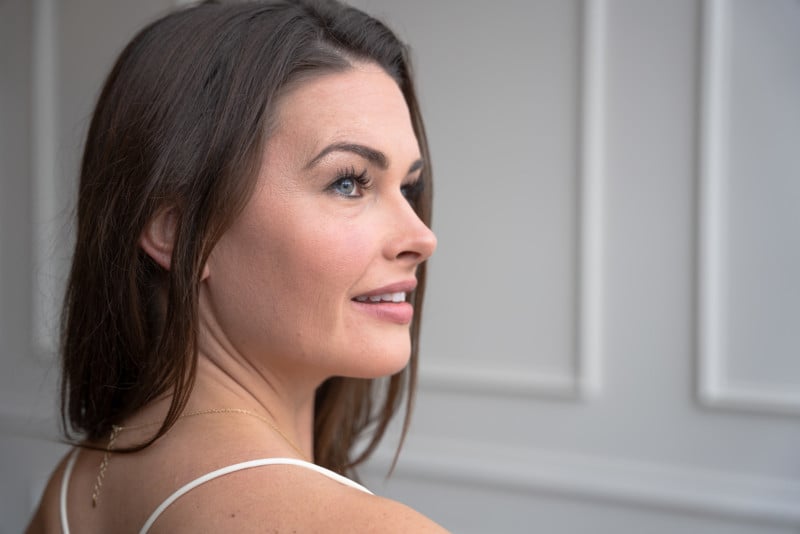 There are some photos I took where you wouldn't notice if edges were as sharp as the center, due to bokeh and framing, but there are others like the one below where the sharpness just looks bang on, and it makes me really happy.
I wanted to provide some idea of what the sharpness looks like at full resolution. Below is the full image captured on the Sony a7 III, followed by a 100% crop of the model's eyes so you can see the sharpness: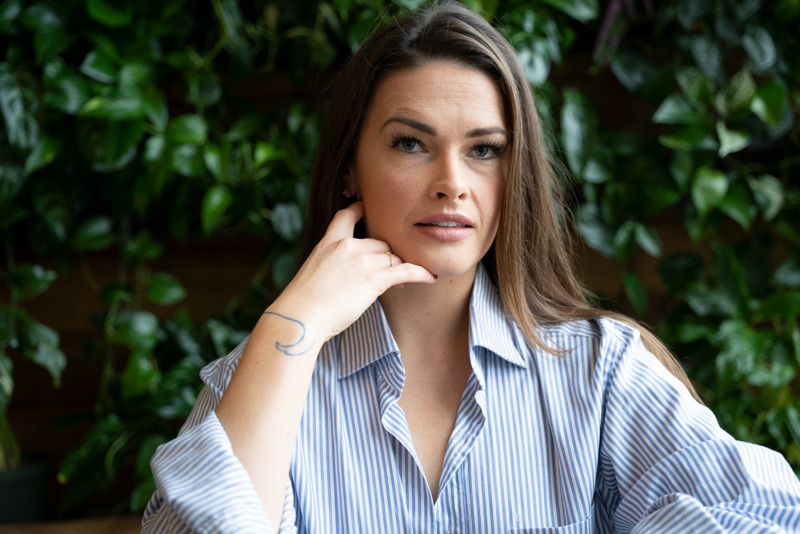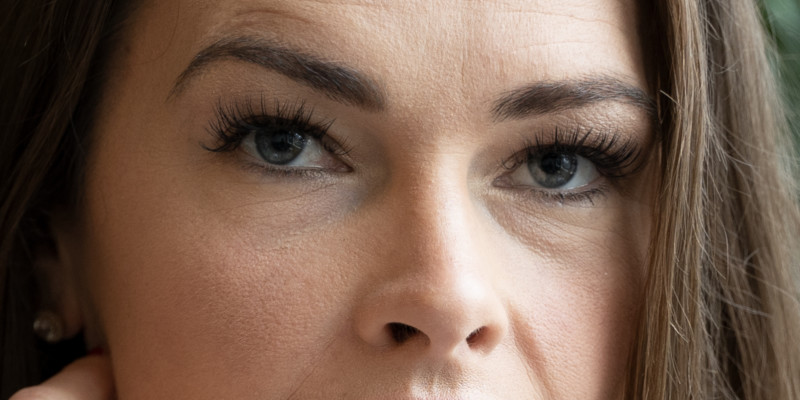 This is by no means a "scientific review" of any kind, more of my thoughts after using the lens over the course of a shoot. Looking at how many images I'm happy with, I can't say I have any complaints as of yet. It's sharp wide open, sharp on the edges, sharp at any focal length, and the focusing motor is silent while also being able to keep up with Sony's autofocus system without skipping a beat (no small feat).
EDIT, 01/06/2020 @ 03:30 PM ET: After a reader very wisely noted that I have not adequately shown off the Sigma's edge sharpness, I have uploaded an image below that should do the trick. Initially, this was to be part of a test for publication at a later date, but we thought including it here still offered a great deal of value. You can download a full-resolution JPEG of this file by clicking here.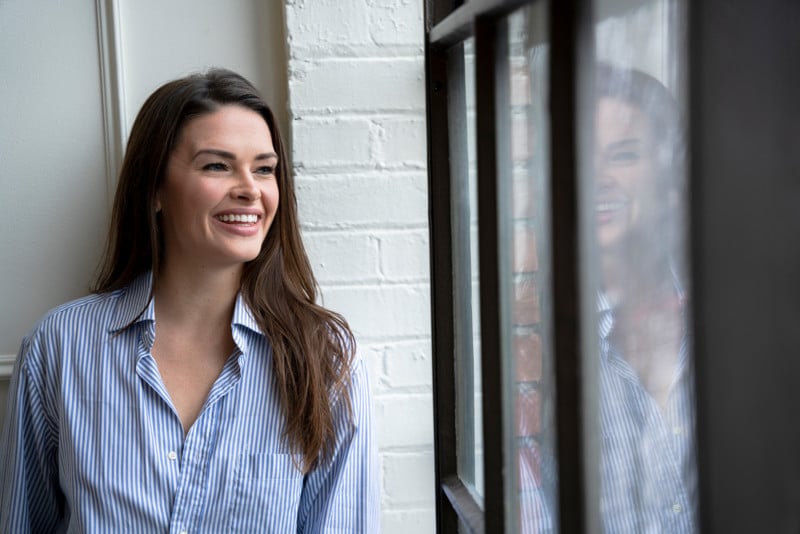 Combined with the build quality and design elements, I can't find anything that would lead me to believe this lens can't be a daily workhorse. I do think it's a very nice lens, and should satisfy a wide range of photographers, especially at its $1,100 price point… half what competitors on the same mount are asking. This level of performance for half the price? Sign me up.