Profoto Accuses Godox of Stealing Its A1 Design for the V1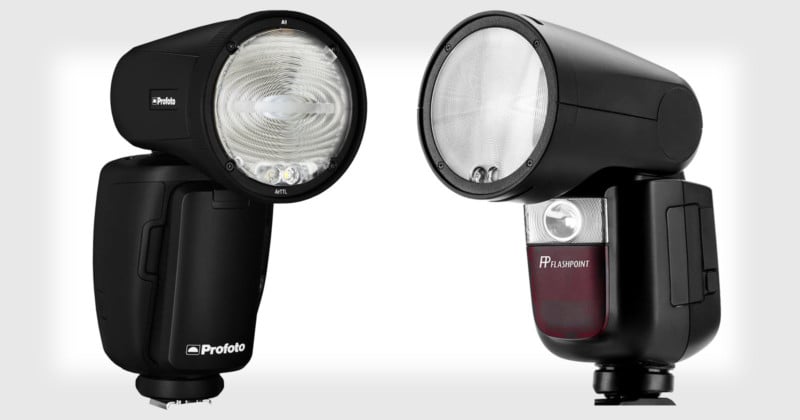 Godox is getting ready to launch the V1, its affordable rival to the $995 Profoto A1 round head flash, but it may soon hit a major roadblock: Profoto is accusing Godox of patent infringement, saying the Chinese lighting company copied its A1 designs for the V1.

The Swedish photo publication
Fotosidan reports
that the Swedish Profoto is threatening to sue Godox for patent infringement in order to stop the V1 from hitting the market.
In outward appearance, features, and specs, the Godox V1 is strikingly similar to the Profoto A1. Both flashes feature a round head, a magnetic mount for attaching modifiers, a Fresnel lens, LED modeling lights, and more.
Profoto CEO Anders Hedebark tells Fotosidan that his company has "never seen such a blatant copy before" and that "it feels like [Profoto] has an obligation to act."
It took Profoto 4 years of product development — which 10% of sales revenue is funneled into — to create the A1, and Profoto has filed for 7 different patents related to the flash.
Profoto says various businesses (i.e. importers and retailers) risk getting caught up in this dispute legally if they decide to market the Godox V1 if Godox continues with launching the flash.
"Profoto takes its intellectual property right seriously and will initiate legal action against such flash manufacturers and/or distributors that take part in any infringing activities as soon as Profoto patents are issued," Profoto writes in a draft of a press release obtained by Fotosidan.
And these threats do seem to carry weight: it was just last year that Carl Zeiss accused the South Korean lens makers Samyang of copying its designs, and the German company succeeded in getting those lenses pulled by distributors and retailers.
Fotosidan reports that Profoto is now establishing an office in China that will be tasked with monitoring the Chinese flash and photo industry.