Google's Night Sight is Blowing Minds: Shoot Photos in Near Darkness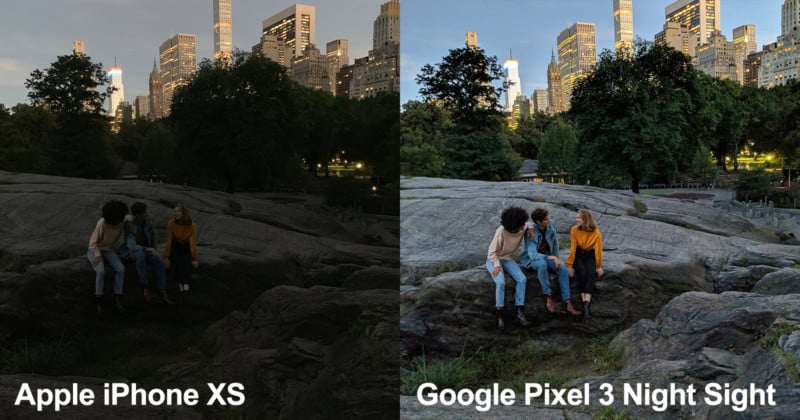 Google's new Pixel 3 and 3XL smartphones are packed with new AI camera features, including one called Night Sight that lets you shoot natural-looking photos without a flash in near darkness. The first reviews are starting to emerge, and the technology is blowing people's minds.

"Night Sight is a new feature of the Pixel Camera app that lets you take sharp, clean photographs in very low light, even in light so dim you can't see much with your own eyes," Google writes. "It works on the main and selfie cameras of all three generations of Pixel phones, and does not require a tripod or flash."
Google says its goal in developing Night Sight was to allow for photos between 3 lux and 0.3 lux with a single shutter press and without any artificial lighting. Smartphone cameras generally begin to struggle at 30 lux.
Here's a scene captured with the new iPhone XS camera:
And here's the exact same scene captured with a Google Pixel 3 camera with Night Sight enabled:
After you press the shutter, Night Sight captures between 15 frames of 1/15s each and 6 frames of 1 second each. It then aligns the frames, merges them to reduce image noise, performs auto white balancing using a new AI algorithm, and does tone mapping for natural colors.
The result is an AI-assisted camera that can even shoot in less than 0.3 lux when the human eye can barely see anything.
"Below 0.3 lux, autofocus begins to fail," Google says. "If you can't find your keys on the floor, your smartphone can't focus either. To address this limitation we've added two manual focus buttons to Night Sight on Pixel 3 – the 'Near' button focuses at about 4 feet, and the 'Far' button focuses at about 12 feet."

Since Night Sight merges multiple frames, it doesn't work well if the scene you're trying to capture contains obvious movement. But in extremely low-light situations in which no other smartphone camera is up to the task, Night Sight shines.
Tech reviewer Marques Brownlee has been testing Night Sight. His opinion: "Dear God it's basically magic."
Google has let me test the official build of Night Sight on Pixel for last week and dear God it's basically magic. pic.twitter.com/K8zPWP9KOn

— Marques Brownlee (@MKBHD) November 14, 2018
"[…] Google's sophisticated camera feature was worth the wait," writes Gizmodo. "Night Sight is exactly what the Pixel 3 needed to really round out its photo toolkit."
"Google Pixel's Night Sight is revolutionizing low-light photography," The Verge says. Here's its 6-minute review of the feature:
Other people are taking to social media to share comparison photos as well.
Google Night Sight is something else 🔥 pic.twitter.com/cVk5sqLa9q

— sivaashaanth (@sivaa_shaanth) November 14, 2018
Got some Night Sight photos on my #Google #Pixel3 and God damnit! I am well impressed! pic.twitter.com/MYlMd4kXpJ

— Matt Lill (@MtLill) November 13, 2018
Night Sight google camera is incredible. 👍👍

📍Expressionz by KL Suites
📷Pixel 2 XL pic.twitter.com/t7RXw15nqk

— Elone Musku (@radhi1992) November 5, 2018
omg Google Cam (by dev Arnova8G2) with Night Sight from the Pixel 3, for the OP6 and OP6T is 🤯 🔥

Pic 1 : OP6T GCam Photo Mode
Pic 2 : OP6T GCam Night Mode
( link to the apk https://t.co/4A994PBB1P ) pic.twitter.com/cmMnCO6tYM

— José Covaco (@HoeZaay) November 10, 2018
So um, Google Night Sight is pretty mind-blowing. Crazy what it can produce with the same camera, just by upgrading the software. pic.twitter.com/8tlgJgPV7x

— David Scrivner (@davidscrivner) November 14, 2018
Google night sight is legit!!! pic.twitter.com/H4JQsLAG1y

— K.M.Guruprasasd (@mimicguru) November 7, 2018
Both pictures are taken with the Pixel 3XL. Night Sight off vs Night Sight on. Pretty amazing. pic.twitter.com/z9I7IEF70y

— TechnoBuffalo (@TechnoBuffalo) November 6, 2018
Trying out Night sight from Google camera on OnePlus 6T and here are the results. pic.twitter.com/xfqgWW2EBm

— Nirmal (@nirmaltv) November 6, 2018
Night Sight is being released starting today through the Google Play store as an update to the camera app for the Pixel 3, Pixel 2, and Pixel 1.