Google Camera 8.4 Update Adds New Features to Older Pixel Phones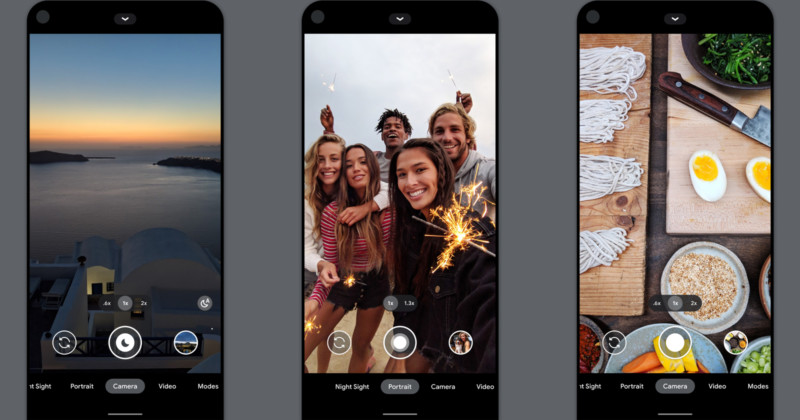 Google has updated its Google Camera app to version 8.4, which adds features that debuted on the new Pixel 6 flagship phones to older devices.
As reported by XDA Developers, the 8.4 update doesn't bring all the features found on the new flagship phones, but it does bring a few notable ones as well as some quality of live improvements.
Google specifically notes that the update adds three new features:
Night Sight in Portrait and Camera modes: Get the same Night Sight results in low light without having to switch modes.
Video stabilization modes: Use Locked for videos of long performances, when you want to look away from the camera. Use Active in heavy moments. Use Cinematic Pan for smooth, panning shots.
New zoom buttons: Use zoom buttons to quickly zoom in or out. To use the full zoom slider, tap and hold a zoom button or pinch-zoom.
However, that's not all that is included when looking at older devices. For phones like the Pixel 5 and Pixel 4a, the Timer Light feature has been added as is the ability to modify exposure which debuted on the Pixel 6. The Timer Light is a feature that can be toggled on and will use the flash as a countdown to when a timer photo is taken to better let those in the photo know when to expect the photo to be captured. The exposure option can be disabled to keep the viewfinder clear of distractions, but it is a nice addition for those who want more options for more discerning photographers.
A major quality of life improvement is also included. The arrow at the top of the screen that shows additional settings when tapped has been changed to show either a settings cog graphic or a crescent moon when night sight is enabled. The idea here is that it will make it more clear for users where to tap to disable night sight or provide a more visible icon to adjust settings. For the pixel 5 and the 4a which have the hole-punch front-facing camera, Google moved this icon to the center of the screen instead of where it is on the Pixel 6 (on the left) so that it isn't obstructed.
XDA Developers also notes that those on older devices who want to take advantage of Google's Magic Eraser found in the Pixel 6 and Pixel 6 Pri can do so through Google Photos. While the feature isn't embedded in the app like it is for the latest flagship device, it can still be accessed in the Google Photos app for any device that is running Android 12. Google made it seem as though many of its features in its flagship phones were only possible thanks to the new Tensor chip, but it doesn't appear that Magic Eraser is one of them. Full instructions on how to gain access to the content-aware removal feature can be found on XDA Developers.
Not all users may necessarily see the upgrade to Google Camera 8.4 in the Google Play store, but it can be sideloaded from APKMirror.