RED and Facebook Unveil Manifold, a 3D and 360° VR Camera
RED and Facebook have unveiled Manifold, a new VR camera for shooting 3D and 360° imagery. It's a "first studio-ready camera system for immersive 6DoF [6 degree of freedom] storytelling."

"Manifold is a single product that redefines immersive cinematography with an all-in-one capture and distribution framework, giving creative professionals complete ownership of their 3D video projects, from conception to curtain call," Facebook
writes
. "What this means for audiences is total narrative immersion in anything shot on the new camera system and viewed through 6DoF VR headsets. It's nothing short of a paradigm shift in our ability to tell stories."
The camera is designed to be powerful enough to capture immersive Hollywood-caliber movies — instead of sitting in a set watching a 2D movie, you'll be able to watch the movie from inside the story.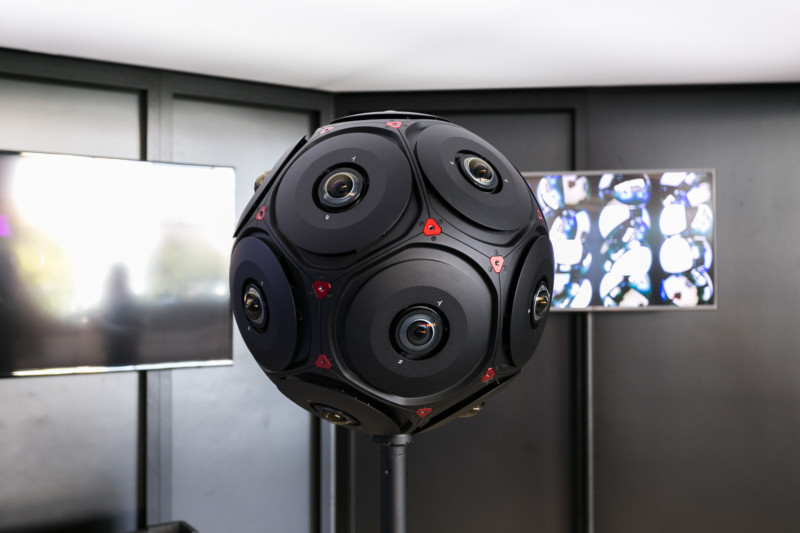 Inside the Manifold are 16 separate RED Helium 8K sensors that arranged to capture a full 360-degree 6DoF view. The camera can record 8K raw footage at 60fps from all 16 cameras at the same time.
On the outside of the camera are 16 custom Schneider 8mm f/4 180-degree fisheye lenses. The control and storage devices can be placed 328 feet (100m) away from the camera head itself using a single SMPTE 304M cable for power, control, and data.
Footage that's captured by the camera goes through RED's image processing pipeline and then Facebook's depth estimation technology. The end product is high-quality video "bursting with enhanced volumetric detail and movement."
Here's some sample imagery:
"Manifold is the first professional camera to fully capture a spherical set of images to accurately recreate entire scenes," Facebook says.
Pricing and availability of the Manifold will be announced at a later date.
---
Image credits: Photos of the Manifold at Photokina by Chad Davies of Davies Imaging Group and used with permission