This Canon DSLR Rig Shoots 3D Light Field Photos You Can Move Around In
A Los Angeles-based cloud graphics company called OTOY has announced the world's first spherical light field capture that creates a navigable scene in virtual reality. By capturing light field data with a special Canon and GoPro camera rig, the company created the beginnings of immersive photos you can move around in.

The rig featured two Canon DSLRs with ultra-wide angle lenses and a GoPro action camera.
OTOY swings the cameras around in 360 degrees, capturing footage of the scene that light field data can be calculated from.
The scene and light field information is then used to create a completely accurate and immersive environment that can be experienced in virtual reality using special a headset: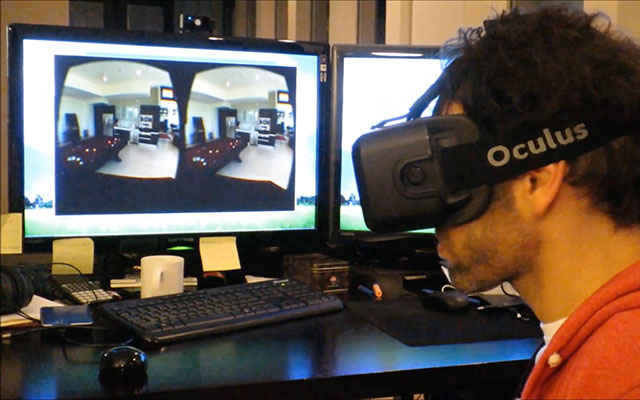 Unlike ordinary an ordinary 3D virtual reality representation of a photograph, which only allows you to "look around," this light field technique allows you to move around — albeit only a little bit for now.
The extra information currently lets you move your head around a small amount while viewing a scene, providing a much more immersive experience, but you can't walk around the entire room and see a complete picture.
Here's a video of how the whole system works from image capture to viewing:
This second video shows what experiencing the 3D scene looks like. Notice how there's slight head movements and perspective shifts in 3D space:
OTOY says that this "groundbreaking demonstration" is an important first step into a world in which people will be able to experience immersive photorealistic scenes from their own homes.