Fujifilm Officially Wins Medium Format
I recently discussed how Fujifilm's decision to go into the medium format industry might have been a mistake. But considering some of the recent announcements, have my points been completely negated?

In short no; this is because the full frame market is still significantly larger. Imagine the kind of market share they could have gained in full frame based on the kind of developments and investments they are making in the medium format industry.
In any case, Fuji has made its decision to not develop any full frame camera and its commitments to medium format is very clearly visible. My personal thoughts on the GFX series are very positive and the Fuji has made medium format far more mainstream than ever before.
Viable For Professionals
I'm aware that some of you will disagree with this point and discuss how the GFX 50S was always a professional camera using very obvious counterpoints. It's important to consider the context and understand the nuance.
For the most part, the kind of photographers that were buying the Fuji GFX 50S were not professionals. The biggest market was the hobbyist. This is not a bad thing by any means, but many professionals simply couldn't consider it a viable option prior to these latest announcements. Sure, professionals have bought the camera but, only a small number overall.
What's changed? Well, Capture One support.
Preferences aside, Phase One's Capture One is without a doubt, significantly better than Lightroom. Sure, some of you may disagree but many high-end professionals prefer it for good reason. The control over color, the speed, effective tethering, and interface make it a far better option.
The previous lack of Capture One support meant that you couldn't create custom ICC profiles or create Lens Cast Calibrations. These are extremely invaluable features that many including myself simply can't sacrifice.
Medium format shooters, for the most part, require the absolute best in image quality. Color is one of the fundamentals behind a great image. No matter how many stops of dynamic range you put into a camera or how much detail a lens can render, colors are far more important.
The custom ICC profiles you can create in Capture One allow for far better control and help you produce images that are not only more accurate but potentially more compelling.
Using Lightroom is okay in a pinch for many professionals, but the complaints regarding its performance have been expressed countless times. Capture One individually validates the Fuji GFX as a professional tool.
A Hundred Megapixels of Pure Brilliance
Fujifilm deserves all of the praise it is getting for its latest announcement of the GFX 100S. Many of us thought Fuji would simply release a higher resolution version of the GFX 50S camera. Oh how wrong we were and how happy we are to be wrong.
The announcement came as a huge surprise. A medium format camera with in-body image stabilization. This is a world's first and a huge feat for Fujifilm. I'm still trying to process just how brilliant this is. Effectively, every native lens attached to this camera is stabilized, making for much more effective shooting.
Considering just how large the sensor is (43.8×32.9mm), having this feature is truly a marvel of engineering. Could Fuji take this a step further and allow for features like Pixel Shift technology?
Just in case this wasn't enough, Fuji has also announced that this new camera will have Phase Detect Autofocus. One of the major complaints of medium format was that they simply could not compete with full frame or APS-C cameras when it came to focusing. I too have made that complaint, and now Fuji has seemingly put those complaints to rest.
This may well be the first medium format camera with effective, high-speed focus capabilities. We all have seen just how good PDAF is in full frame cameras and companies like Sony have made full use of those features. The GFX 100S may even allow for face-detect or eye-detect autofocus. This could also mean the 100S will be the first medium format camera that's capable in high-speed shooting environments.
Finally, Fuji has also announced that this camera will be able to shoot 4K video using the full width of the sensor. This coupled with IBIS and PDAF could make the 100S the first properly effective medium format camera for video. In short, there is no other medium format camera on the market that can compete with just how good the 100S is set to be.
Have Phase One Made a Mistake?
In my discussions with Phase One, the company described how it no longer offers any new cameras with the smaller medium format sensor. Due to this, they do not consider the GFX system to be a direct competitor to their system.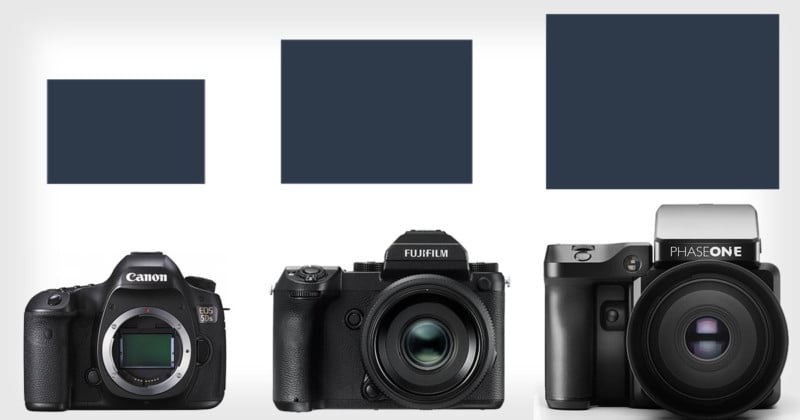 The issue is that the lower end of medium format is no longer an area where it or any other manufacturer can effectively compete. The smaller-sensor variant of medium format is also the most popular one for a number of reasons, mostly because of the price.
In the short term, Phase One may be making a sufficient amount of money from Fuji for allowing them to use their Capture One system, but Fujifilm is a company that plans for the long term. I predict that Fujifilm is set to become the dominant manufacturer in the medium format industry.
Fujifilm's lenses are some of the best on the market and the company's backside illuminated sensors have been described to me as having much more effective abilities for color rendition. Phase One may have created a competitor that it doesn't yet fully appreciate.
From a consumer perspective, this is obviously a fantastic move. Phase One's perspective, however, this might have caused a shift in the market that cannot be undone. The differences in image quality between the smaller medium format sensor and the larger are negligible even for the most high-end photographers.
Fujifilm cameras are also the only cameras in this market that can have almost any DSLR lens effectively adapted to them with autofocus. Fuji now has the most effective and most desirable medium format camera on the market.
Final Thoughts
Fuji is the only company on the market with enough resources to offer feature-filled medium format cameras at reasonable prices. With a company market cap ($19.8 billion) that is more than twice the size of Nikon ($7.58 billion), it's important to remember just how large of a company Fuji really is.
This is not a small company operating with hope and dreams, but a massive organization that aims to deliver the best products in every market it operates in. We're now seeing just how committed they are to this industry and they are leaving no room for any of their competitors.
If there's any company in the market that can make medium format more mainstream, it's definitely Fujifilm. The price point ($4,499+) still leaves full frame more viable for the majority of photographers, but we could see the start of more companies seeing the ease and benefits of developing a feature-filled medium-format camera. In any case, Fuji is now on track to become the most viable and most effective choice when it comes to medium format cameras.
In short, Fuji has won the medium format race.
---
About the author: Usman Dawood is the lead photographer of Sonder Creative, an architectural and interior photography company. The opinions expressed in this article are solely those of the author. You can find more of his work on his website, Instagram, and YouTube.