Fujifilm GFX 50R is a 51.4MP Medium Format Rangefinder-style Mirrorless
Fujifilm has announced the new GFX 50R, a new medium format mirrorless camera that features a compact, rangefinder-style body that's reminiscent of famous medium format film cameras from the history of photography.

Inside the GFX 50R is a 51.4-megapixel G Format 43.8×32.9mm CMOS sensor with an ISO range of 100-12800 (expandable to 50-102400) backed by an X-Processor Pro image processing engine. The camera supports Fujifilm's popular Film Simulation modes that can simulate the company's popular film stocks, including Velvia, Provia, and Acros.
Fujifilm says it has optimized the micro lenses on the sensor for light gathering performance and image resolution, resulting in photos "that precisely reproduce the subject's texture, three-dimensional feel and even the atmosphere of each scene."
"[T]he GFX 50R delivers superior image quality in a compact and lightweight body reminiscent of their renowned medium format film cameras widely used in street and documentary photography," Fujifilm says.
"The GFX 50R is a lighter and more compact model within the medium format mirrorless system, perfect for professional photographers who specialize in street, documentary or portrait photography," says Fujifilm General Manager Yuji Igarashi.
There are 64 points of weather-sealing on the rugged, magnesium-alloy camera body, and the operating temperature range goes as low as 14˚F/-10˚C.
Instead of selector buttons, Fujifilm equipped the 50R with a Focus Lever for focal point adjustments, decluttering the physical interface and providing extra handholding space.
The top of the camera features milled aluminum shutter speed and exposure compensation dials.
On the back of the camera are a 0.5-inch, 3.69-million-dot OLED electronic viewfinder and a 3.2-inch, 2.36-million-dot tilting touchscreen.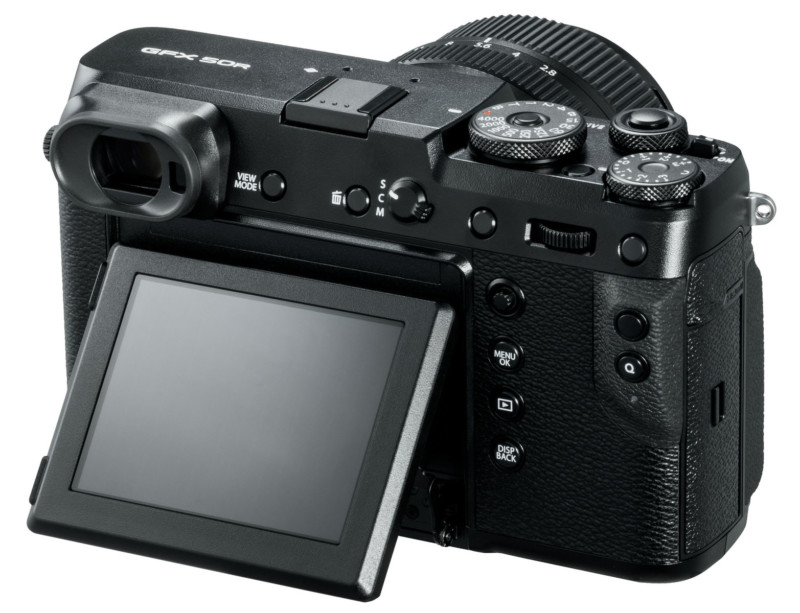 The camera weighs 1.7lb (775g) with the built-in EVF, or about 16% less than the 2lb (920g) Fujifilm GFX 50S. The body is 2.6in (66.4mm) thick, or 27% thinner than the 3.6in (91.4mm) thick 50S.
Here are some comparison views of the GFX 50R (left) and the GFX 50S (right):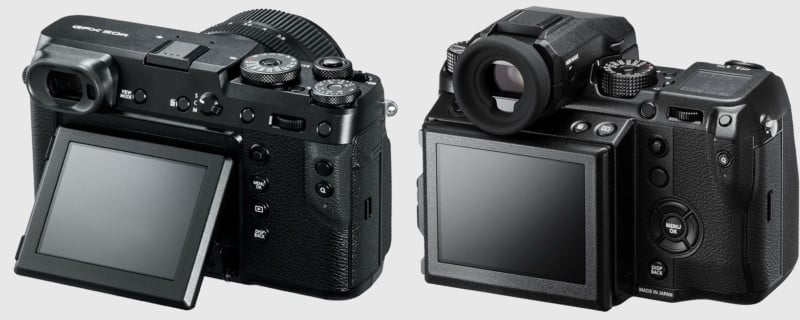 Another interesting feature of the 50R is Bluetooth connectivity (a first in the GFX line) in addition to Wi-Fi. Photographers can use it to pair the 50R with a smartphone or tablet running Fujifilm's free Camera Remote app.
Other features and specs of the GFX 50R include JPEG/RAW/TIFF output, a 0.4-second startup time, 3fps continuous shooting, 117 autofocus points, ultrasonic sensor cleaning, 1080p30fps video (with Film Simulation), dual SD card slots, and a battery life of 400 photos.
Here are a few official sample photos (higher res here) captured by photographer Eric Bouvet with the GFX 50R:
Fujifilm's GFX system currently has 7 G Mount lenses ranging from 23mm to 250mm (18mm to 198mm in 35mm terms), but the company has announced new G mount lenses that are on the way. These include the GF 100-200mm f/5.6 OIS, GF 50mm f/3.5, and GF 45-100mm f/4 OIS. Pricing and availability have yet to be announced.
The Fujifilm GFX 50R will be available in November 2018 with a price tag of $4,499.