Photographer Says Artist Stole His Photo, Artist Claims 'Remix'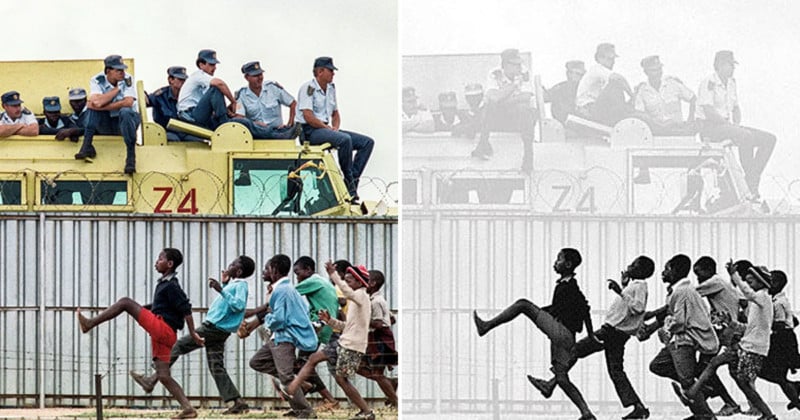 South African photographer Graeme Williams was attending the opening of the Johannesburg Art Fair earlier this month when he was shocked to see his own photo on a gallery wall with credit being given to African American artist Hank Willis Thomas.

Here's what Williams saw on the wall of the Goodman Gallery:
The photo wasn't exactly Williams' version: it had been "remixed" by Thomas. Here's the original photo Williams shot in Thokoza in 1990 during a Nelson Mandela rally:
"By slightly whitening part of the image (possibly some comment on whiteness vs blackness) African American artist, Hank Willis Thomas, has attempted to make this image his own," Williams wrote on Facebook after his discovery. "My unaltered image has been published and exhibited many times. In 2008, as Barack Obama sought the Presidency and raced for the position against John McCain, Newsweek magazine ran a story asking each candidate to discuss what best personified their world view. This image that I took […] was used to illustrate Obama's world view."
The Guardian reports that Williams was even more disturbed when he saw the price tag on the photo: it was being sold for $36,000, or 25 times more than what the photographer has ever sold the photo for (around $1,200).
Thomas is an artist well known for taking advertisements, stripping away the commercial context, and then presenting the resulting images as art.
"The changes were absolutely minimal," Williams tells The Guardian. "It's theft, plagiarism, appropriation. It's a kind of fine line where you say it falls. Within the art world there's an acceptance that you can use images within the artistic framework to create something that has meaning different to the original image. This was the exact same of my original photograph and all he had done is take an image that he likes and call it his own."
"I can see why [Williams] would be frustrated," Thomas tells artnet News. "He said to me that he didn't feel like I had altered the image enough. The question of 'enough' is a critical question.
"This is an image that was taken almost 30 years ago that has been distributed and printed hundreds of thousands of times all over the world. At what point can someone else begin to wrestle with these images and issues in a different way… much the way that people would quote from a book?"
A day after Williams publicly complained, the gallery space removed the photo from where it once hung:
Thomas reportedly called Williams and offered to let the photographer keep his "remix" for a year.
"I asked him to take the work, look at it, live with it, and then have a conversation with me about it in a year because I think the reaction is a kneejerk reaction," Thomas tells The Guardian.
Williams wasn't too enthusiastic about the proposal.
"It's utterly bizarre," Williams tells the British newspaper. "I take this artwork and keep it for a year and then we'll chat after that? F**k knows what that means. Perhaps that after a year I'll understand the complexity of his artwork. I said no thanks. I have my own version of the photograph and I really don't need an American to give that image some kind of significance and meaning."
"He says that he feels that his work is 'sufficiently' different from my original image, but also said that it is now up to me what I want him to do with his art piece," Williams tells PetaPixel. "I don't want anything to do with his art piece."
This dispute is reminiscent of photographer Patrick Cariou's copyright infringement lawsuit against American artist Richard Prince, who took Cariou's photos, applied some edits, and exhibited them as his own.
Although Prince lost the original lawsuit in 2011, an appeals court overturned the ruling in 2013 and concluded that Prince's work was fair use. The two sides reached a undisclosed settlement agreement in 2014.
Prince sparked new controversy in 2015 after he repackaged photos found on Instagram with custom captions and began selling them for up to $100,000 each.
One of the photographers, Donald Graham, sued Prince in 2016, and a judge ruled in 2017 that Prince can't use a fair use defense to have the case dismissed.