Artist Escapes Lawsuit Over Her Use of Iconic Ruth Bader Ginsberg Photo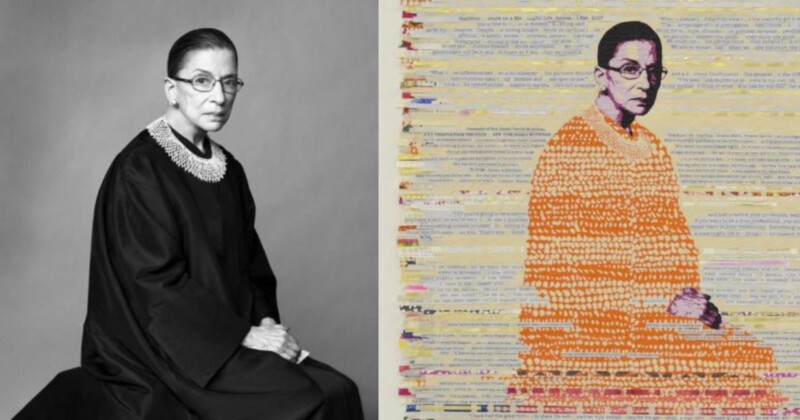 An artist, whose work has been exhibited at the Metropolitan Museum of Art, escaped a copyright infringement lawsuit over her unlicensed use of an iconic photograph of Ruth Bader Ginsburg.
On Monday, a U.S. District Judge granted Georgia-based artist Julie Torres's motion to dismiss photo agency Creative Photographers Inc's lawsuit against her.
The lawsuit was over renowned photographer Ruvén Afanador's classic 2009 portrait of the late U.S. Supreme Court Justice entitled "Ruth Bader Ginsburg."
According to Creative Photographers, Afanador had granted the photo agency the sole and exclusive right to license and sell his work, including his 2009 image of the Ginsburg.
Law360 reports that Creative Photographers sued Torres and her art business in November 2021, claiming that she created screen prints, mixed media works, and limited-edition prints of Afanador's copyrighted photo of Ginsburg.
@JulieTorresArt "We Stand On The Shoulders Of Giants" of #RuthBaderGinsburg includes words of a 1973 gender equality case. Part of @FStChurch social justice @ArtPrize #ArtTour https://t.co/oB7TaGaIWV#CityTour #ArtPrize2021 @ExperienceGR @RBGmovie @Womens_eNews #ExperienceGR pic.twitter.com/5q2YQ3SbNU

— Tours Around Michigan (@ToursAroundMI) September 20, 2021
Creative Photographers alleges that Torres sold these works which featured Ginsburg for as much as $12,000 — without ever getting permission to use Afanador's photograph.
The lawsuit also says that Torres authorized the public exhibition of her artwork of Ginsburg at the Metropolitan Museum of Art in New York City, also without consent to use Afanador's photograph.
Thank you to @RozRBentley with the @ajc for this wonderful article featuring my artwork, "Super Diva!" along with that of fellow Atlanta artist, Dawn Williams Boyd. I can't wait to get to the @metmuseum again soon! https://t.co/dhZQ4clZuv

— Julie Miller Torres (@JulieTorresArt) September 2, 2021
In October 2021, Creative Photographers discovered Torres's alleged unauthorized use of Afanador's image. The photo agency says that the artist omitted the photographer's name and copyright information in her artwork and refused to acknowledge or credit Afanador.
Not Over Yet
In his order on Monday, Judge Jean Paul "J.P." Boulee of the Northern District of Georgia found that Creative Photographers, which represents Afanador, does not have the standing to sue.
The judge says that while Creative Photographers may have the sole right to license and sell Afanador's work, that does not give the photo agency standing to sue for copyright infringement. Creative Photographers' agreement with the Afanador simply makes the agency the photographer's exclusive agent, not his exclusive licensee.
According to the order, even if the agreement did convey to Creative Photographers an exclusive license, the agreement does not contain any language suggesting that it gives the agency "the exclusive right to authorize the preparation of derivative works based upon the copyrighted work."
However, the lawsuit is not over yet. In his order, Judge Boulee allowed Creative Photographers to rework its complaint. The photo agency now has 14 days to file an amended complaint, reports Law360.
Judge Boulee also declined to address Torres' argument that Creative Photographers failed to state a claim for copyright infringement because her work constitutes fair use. In his order, Boulee says fair use requires a fact-intensive analysis.
---
Image credits: Header photo souced via Creative Photographers, Inc v. Julia Torres Art.