Godox Demystified: A Complete Guide to X Series Flash Gear
Since I purchased my first Godox product in late 2015, I've been extremely vocal about their product line because of their massive price to performance ratio. It's a weird occurrence for one of the most capable products to also be one of the cheapest.

Over the years of working with all their products, I've become familiar with the extensive model list, but still every day people are discovering them for the first time. At first glance, it's a daunting pile of letters and numbers that can create a ton of confusion. To help, I created a summary of the Godox X series equipment.
The first thing to understand about the Godox X series is that it all works together. Every flash and transmitter mentioned in this article is part of a system using the same 2.4Ghz radio technology. The next thing that tends to throw people off is that Godox is a manufacturer that also lets other distributors rebrand their equipment. Adorama in the U.S. supplies it under the Flashpoint brand. Pixapro and StrobePro do the same for the U.K. and Canada, respectively. So while this article is presented in Godox terms, if you are interested in a product it may be named differently depending on where you are purchasing.
The reason Godox products have become so popular is because in addition to being triggered wirelessly, they give users remote power control, and access to features such as zoom, TTL, and HSS.
Their lineup breaks down into 3 categories of connectivity.
Transmitters: Used on camera, these devices send a signal out to the receiving unit.
Transceivers: These can be used both to send a signal and to receive a signal
Receivers: Always off camera, these devices can only receive a signal from a transmitting unit.
Transmitters
There are 3 transmitters for the Godox X Series. The XT32, X1-T, and XPro. All 3 offer manual control of off-camera groups.
The X1-T was the original trigger. It is TTL and HSS capable, offers control of up to 5 groups, and has a hot-shoe on top. This hot shoe can be used to integrate a non-Godox flash or use another Godox flash on camera while retaining access to 5 groups of flash off-camera.
The XT32 is an alternate trigger design and while the interface is a bit more user-friendly because of its wheel and slanted display, it does not communicate TTL and there is no hot shoe.
The XPro is the newest transmitter that marries the feature set of the X1-T and the improved design of the XT32. It has the largest display which is slanted, is TTL/HSS capable, has individual buttons for selecting a group, and adds a TCM feature for converting a TTL output to manual.
Transceivers
This part of the lineup gives new users the most trouble. Godox offers 7 lights that can be used both on or off camera. 6 of these are speedlights of various capabilities, and the outlier is the AD360ii which is essentially a mega-speedlight with a bare bulb rather than fresnel head.
TT350 and V350: Mini speedlights that are designed to balance better with a smaller camera or mirrorless bodies. Both have TTL and HSS. The V350 uses a lithium-ion battery that lets it recycle faster and put out more flashes per charge, whereas the TT350 uses 2 AA batteries.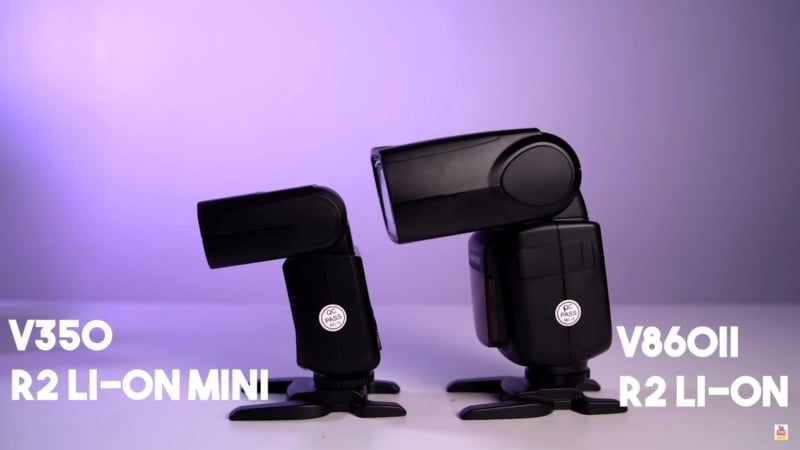 TT600 and V850II: Full-size speedlights with no TTL, and are only HSS capable when used off camera. Again, the TT600 uses AA batteries while the V850II uses a lithium-ion battery for faster recycle times.
TT685 and V860II: Full-size speedlights with TTL and HSS (on camera and off). AA batteries on the TT685, proprietary lithium-ion battery on the V860II.
One note, the TT600/TT685 can be used with an external power pack like the Godox PB960 to increase the recycle time. The V850II/V860II cannot.
AD360II: While it looks ridiculous on top of a camera, the AD360II can act as a speedlight and transmitter. More commonly it is used off-camera, as it has a small power pack. It's a great portable OCF option as it draws 360w/s of power making it ideal for use on location.
Up till now, everything we've discussed can be used on camera. This means, in order to be fully-featured, the shoe of the device has to be compatible with the camera hot-shoe. So, it's necessary for all these products to be brand specific. Godox adds the first letter of the brand at the end of the model. N: Nikon, C: Canon, S: Sony, F: Fuji, O: Olympus/Panasonic. So for a Nikon compatible TT685, one would search for a TT685N.
As we move into the receiver units, these are not capable of being used on camera. They are also not brand-specific and will be fully-featured using any of the above transmitters and transceivers.
Receivers
AD200: This was the most exciting flash product to come out of 2017. It is 200 w/s while maintaining a small size not much larger than an extended speedlight. It has an internal lithium ion battery capable of over 500 full power flashes and recycling its full output in 2 seconds. It has TTL and HSS and lets users choose between a 35mm fixed fresnel head or bare bulb. Adding to its flexibility, two packs can be mounted to one AD-B2 accessory creating a single 400w/s light source. There's also an EC-200 remote head option for mounting the body lower on a light stand.
AD600B/AD600BM: This is Godox's most powerful off-camera light. Both models are 600 w/s and use an attached Li-on battery. While they both are HSS capable the AD600BM does not have TTL (the M stands for manual). Both have a Bowens mount for light modifiers. Popular accessories for the AD600 include an AC adapter that replaces the battery for endless power, and the H600B and H1200B remote heads. The H600B offers 9 feet of cable for keeping the large AD600 body low on a light stand, while the H1200B draws power from 2 cabled AD600's that can be mounted lower.
AD600 Pro: Recently Godox added a new flagship light in the Godox AD600 Pro, which offers the same power as the original. However, it improved on the original by adding a color stable mode, changing the bulb to create more even light, a 4x more powerful LED modeling lamp, and cutting the recycle speed in half. The recycle speed reduction came at a price though, as the AD600 Pro's battery is capable of 360 full power flashes, which is lower than the original AD600's 500. An AC adapter is already available for the AD600 Pro and a remote head is expected soon.
AD400 Pro: While it hasn't hit the streets yet, Godox just announced the AD400 Pro. This is a smaller body than the AD600 series at 4.5 lbs, yet maintains the feature set of the larger AD600 Pro. It promises a 1s recycle time, 30w LED, and 390 full power flashes. It also offers a unique head design set to launch with some lighter proprietary modifiers, or be easily adapted to Bowens, Profoto, and Broncolor mount.
Lastly, for those looking to incorporate the Godox X series system for studio use, Godox offers 17 models of AC powered strobes under 5 lines. I'm not going to dive into that here because we've already gone over enough model names for one article. But if you want to know more you can check out this video:
I hope this article helps to demystify the extensive Godox X Series.
---
About the author: Robert Hall is a wedding and commercial photographer in Southeast Michigan.
You can find more of his work on his website, Instagram, and YouTube.