Why I Switched from Profoto to Godox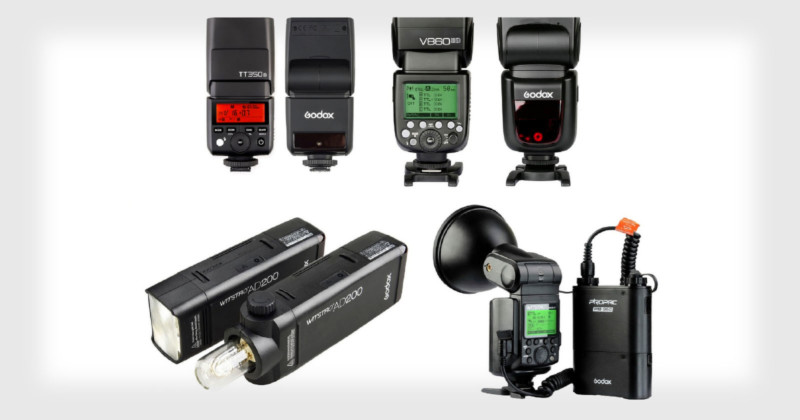 It was time to upgrade my entire lighting system. My Profoto Compact heads (in perfect working condition) we coming up on their 10th anniversary. In my Profoto arsenal, I had two 300 w/s heads, one 600 w/s head, and an AcuteB600R.

Advances in flash technology in the past years have brought HSS, TTL, and (wireless) radio triggers into the mainstream (no more need for Pocket Wizards) and portability and long battery life in the form of Lithium-Ion battery packs. Only two years ago Godox was still taking baby steps in the strobe arena. Today, they have, in my opinion, the most affordable and comprehensive cordless, radio triggered, strobe and lighting ecosystem on the market.
Godox works seamlessly on Canon, Fuji, Nikon, and Sony. It's the transmitters that do the heavy lifting and are coded for each camera line. All strobes are cross-compatible with each camera system. The transmitters are designated (stamped) with a C for Canon, N for Nikon, S for Sony and F for Fuji. Some flashes in their line are full manual while others are both Manual, HSS, and TTL.
The Godox flash system works on a 2.4GHz wireless X system to achieve wireless control in 1/3 stop increments. Wireless trigger on-board control is fairly straightforward compared to other brands I've used. For instance, I tested out the robust Elinchrom ELB 400 Action To Go kit with their TTL – HSS trigger and simply couldn't figure it out. Even after a call to the Elinchrom support department, which was very knowledgeable and helpful, it was still a hassle and counter-intuitive to use the remote. Not so with the Godox radio triggers and flash system. It's essentially plug-and-play. They just work seamlessly.
Godox's Newest Addition, The XPRO Flash Commander
Godox newest radio trigger, the XPRO Flash Commander, is currently shipping. The XPro series is more user-friendly with a simpler operation, and users can directly assess group selection(s) to adjust the output.
Significant new features include…
Large Dot Matrix LCD Screen Displaying 5 Groups simultaneously
Individual Group Buttons
Displays One Group Larger with More Details
TCM Function – TTL Change to Manual
Modelling Light Control – by Group (Currently On/Off Only)
Adjustment of Group Power Levels (ALL Button)
Large Graphic Menu System with Multiple Custom Functions
Xpro series are included in the X system family, which can control all Godox products with build-in 2.4G transmission.
The commander is able to handle several X1/R2 receiver flashes in up to 16 different groups.
Enables manual flash from 1/1 to 1/256 power.
The XPro Triggers are now available for Canon, Fuji, Nikon and Sony (pre-order). It's a welcomed update to the Godox ecosystem. They are robust, much easy to use with quick access to each flash group, allowing you to easily dial in flash output without screen diving and scrolling through menus than any of their previous models.
I especially like the TCM/Zoom function. A short press on the TCM/Zoom button will magnify the highlighted group and enlarge that to full screen. Click again and it will go back to a view of all 5 groups.
Sony tip: If you are a Sony shooter and don't need to use the TTL feature, I recommend purchasing the Canon or Nikon XPro. Why? Because the Canon and Nikon do not use a Multi-Interface hot shoe mount. If you use the Sony XPro, which has a Multi-Interface hot shoe mount it will knock out the real-time exposure capabilities of the EVF. The Canon and Nikon do not. The workaround is that you can simply shut off the Sony Xpro to see live real-time info on your EVF.
When shooting architecture, having the real-time data is paramount for ambient light exposures. That's why I've opted for the non-Sony XPro. If I was an event shooter I'd get the designated Sony Xpro. With the soon to be released XPro radio triggers for Sony (Canon and Nikon and Fuji currently available) you'll be able to access each group/flash individually without menu diving. Quicker access to all menu functions. Retail is $69 and worth every penny.
Performance
I've used my Godox flash system on countless luxury real estate shoots, headshots/executive portrait sessions, and studio product shoots. I've never encountered a single misfire. The color temperature is consistent over a long shoot and jobs that have spanned several days.
Specs on paper are one thing. Real life shoots tell the real story, and the Li batteries in all my Godox products deserve a standing ovation! The Li batteries for the Godox V860II are nothing short of amazing.
Fully charged, they've never run out of juice on a full day's luxury real estate shoot. Similarly, the AD200's Li battery has done the same. The Li power packs for the 360 flash system have lasted me three days on location photographing over 1,000 headshots 1/4 manual output pushing f/5/6 through Cheetah 55×12″ strip banks on a grey seamless. And they still had at least 1/2 the power left in the packs.
The Flashpoint XPLOR 600 almost lasted three days of location portraiture and 1,000 headshots at 1/4 manual output through a Westcott Rapid Box XXL pushing out f/8.0 at approx. 6 feet from my subjects. I've never gotten anything close to this from my Profoto heads. While I do have 4 backup batteries for the V series speedlights, I do not have any backup batteries for the AD200, 360s or the XPLOR 600. It just isn't necessary because they last so long.
Godox is made in China, and sold under a few different brand names (and is exactly the same – only the name and printed branding is changed): Godox is also branded and marketed as Flashpoint EXPLOR, Flashpoint, eVOLV, WISTRO, AD as in the AD200, and you'll see the speedlights referred to as V or TT.
Show Me The Money
I had faced with the same dilemma three years ago when I switched from Canon to Sony. At the time Sony had made some quantum leaps with EVF and mirrorless but had a small lens lineup. A short three years later, they've flushed out an amazing line of lenses and are the leaders in mirrorless camera technology. Canon was starting to phase out support of some of their legacy L lenses…WTF? And I needed to update both my lenses and glass. The bill was upwards of $20k to upgrade my Canon system. I weighed out the pros and cons and ultimately switched from Canon to Sony.
As I mentioned earlier, it was time to upgrade my lighting system. I have more than one brand and needed a lighting ecosystem that I could work with, in each genre of photography that I specialize in. To wit: Luxury real estate photography, portrait photography, food photography, pet photography, and wedding photography, studio product photography. After almost 18 years as a photographer, you get to develop different brands. And because the economy is always in flux, its great to have different income streams that generate income when one genre is slow the other is busy.
How I Made My Decision
Last December, I made the decision to switch from Profoto to the Godox system. I'm big on reading reviews in lieu of being an early (first) adopter. And all the reviews for Godox's flashes on the market were impressive. In a sense, I was an early adopter. To me, however a real early adopter, just orders the product as soon as it hits the market, not reading reviews. My decision was based on the following criteria: I wanted a system that was…
Completely wireless
Internal radio triggered / Internal radio receiver
Lithium-Ion battery
Cordless (Totally independent of power cords, with the exception of the Flashpoint 360)
TTL (I don't rely on TTL but when photographing events it's super helpful.)
HSS (Great for those occasional times you need to shoot outdoors on a bright sunny day and bring down the sky a couple of stops. Sync speeds of up to 1/8000 sec.)
Compact (highly portable)
Redundancy (always have two of each (primary flashes) for back-up)
The Cost of Upgrading To a Profoto System
Profoto B1 $1,895 x 2 = $3,790 (At the time there was no HSS/TTL trigger for for the Sony system. Profoto has brought one to market.)
Profoto B2 250 AirTTL with two heads = $2,695
Profoto Grand Total = $6,485.
$6,485 is cost prohibitive. Cha-ching! And we still haven't added in radio triggers here, which are approximately another $120 each.
The Cost of Upgrading To a Complete Godox System
Now compare that to the value and savings of a complete Godox system. A few caveats when purchasing…some flashes must be purchases for your specific camera brand as noted below.
V860II speedlights HSS/TTL (must purchase for your specific camera brand) $179 x 2 = $358
(Compare the V860II to the top of the line Canon Speedlite 600EX-RT for $479, IMO the Godox is built just as well and does everything that the Canon flash does for about 1/3 of the price)
Flashpoint Streak Light 360 (360 w/s with Li battery packs, must get Canon for Sony cameras) HSS / TTL version $429 x 2 = $858
AD200 TTL Pocket Flash Kit (200 w/s HSS / TTL the physical size of 2 speedlights with the output power of 3 speedlights, one version for all brands, the radio trigger must be compatible with your brand) $300
Flashpoint XPLOR 600, Bowens Mount 600 w/s HSS/TTL (Make sure that you purchase the XPLOR 600 for your camera brand Canon will work with Sony.) $749
(If you want to save some money and know you'll never use HSS/TTL go with the full-on Manual Flashpoint XPLOR 600 for $550)
X1T Radio Triggers (Supports all flash functions M, HSS, TTL) $46 x 2 = $92
XT32 Radio Trigger (The Canon triggers works perfectly with the Sony system. The XT32 does not support TTL on any camera system. I use it only for full Manual control) $46
(Note: One anomaly. I've noticed that each of the aforementioned triggers, when in the hot shoe and turned on, will deactivate the EVF Live View on all my Sony bodies.)
Godox Grand Total= $2,403
Win! That's a 60% savings. A no-brainer. And a complete flash ecosystem that fits all the criteria listed above.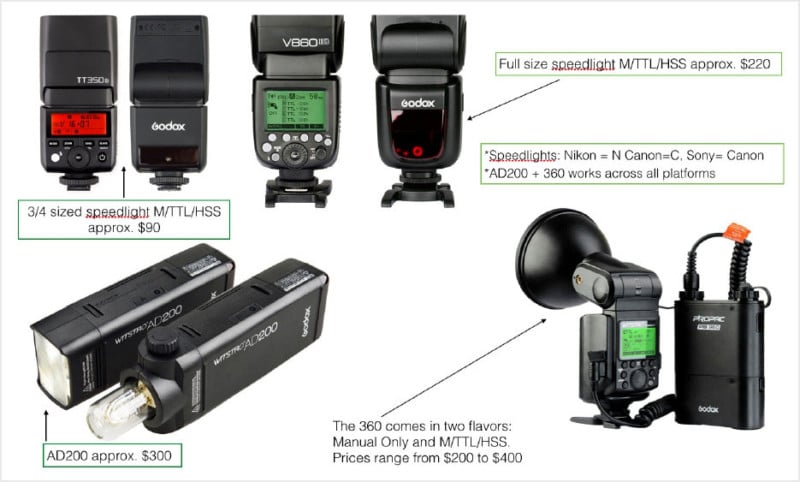 When investing in any system, you also need to think of upkeep and maintenance costs. Replacement flash tubes for the Godox system is a fraction of the price of Profoto. A typical flash tube replacement for a Profoto B1 is $163 while the Godox 600 is $50.
During Christmas, I found the 600 and 360 on sale and save another couple hundred dollars, bringing my total purchase well below $2,000, which is a heck of a deal for a comprehensive lighting system.
---
About the author: Marc Weisberg is an architectural and luxury real estate photographer based in Irvine, California. The opinions expressed in this article are solely those of the author. You can find more of his work on his website. Weisberg is also teaching an upcoming workshop in California, in May 2018. This article was also published here.