Opal Lets You Adjust Lightroom Preset Strength with a Single Slider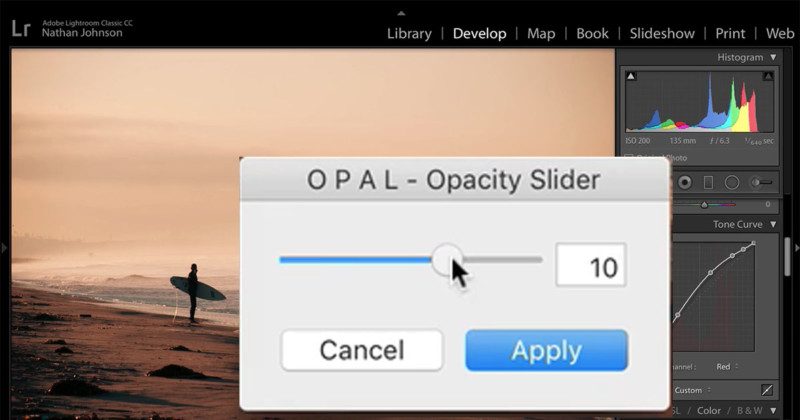 Have you ever wanted to adjust the strength of a Lightroom Preset with a simple slider? Opal is a new plugin that lets you do just that. It allows you to turn down or crank up any Lightroom preset in just seconds.

The plugin was created by photographer and preset designer Nathan Johnson, who says he received requests for this type of "Lightroom opacity slider" from his customers on a regular basis.
"Adjusting Lightroom Presets by hand is complicated, time-consuming, and rage-inducing," Johnson says. "Why? Because Lightroom presets can have very complex settings in them.
"There are over 50 individual settings you can adjust, not to mention Lightroom's tone curves (how do you accurately adjust the strength of those by hand???)."
To solve this problem for photographers, Johnson created Opal, which he named by combining the words "opacity" and "Lightroom."
After installing the plugin, simply open up the Opal panel — Mac users have a shortcut by hitting the Up Arrow on the keyboard — to see the single slider.
Dragging the slider then adjust all the settings of the preset at exactly the same time, allowing you to fine-tune the preset for exactly the look you're aiming for.
Opal works with any modern version of Lightroom on both Windows and Mac and with any Lightroom Preset in existence — presets like VSCO's film looks, for example.
The plugin also has an advanced mode that lets you independently adjust the tones, color cast, color palette, and details of presets.
Here's a 1-minute video that introduces Opal and shows most of its features:
Opal can be purchased and downloaded from Johnson's website for $15.