Canon 85mm Shootout: f/1.2 vs f/1.4 vs f/1.8
Canon currently offers three different 85mm lenses: the $370 85mm f/1.8, the $1,600 85mm f/1.4L IS, and the $1,900 85mm f/1.2L II. If you're wondering how they stack up, check out this 9-minute video by self-proclaimed photography nerd Kai Wong, who recently went hands-on by comparing the trio in a shootout.


The 85mm f/1.2 is the only autofocusing 85mm f/1.2 lens around, and Wong calls it a "bokeh beast." It's a favorite among portrait photographers who prize its extremely shallow depth of field and creamy bokeh. When shooting fast-moving subjects, however, the 85mm f/1.2 is a bit sluggish.
The 85mm f/1.8 captures sharp photos of moving subjects relatively well and, compared to the 95mm f/1.2, it doesn't break the bank.
The 85mm f/1.4 IS, announced just last year and therefore the youngest lens of the bunch, provides a middle ground in everything: solid autofocus speed, a large aperture, and a cheaper price tag than the f/1.2.
Wong found that the f/1.2 is the least sharp when shooting wide open, followed by the f/1.8, and then the f/1.4. Even when both the L lenses are stopped down to f/1.8, the f/1.4L IS is still the sharpest lens of the trio.
When it comes to bokeh, the f/1.2L takes the cake and is the king of Bokeh, Wong says.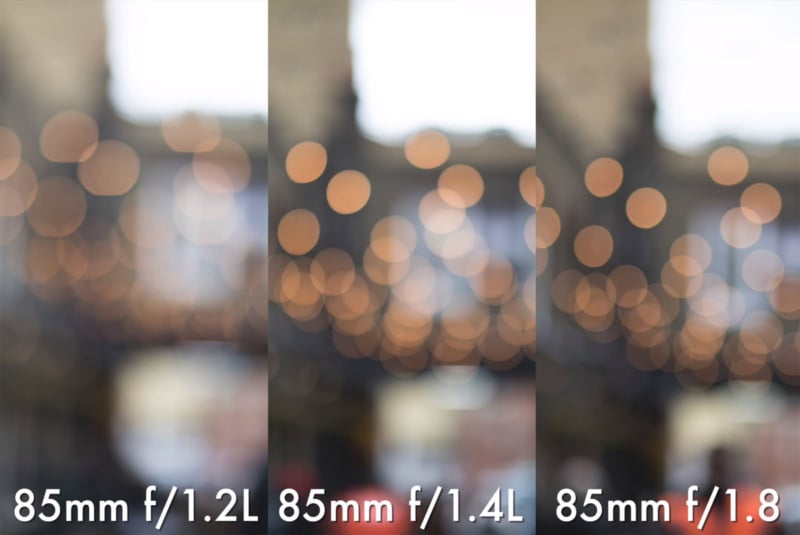 "They're quite different lenses that each offer up something quite unique," Wong concludes.