Sony CEO Kaz Hirai to Step Down Now That the Ship Has Been Righted
Sony announced today that CEO Kazuo 'Kaz' Hirai will be stepping down from his position on April 1st, 2018. Hirai is credited with reviving Sony's prospects and financials over the past several years, taking the company from a struggling state to newfound dominance in areas such as cameras and imaging sensors.

Replacing Hirai as CEO will be current Chief Financial Officer Kenichiro Yoshida, who helped Hirai restructure the company after becoming CFO in 2014.
"The change in helm, while a major surprise, is expected to go down well with investors who have been pleased with Yoshida's no-nonsense approach to restructuring after he became CFO in 2014," Reuters writes. "Hirai and Yoshida together streamlined Sony's unprofitable electronics businesses and then capitalised on the spread of smartphones with image sensors."
In March 2012, a month after announcing $2.9 billion in losses, Hirai announced a new initiative called "One Sony." The plan involved turning away from unprofitable businesses and featured three main core pillars that the company would begin to focus on: digital imaging, gaming, and mobile."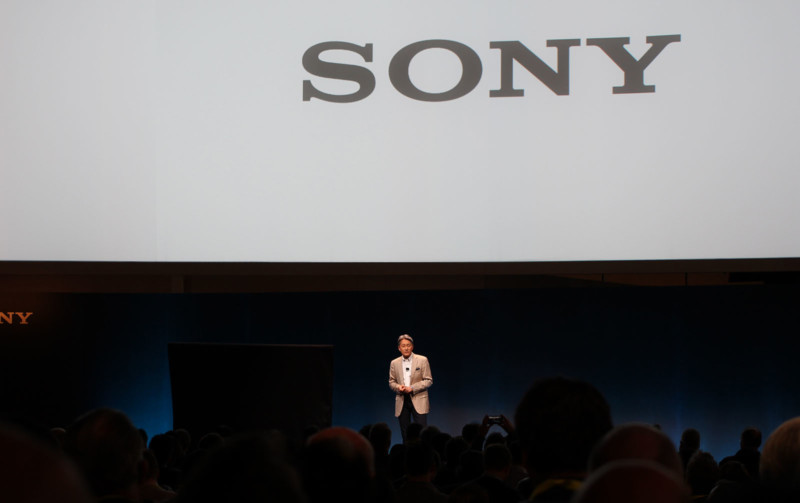 The strategy worked. Sony began producing highly acclaimed digital cameras and its image sensors became ubiquitous in the camera and smartphone industries. By 2014, 40% of all camera sensors sold were made by Sony — that figure is closer to 50% today.
In 2017, just 5 years after its record losses, Sony reported a record first quarter profit of $1.43 billion.
After stepping down from his CEO role, Hirai will continue to serve as President of Sony. As the new CEO, Yoshida will be tasked with continuing Sony's dominance in its new growth areas, especially as sales and demand of imaging sensors decline from recent highs.
Apparently delighted with these latest developments, Sony investors sent the company's stock surging over 7% on a day in which the overall market tumbled.
---
Image credits: Header photos by cellanr and Masaru Kamikura and licensed under CC BY-SA 2.0 and CC BY 2.0, respectively. Stage photo by Maurizio Pesce and licensed under CC BY 2.0.