Camera Battery Explodes at Airport, Sparking Panic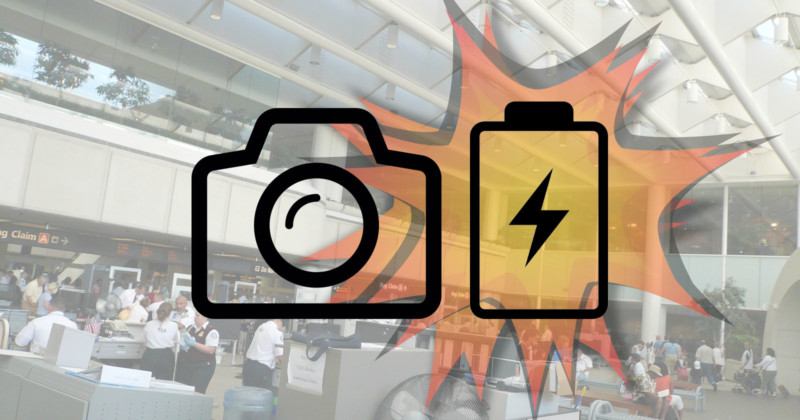 Orlando International Airport received a scare yesterday when some travelers heard what appeared to be a loud gunshot. After the commotion had settled down, it turns out that one person's lithium ion camera battery had exploded.

Local ABC news station WVTV9 reports that after the loud bang was heard, law enforcement quickly responded and determined that it wasn't a shot fired. The Orlando Police Department soon posted a Tweet to reassure those at the airport:
ALERT: There has been NO shooting at Orlando International Airport. There was a loud sound that startled people, but no shots fired, no danger to public.

— Orlando Police (@OrlandoPolice) November 10, 2017
After further investigation, both the police and the airport announced that a battery in a camera had exploded in a bag after overheating, and that the bag was smoldering when discovered:
UPDATE: Again, NO shots were fired at MCO. A lithium battery in a camera exploded in a bag; that was the noise people heard. The bag was smoldering; no one hurt. Thank you for helping us get the word out.

— Orlando Police (@OrlandoPolice) November 10, 2017
After investigation, it has been determined that a lithium-ion battery inside a camera overheated and exploded. As a result of the incident, a ground stop was issued and a number of flights were held. Passengers have been allowed to reenter and checkpoints have reopened.

— Orlando Intl Airport (@MCO) November 10, 2017
Many travelers who were startled by the commotion had already evacuated the terminals and needed to be re-screened at the security checkpoint, causing extremely long lines and delays.
Some turned to social media to vent:
Massive backup of travelers @WFTV pic.twitter.com/bdduUjUd8K

— Samantha Manning (@SamanthaWFTV) November 10, 2017
I have never seen OIA this packed. @WFTV pic.twitter.com/VGchhsqx5z

— Samantha Manning (@SamanthaWFTV) November 11, 2017
This latest incident is bad news for photographers who are already frustrated with airport security in the US tightening its policies regarding cameras and other large electronics.
Security checkpoints began requiring a separate screening for cameras back in July, and the US is now urging airlines to ban cameras in checked bags due to fears of camera batteries exploding and causing catastrophic fires.
A battery explosion like this at the nation's 13th busiest airport shows that the concerns may be justified.
---
Image credits: Header illustration based on images by Michael Gray, flaticon/freepik, and Designmodo