This Photo Captures Lava, Milky Way, Meteor, and Moon in a Single Shot
Adventure photographer Mike Mezeul II captured something truly extraordinary a couple of weeks ago. While hiking around Volcanoes National Park on the Big Island of Hawaii one night in September, he managed to capture the moon, the milky way, a meteor, and flowing lava in a single frame.
It's one of those photos that comes around once in a lifetime, something that Mezeul recognized as soon as he pressed the shutter. "I was literally in shock," he told HuffPo UK. "It was my third frame to shoot after the sun had set, and after I saw the meteor, I knew I couldn't beat that image, so I packed it up and headed back."
You can see the final photograph below: a single frame shot with a Nikon D810 and Nikkor 14-24mm lens at ISO 2500, f/2.8, and 25 seconds. And yes, it is indeed a single frame, despite some criticism Mezeul has received to the contrary. "The moon was a mere sliver in the sky that night," he tells PetaPixel, "so that's why it didn't wash out the Milky Way."
Click the photo for higher res: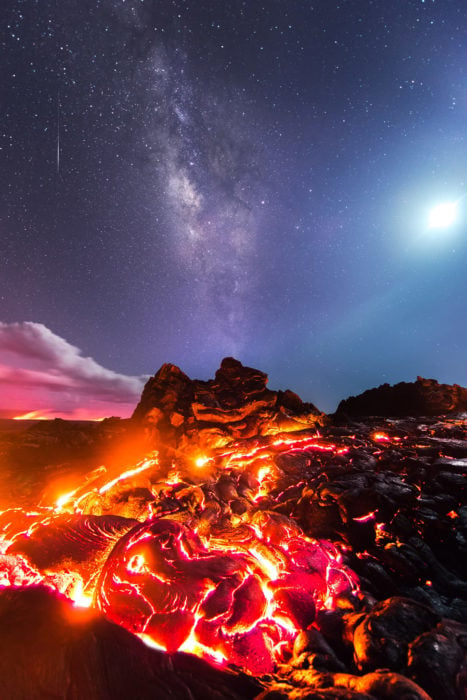 Capturing this shot was not without its dangers, of course. Every few seconds he had to move or risk getting burned, and getting to the location involved about 13 miles of strenuous hiking through "some of the most extreme landscape I've ever been in" … which is saying something coming from an Adventure Photographer.
Still, all the danger and strain was more than worth it.
"[It was] an incredible moment, one that I will never forget," writes Mezeul on his Facebook page. "Lava from the Kilauea Volcano in Hawaii crawling down towards the ocean as the Milky Way, a meteor, and moon shine above."
To see more of Mezeul's work, be sure to check out his website or give him a follow on Instagram. You won't regret it.
(via Huffington Post UK)
---
Image credits: Photographs by Mike Mezeul II and used with permission.