5D Mark IV Has the Best Canon Sensor DxOMark's Ever Tested, Still Falls Short
DxOMark just crowned the sensor in the 5D Mark IV the best Canon sensor they have ever tested. Unfortunately, even Canon's top performer still falls far short of the top sensors from Nikon and Sony.
First things first: DxOMark loves the sensor inside the 5D Mark IV, and thinks Mark III users should definitely upgrade.
"The significant sensor improvements over its predecessor in both resolution and dynamic range makes the new 5D Mark IV look an attractive upgrade for Mark III owners shooting weddings, events, landscapes, editorial and advertising work," they write in their Mark IV Review Conclusion, "as well as for photographers stepping up to their first full-frame camera."
Rank it next to the rest of Canon's lineup and you see why they say all this, the Mark IV's sensor is king: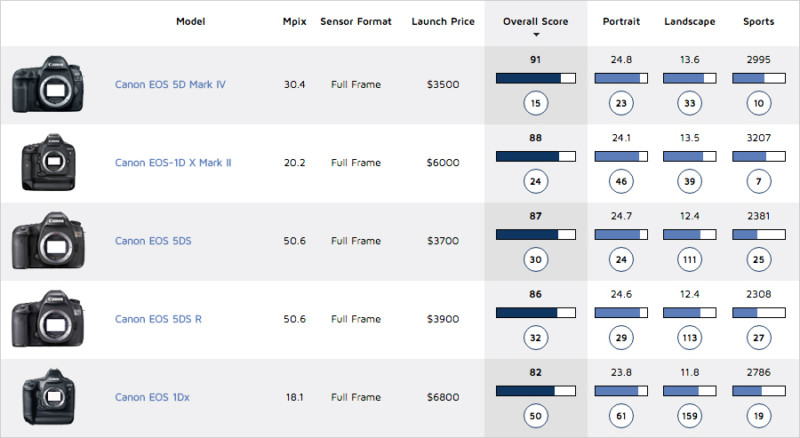 If you have a bunch of Canon glass, this is where the conversation ends. It's a great sensor, a great investment, and even boasts some features you won't find in the competition like Dual Pixel RAW. All good things.
But if you're one of those first-time full-frame camera buyers DxO mentioned and you have no allegiance to one company or another, there's another comparison you should look at. Compare the DxOMark score for the 5D Mark IV against the Nikon D810 ($700 cheaper) and the Sony A7R II ($350 cheaper):
Canon has made strides in their sensor game, but they still haven't caught up to the top sensors in the industry. The Sony offers better color depth while the Nikon is king of dynamic range.
Each sensor has its quirks, of course, but if you're the kind of person who lives and dies by DxOMark scores, more money for a lower performing chip overall might not seem like the kind of investment worth making.
Check out DxOMark's full review of the Canon 5D Mark IV here.